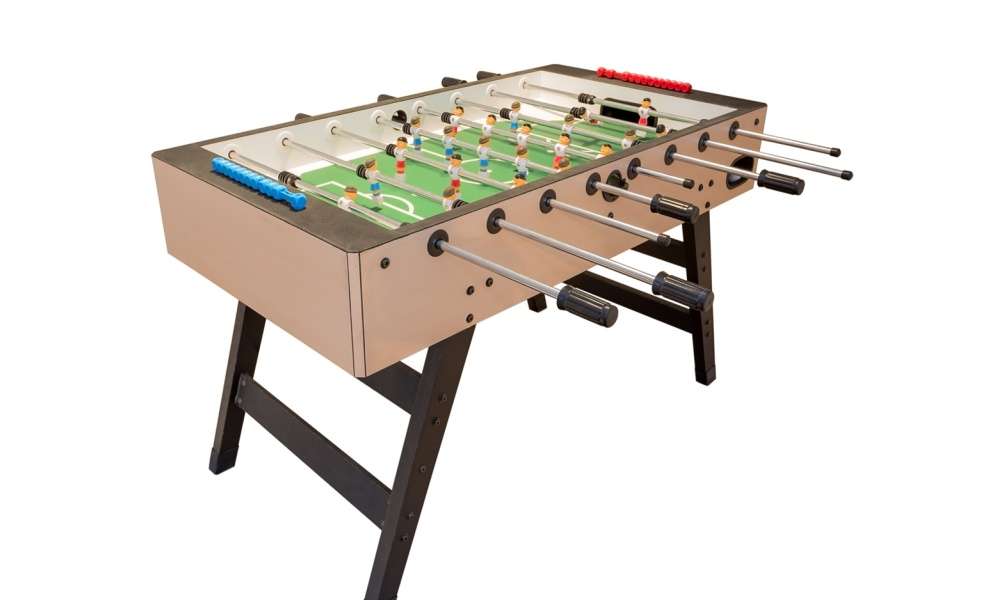 "Table soccer", or "table football", is more commonly known as Foosball. It is a table-top sport/game that is generally based on football. The very first foosball table was invented by Harold Searles Thornton in 1922 and patented in 1923.
The concept of the foosball table was derived when Harold attended a Tottenham Hotspur F.C. football match and wanted to replicate the football game to be played at home. The inspiration started with a box of matches; by laying the matches across the box, he developed the basis of the game.
The very first leagues started in Europe in the 1950s. American soldier, Lawrence Patterson, re-introduced the game in the USA in the 1960s. Lawrence introduced the first Bavarian made table to the USA in 1962, and, upon doing so, trademarked the term "foosball" and named his table "Foosball Match".
Table football is most often played for fun in pubs, bars, schools, workplaces, clubs, and in the comfort of one's own home. It is also played in official competitions with sophisticated rules.
If you want to purchase a foosball table for a bar, workplace, or just to have one at home to play, then you will find that there are many available on the market. Now, how do you choose the right one?
Buying Guide
When a person is looking to purchase a foosball table, they should understand that there are different types of tables available, and there are specific factors that need to be considered.
There are two types of foosball tables:
The table-top foosball table
The stand-alone foosball table, which is a larger and more expensive option
The type of foosball table a customer chooses to buy depends on their budget, available space, and the skill-level of those who will be using it. There are other multi-game foosball tables (these offer more functionality), and even ones that are coin operated.
Once a customer has decided on their budget, and whether they want to purchase a new or second-hand table, they need to explore the available options to find the most suitable foosball table within their budget. A buyer needs to consider the following before finalising their purchase:
Table size
The skill of the players who will be using the table
Table materials
Steel rods versus hollow rods (table components and quality)
Adjustable table legs (allowing for height adjustment)
Once the budget is finalised and the buyer knows what type of table they want, after considering all of the above factors, they need to decide where to purchase their table (online is the favourable choice).
The Five Top Foosball Tables
Atomic Pro Force Foosball Table
If you are looking for a high-quality foosball table with excellent playability and durability, then the Atomic Pro Force Foosball Table is an ideal playing table that will look good in a bar, club, or even just to play on at home.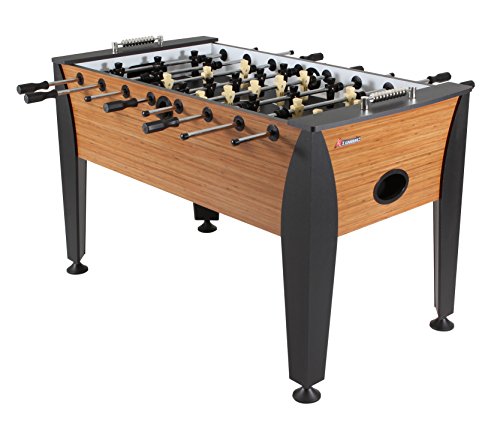 Features
½ inch MDF playing field
13 – 7/8 inch x 1 inch MDF apron
Bamboo laminate exterior with black accents
Robot style players
Internal ball return and ball entry
Rubber octagonal handles
Manual abacus-style scoring
Hollow steel rods with a chrome finish
Assembled dimensions: 29.5" width x 56" Depth x 34.5" height
Pros
You will have a strong, slip-free grip with the rubber octagonal handles.
The bamboo laminate exterior, beautiful chrome finish of the hollow steel rods, and the black accents make this table very attractive in style and design.
The ½ inch MDF playing field offers the ultimate in durability; a table you can play on for many years to come.
You are ensured a level playing surface (no cheating on this table) with the 3 ½ inch leg levellers.
Cons
The black veneer on the legs have not been finished properly, it starts peeling off very quickly.
The four balls that are supplied with the foosball table are slightly too small. The balls seem to create "dead spots", and as a result, the play figures cannot reach them.
The table can be assembled by one person; however, many hours would need to be invested in assembling it correctly. Some pilot holes do not line up, but with extra assembly work, it does eventually all come together.
Verdict
If you do not mind investing in a couple of hours to assemble this foosball table, (we recommend that you get some extra hands to assemble it quicker and to help with flipping the table around), then it is a great, high-quality foosball table that will last you many years of mini soccer games. The Atomic Pro Force Foosball Table is the ideal choice if you looking for a gift for the kids or a table to place in your man cave or bar at home.
EastPoint Sports 60-Inch Liverpool Foosball Table
If you are looking for exciting table-top soccer action, then the EastPoint Sports 60-inch Liverpool Foosball table should be on the top of your list to purchase. This foosball table will keep your entire family entertained for hours, whether they are five years old or seventy. At official competition size, you know you will be getting a table big enough for everyone to play on.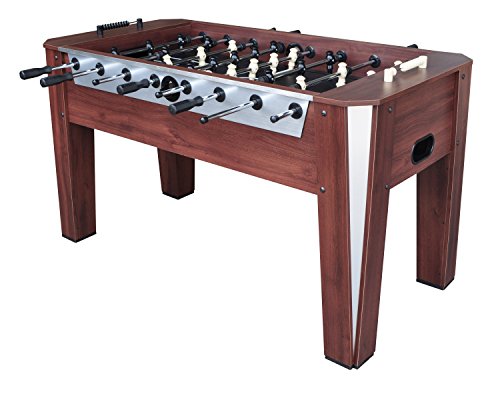 Features
Dimensions: 62 inches x 36 inches x 31.7 inches
Weight: 122 pounds
Competition-sized foosball table
Bead style scoring
Included in the set: 1 foosball table, 4 foosballs, and 1 shim pack
High performance player rod bushings
Dual layered tapered style legs
26 black and ivory players
3 Man Goalies
Robo-style players
End ball return
Pros
The large competition-sized table allows for two to four players to get involved in the game at one time.
This foosball table is strong and durable; it will definitely last many years of game play.
The high performance, moulded player rod bushings spin and slide easily, ensuring high paced action throughout the game and smooth and consistent play.
A shim pack is included which is great because it helps to keep the playing surface perfectly flat.
Even though the rods are hollow, they are very sturdy and durable. The steel rods are strong enough for even the toughest competitors.
It is easily assembled in approximately ninety minutes.
Cons
This is a great table all around, however it would be ideal for a table of this size to have improved levellers instead of the included shim pack.
The large competition size of this table is ideal if you have the space for it, however not everyone has the space available for a table this size.
Verdict
If you have the right amount of space available to fit this 60-inch competition-sized table, then you will be guaranteeing fun for your entire family with the EastPoint Sports 60-Inch Liverpool Foosball Table. An investment into this foosball table will see you having fun for many years to come with high-quality construction and sturdy materials.
Best Choice Products 48″ Foosball Table
If you are looking for a classic and traditional foosball table that is simplistic in design and easy to assemble, then the Best Choice Products 48-Inch Foosball Table is guaranteed to keep you entertained for hours. There is nothing fancy about this foosball table, unless cup holders excite you, but nonetheless, all focus has been placed on its functionality, durability, and sturdy structure.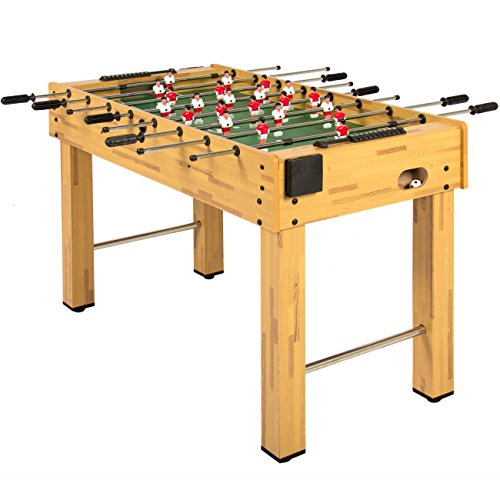 Features
Chrome finished steel rods
Two cup holders, one on each end of the table
Eight rows in total; four rows per team
Eleven white players and eleven red players
Comes with two balls
Constructed with medium density fibreboard
Dimensions: 47 inches (length) x 24 inches (width) x 33 inches (height)
Pros
The smaller, arcade size means this foosball table is a great fit for most rooms.
The cup holders are not a must in the design and structure of a foosball table, but still very useful, especially in holding a beer for men if it is in a man cave. They offer convenience and easy accessibility so you can score a goal and still reach for a sip of your beer.
The medium density fibreboard offers durability and a stable structure.
Cons
This is a basic and simple foosball table, there are no levellers to adjust the height of the table, once the table is assembled; the height is standard and cannot be altered.
Even though its size means that the table can fit into most rooms, it also means that the number of players is limited; friends and family will need to take turns.
Verdict
If you want to score some goals, and share a drink with some friends or family while doing so, then the Best Choice Products 48-Inch Foosball Table will offer you the best in playability, and with two cup holders, your drink is in easy reach. This table is simple in its design, there are no levellers, modified robo-style players, or fancy materials and finishes, you get what you see, but there is no compromise; its functionality and its sporty appeal will encourage you to score goal after goal.
Voit Radical 48-Inch Foosball Table
The game of foosball is exciting, fast paced, and overall competitive. A foosball table needs to be sturdy, durable, and able to take a pounding as the players beat and spin the rods from side to side. The Void Radical 48-Inch Foosball Table can take that pounding, and it looks great too. It is not only functional in its design, but it is attractive in all of its features. "Radical" is definitely the right name for this table.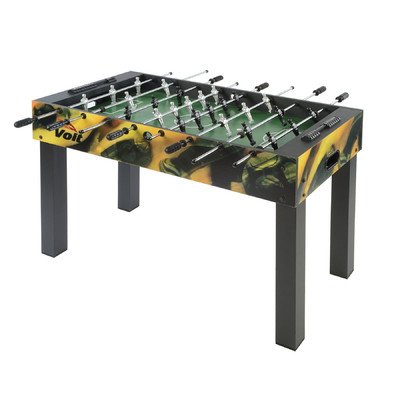 Features
High tech laminated design
Chrome plated tubular steel rods finished off with rubber grips
Table dimensions: 32 inches high x 24 inches wide x 48 inches long
Automatic ball return
Manual scoring
Three inch legs
Three player goalies
Durable and sturdy in design
Available in the colours: blue, black, and green
Pros
Assembling this table is easy with the instructions provided. It takes approximately one hour to assemble. Extra hands are not necessary, but they are helpful.
The rubber grips help prevent slipping during your game.
The attractive and multicolour design and graphics make this table attractive in any venue. Kids will love the design too.
The size of the table ensures that it can fit into most rooms.
Cons
The table is able to be levelled to ensure a flat surface, however it cannot be adjusted to different heights.
The Void Radical 48-Inch Foosball Table can take a decent pounding from aggressive play, however not from adults, it is more suitable for teenagers.
The table is not resilient to the strength of adult play.
Verdict
The Void Radical 48-Inch Foosball Table is a great buy, however, it's a great purchase for teenagers to play on. Adults can join in on the fun and try score some goals too, but their strength needs to be restrained as this table is more resilient and durable for the younger generations. It takes strain under the strength of some adults, especially men. Regardless of who plays on this foosball table, fun will be had by all of the players, and it will look great in any room.
Hathaway Hurricane 54″ Foosball Table
If you are serious about your foosball game, have all the skills, and you are competitive about scoring all the winning goals, then you need a foosball table that is as serious about the game as you are. Even if you are not overly skilled, and it is more so a game than a sport for you, then it is best to learn some new skills and get the maximum enjoyment you can from a foosball table that is really all about mini football and has the latest in technology and design.
The Hathaway Hurricane 54″ Foosball Table should be on your shopping list if you want the ultimate in foosball tables.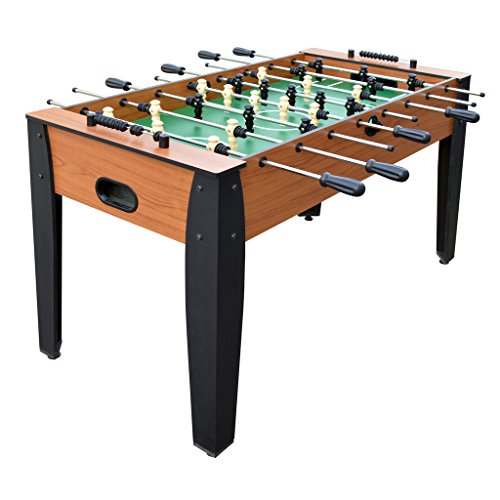 Features
Table dimensions: 54 inches (length) x 27 inches (width) x 33.25 inches (height)
The cabinet is finished in light cherry melamine
The tapered legs are finished in black melamine
Has stabilizing leg levellers
13 High quality ABS players per team
Three goalies
Chrome plated steel rods with sure grip handles and E-Z spin bearings
Score counters
Pros
Its 54-inch size is great if you want a table that isn't too big to fit in most rooms, but is not so small that the number of players is limited.
This foosball table will look good anywhere with its light cherry melamine cabinet finish and black melamine tapered legs.
You can easily keep track of all the goals that are scored with the dual manual ABS slide score counters.
You will not slip when you are about to score the winning goal with the ergonomic ABS sure grip handles. Your game will not be compromised and you will not be disappointed with slipping rods.
Cons
It is difficult to point out the negatives of this Hathaway Hurricane 54" Foosball Table when there are so many great things about it. The main con of this foosball table is its assembly. It is tricky and time consuming.
Verdict
Whether you are a competitor and take the sport seriously or just looking for a great game for the entire family to enjoy, then the durability of the Hathaway Hurricane 54" Foosball table will have you playing foosball for many years to come. Its high-quality finishes ensure that it will look great in your home, bar, club, or even in the workplace.
Final Verdict
Looking back across five of the best foosball tables, each one is unique when compared to the next one, with its own special features and highlights; each one satisfactory under varying preferences.
If you are working around the element of space, for smaller sized rooms the Best Choice Products 48″ Foosball Table and the Voit Radical 48-Inch Foosball table will fit perfectly. If space is not an issue and you are looking for a large, competition-sized table, then undoubtedly you will be getting quality and competition size with the EastPoint Sports 60-Inch Liverpool Foosball Table.
If you are looking for something simplistic in design, yet still durable and of good quality, then the arcade styled Best Choice Products 48″ Foosball Table is the one for your whole family to enjoy and perfect for a man cave. If you want something a little more exciting and sporty, adding colour and design to any room, then the Voit Radical 48-Inch Foosball table will brighten up your play.
Overall, the favourite is the Hathaway Hurricane 54″ Foosball Table. It is not too small (limiting number of players) and it not too large (it will fit comfortably in most areas). Its high-quality finishes will look attractive in all spaces, and its durable materials will have this table lasting for many years of competitive play.
Whether you are a beginner or a skilled player, the features of this table will appeal to your skillset. With size, skill-level, and design all in check, this table is perfect for almost anyone.