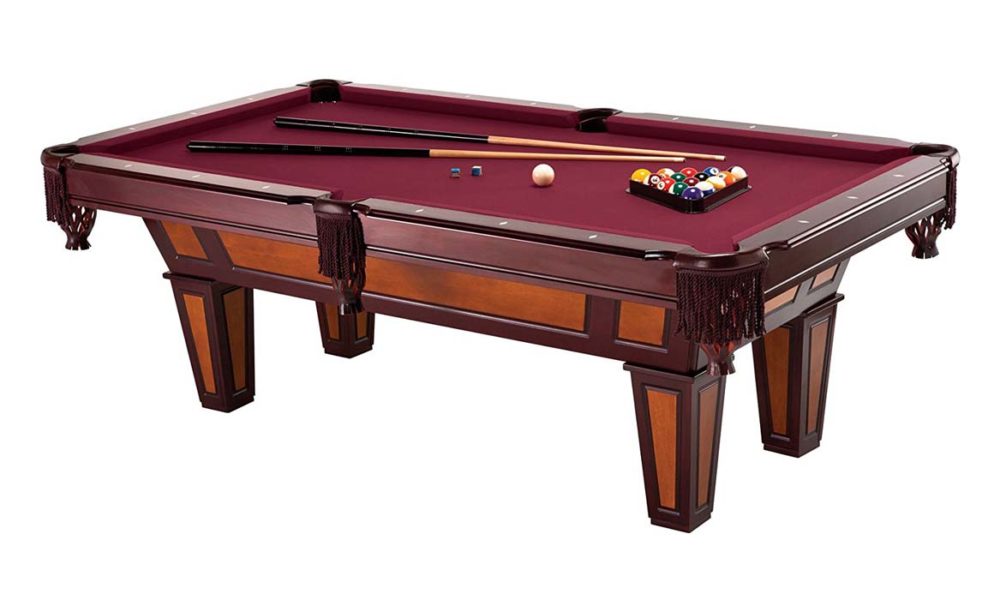 Buying a pool table for your home is a big investment, but it's one that can pay off with hours of fun for your family. The key to enjoying billiards at home is buying a quality table that will last a long time. Pool table size is one thing that really matters here. Many people opt for a 7 foot billiard pool table because it provides plenty of playing space, but is small enough to fit comfortable into an at-home recreation room.
If you're shopping for an addition to your billiards room, these 7 foot pool table reviews can help you make the best possible decision for your home. Don't be a cue ball, check out these billiards tables!
This billiard table is on the higher end of the spectrum for average priced pool tables for at home use. Its design is fairly traditional and it offers a reliable playing experience. Most people who have chosen this table were happy with the product and enjoy how it looks, as well as how it plays in their home.
You'll need to assemble this pool table upon its arrival, and in some cases, buyers had to move the table into their house after it was delivered – the delivery carrier did not offer "across the threshold" delivery or set up. The table can be assembled by one person in a few hours, but assistance will be needed to place the table and get it ready for play.
Most players agree that for the cost, this was a great table. They liked that it was easy to set up and that it was fairly even and offered reliable play. There is no way to adjust the table, so if you have concerns about any unevenness in the table's surface, you'll want to make the upgrade to a slate table – this one's made from slatron.
There is some variation in the felt cloth color, so if that's important to you, you'll want to make sure that a tone that tends to be darker and brown is going to suit your décor.
Despite the concerns, most users agree this is a good option for a table under $1000. If you're an experienced player and think you'll be aggravated by a less than perfect table, you'll need to invest more money in something that is more reliable. But for what you're spending, if you're looking for a table for at-home use mainly for fun, this is a great option.
This table is a great option because it offers two games in one. It might not be right for a serious pool player, but it's a great investment for families that want to play at home and really add a versatile piece to their recreation rooms. You'll also save space because you won't need to invest in a separate table for table tennis. It's possible to switch from one game to another in just a few seconds by switching the top.
The Maverick table features a poly-sealed billiard surface and comes with everything you need to play either game. A complete set of 16 billiard boards, two cutes, chalk, a triangle rack, and brush are all included. It also comes with a net, post, two table tennis balls, and paddles for when you want to play the alternative game.
Users of the Maverick table report it's easy to assemble and can be flipped over when assembly is complete by one person. It takes most about an hour or two to set it up.
Perhaps the most beneficial aspect of this table, aside from offering two-game play, is that it's a good table for kids to play on. Seven foot tables, in general, are usually better for kids, but this one is especially nice because of its basic design. It's a great "learning" table, so if you're just introducing your kids or another loved one to pool, this is a great option for allowing them to practice at home. The table is sturdy, so even if it doesn't play perfect, it's still a great option for new players.
Most users reported the table aged well and they didn't have a problems with the felt. The accessories that come with the table are very basic, so even if you're a beginning player, you might want to upgrade, especially when it comes to the cues and the balls. However, if you're just getting started and/or you're playing with kids, what you get will be fine – there's no need to buy a complete billiards set if you're in a rush to get the table in your home and set up in time for the holidays or another big event.
This is one of the least expensive at-home pool tables available that doesn't sacrifice a great deal of quality. For under $600, you get a table that also doubles for table tennis, and makes it easy to bring pool into your home.
A little larger than the other tables on this list, this one is a great deal for the money – it cost just under $900. It has a traditional pool table look that fits into most game rooms. It's engineered to resist warping and even comes with a 7 year warranty for the playing surface.
The legs of the table feature leveling pads so you're able to move the corners up and down and adjust the surface. This is a feature missing on many at-home tables in the lower end of the price range, and can help if you're placing your table on an uneven playing surface. (Many people do because their tables go in garages or basements where the floors tend to be slightly less level.)
This table comes with some accessories, including two 57" hardwood cues, a set of billiard balls, a rail brush, a resin triangle, and two pieces of chalk. Again, you aren't getting top of the line accessories and you might want to eventually replace them, but at least you'll be able to get started with play as soon as your table arrives.