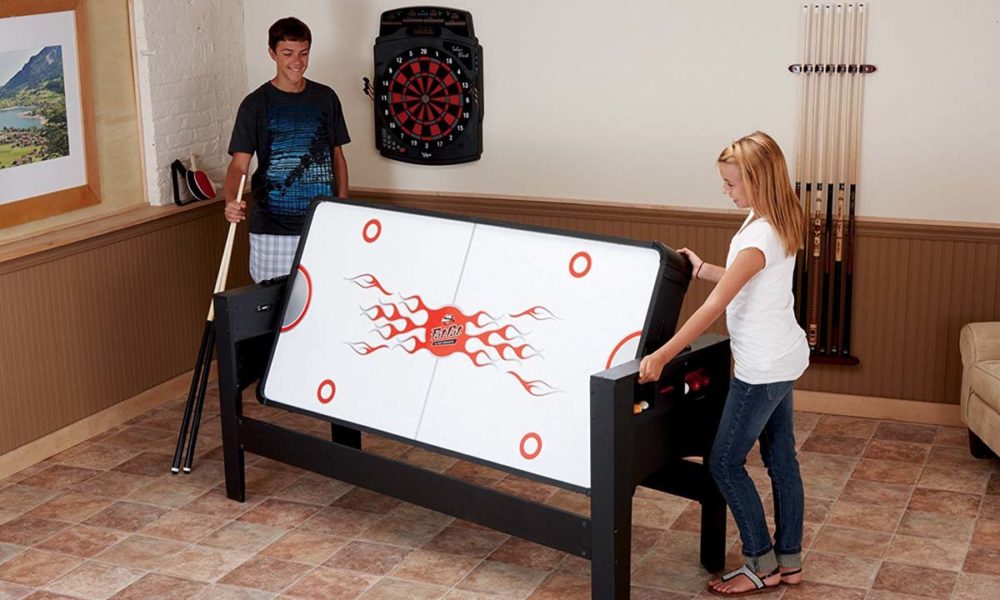 There are loads of great table games out there for you to play. Billiard pool tables, snooker tables, table tennis tables, foosball tables, and the air hockey game are just some of those tables that will fit perfectly into your game room or rec room to go with the arcade games and dart board. If you're trying to decide on a new games table but can't decide between air hockey and ping pong, why not opt for a combo table instead and get the best of both worlds? Both air hockey and ping pong tables take up a considerable amount of room. With a combo table, you get the chance to play a variety of games without taking up any extra space.
What to consider before you buy
Air hockey ping pong table combos aren't exactly cheap, so it's worth doing a little research before you make your purchase. The main things you want to look out for are:
Sturdiness:

you don't want a table that's going to wobble while in mid-play.

Durability:

buying one of these is an investment, so you want to make sure it's hard wearing and will last a long time.

Easy to assemble/disassemble:

ideally, look for a table that has everything you need to be included in the box to get playing in as little time as possible.

Keep reading for the lowdown on some of the best air hockey ping pong table combos available in 2017.
Not for those on a budget, this combo table is definitely one of the higher priced models available. But, you do get quite a lot for your money. First of all, it makes both air hockey and ping pong available to play in under 15 minutes. It's both sturdy and durable with a glazetek compound coating that keeps your table protected and looking its best. There's also an LED automatic scoring board that lights up and makes sounds to let everyone know when you've scored. Included in the package is everything you need to get you going playing air hockey or ping pong 'til your heart's content.
Verdict: This combo table looks great, is quick and easy to set up, and will withstand hours of playing. It comes complete with all the accessories you need and is perfect for players of all ages. The only downside is the quality could have been a little better for the money you're paying. But, everything works as it should. Overall rating: 8/10
With a choice of soccer, air hockey, ping pong, and pool table, you'll never be bored again with this multi-game combo table from HLC. Made of MDF, the HLC multi-game table provides great fun for the whole family. You can literally switch to another game in a matter of seconds with this combo table, extending your gameplay by hours. It's foldable, L-shaped leg design locks into place when in use and also makes it easy to store away when not being used. It looks funky and modern and comes with everything you need to set it up and start playing.
Verdict: For a mid-priced model, the HLC is not bad although the quality is lacking a little and is probably more suitable for kids. While it looks nice on the outside, it's not as sturdy as some of the other mid-priced models available and may wobble if played too hard. Overall rating: 7/10
Another of the more expensive models, the Fat Cat 3-in-1 Flip Game Table is not for the faint-hearted or those with a light wallet. However, what you get for your money is a very nice looking, durable, multi-game table for all your air hockey, ping pong, and billiards needs. The flip table feature means you can change games in a matter of seconds and it comes with all the accessories you need for each game. Both the table and the ping pong insert are made of MDF so are durable, long lasting, and tough enough to withstand players of all capabilities.
Verdict: Although there is a motor, there's not a great amount of air that comes out of the air hockey table. It's also a little on the pricey side too. But, the look and overall quality of the combo table is much better than your average model. So, I guess you do get what you pay for in some respects. Overall rating: 7/10
If you're on a budget, check out this combo games table. With this combo table you can switch from game to game in a matter of seconds and with air hockey, ping pong, and pool on offer, there's something for everyone here. It comes complete with manual sliders in which to keep score in whatever game you decide to play and side locks to keep the table sturdy while in use. There's also a very useful built-in storage compartment in which to keep all the accessories when they're not being used.
Verdict: It may be one of the lower priced models, but the Lancaster 48" 3-in-1 Combo doesn't compromise on quality. This games table is sturdy, aesthetically pleasing, and appropriately priced. It's fantastic value for money and comes highly recommended. Overall rating: 10/10
Another mid-priced model, the Hathaway Triad 48-inch Multi-game Table gives you competitive fun for everyone. Whether it's air hockey, ping pong, or pool you feel like playing this combo table can satisfy your needs. Made from environmentally safe materials, the table's MDF L-shaped legs make a sturdy platform for the table whilst playing. It also comes equipped with leg levelers for easier playing on any surface. Change your game in a matter of seconds and let the fun commence.
Verdict: At 48 inches, you would think it would be suitable for adults, but everything is quite small and would be better suited for kids. It looks nice and is well made, but there are better mid-priced models out there.