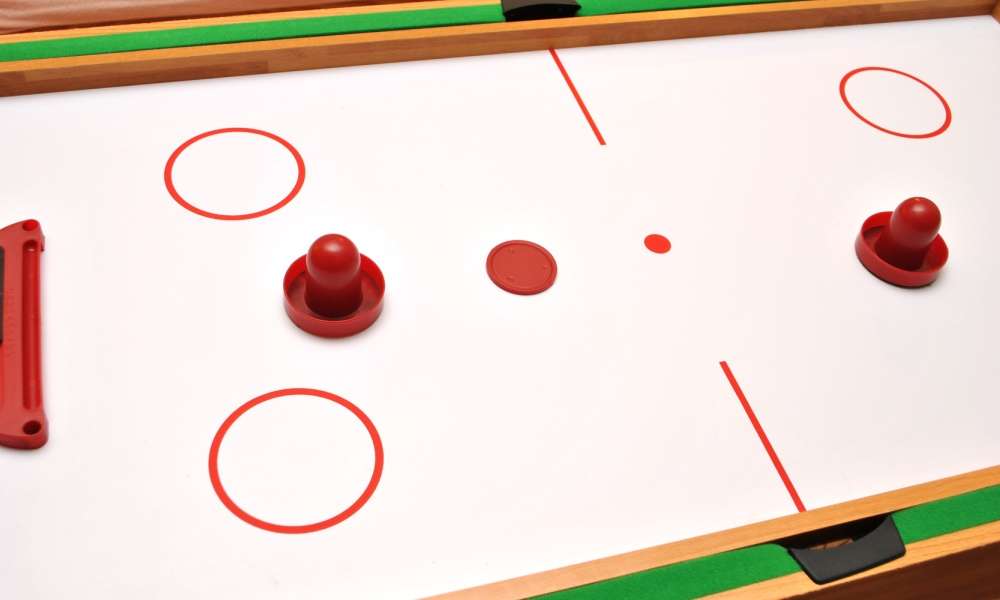 A game of air hockey can be described as exhilarating and can bring out your competitive juices. You can play on one of these tables in your local arcade, if they have them.
If not, you can purchase your own table and enjoy a good game any time you want. But when it comes to buying an air hockey table, there are different types to choose from and if you're a beginner, you're bound to get confused as to where to start.
Air Hockey Table Buying Guide: Are all tables the same?
This article aims to give you an air hockey table buying guide made simple that even beginners looking for their first air hockey table can easily understand.
Different types of air hockey tables
There are different types of air hockey tables to choose from. You should choose one based on your skill, preference, and available space.
Arcade-style—These tables are more expensive than standard air hockey tables but have the advantage of a more solid construction, powerful blowers, plus extras (music, lights, and electronic scoring).
Basic—Most standard tables are basic; this means that it does not have the music and lights that come with the arcade-style table. These are still sturdy in construction and suitable for young and beginner players.
Tabletop—These are designed to be placed on tabletops and, therefore, lack the legs that make it a full table. These are a good option when you lack space. Tabletop air hockey tables are portable and can easily be stored away when not in use.
Multi-game—This offers you versatility. It allows you to play a variety of games including shuffleboard, table tennis, and foosball.
Determine the skill level
Skill level can be broken down into three types: advanced, intermediate, and beginner. Skill level matters when it comes to choosing a suitable air hockey table so that you can make the most of your air hockey table's features.
Advanced players—These players require a strong and solid, full-sized professional air hockey table. The table can be standard or arcade-style, depending on preference and budget. Advanced players often want a better gameplay experience so the playing surface has to be smooth, the fan needs to be fully powered, and rink walls need to be thick. Advanced players also need the standard-sized striker and puck for better handling.
Intermediate players—Intermediate players who want to progress to the advanced level can be suited to a full-sized table, but they can also play well with the 7' table.
Beginner players—Are more suited with the tabletop or 40-42" air hockey table. For younger players, like children, a tabletop model is a more suitable choice due to the size of the accessories.
Look at the Table Features
An air hockey table buying guide would not be complete without tips on what to look for in the product. The design of an air hockey table is pretty much similar from one manufacturer to another, but there are some differences that can set one table apart from another.
Construction—Advanced players require sturdy construction because of the strength used during gameplay. The durability of the table should also extend to its accessories. Smaller air hockey tables or tabletop versions often do not have the strong construction that full air hockey tables do. But, when used by young kids, the construction of the table should hold up just fine.
Motor—The more powerful the motor, the better. A powerful motor means a more frictionless playing surface can be achieved due to the amount of air delivered. Do not expect a powerful motor on tabletop air hockey tables. However, if you are a beginner the force of the fan shouldn't affect your gameplay.
Rink—This isn't a consideration for many, but it should be on yours. When looking at different air hockey tables, you want to take a closer look at the rink walls. An ideal rink wall that should be made of nylon or aluminum. Good quality rink walls mean better rebound and faster play.
Air hockey table buying guide: Final word
One last thing you don't want to miss when choosing an air hockey table is the size available in your own home. A bigger and dedicated space means you can allocate a full-sized table for play. If not, you can always go for the portable tabletop and mini tabletop versions.
You may also want to consider buying a used table than a new one. When opting for the used, make sure you research the reason behind the resale and check whether all inclusions are intact, and the motor is fully functioning.