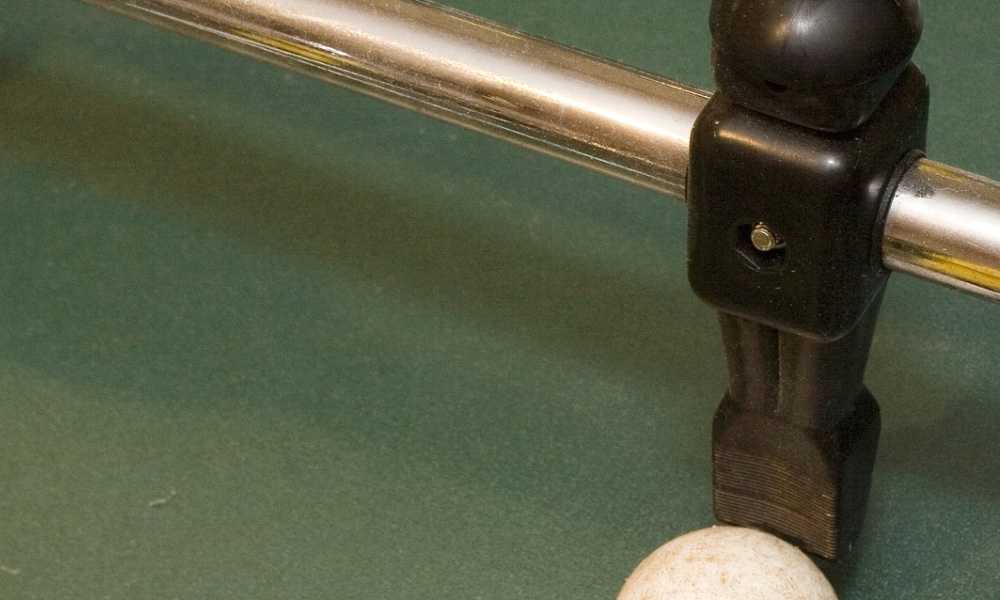 The most affordable foosball table from the Atomic catalog is their Pro Force foosball table. This is a table that can be played by everyone in the family and is suitable for the kiddies from the age of five and up.
The Atomic Pro Force Foosball Table is a great addition to any home, and it will look great in any room you choose to place it in. The adults will have as much fun playing on this foosball table as the children, and its sturdy build will withstand some aggressive goal scoring techniques too.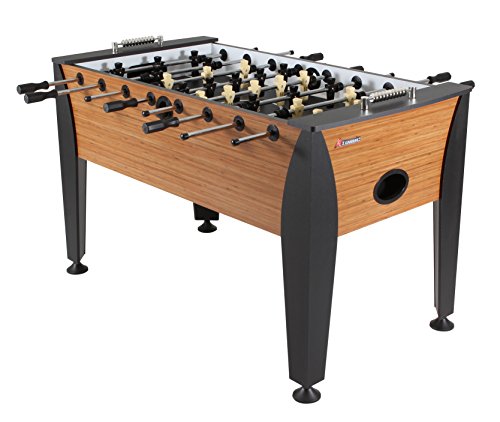 Features
Four balls included
Manual slide scoring units
Robot-styled, plastic foosball men finished in ivory and black
Internal ball return and ball entry
Bamboo laminate cabinet
Easy-to-grip rubber octagonal handles
Manufactured wood, metal, and plastic
Adjustable 3.5-inch leg levellers
L-Style Legs
Hollow steel rods with chrome finish
Dimensions: 29.5 inch (width) x 56 inch (depth) x 34.5 Inch (height)
Black accents on exterior
Pros
This table is made from manufactured wood with heavy-duty, L-shaped legs and steel parts, which enhances its strength and durability. This is a table that will be able to take some competitive pounding and last you a good couple of years of game play.
The wood finish also adds to the attractiveness of this table. Together with the bamboo laminate cabinet, black accents, and the chrome finished steel rods, this table will look good anywhere you place it.
Its size is just right. It is not too small, and it is not too big that it won't fit in most rooms. As a player, you will have ample space to move around, and its 56-inch size gives you the ideal playing surface for a decent game.
The easy-to-grip rubber octagonal handles ensure a slip-free game and will help increase your performance as they offer you the perfect grip.
You can start playing right away and with no additional expenses because four foosballs are included for a complete game.
The manual abacus-style scoring will eliminate cheating as you can easily keep track of the score.
The assembly instructions are easy to follow.
The leg levellers help to create an even playing surface and adjust the overall height of the table.
Cons
The robot-style foosball men do not allow for complete control of the ball and are not very attractive in design.
The black veneer on the legs is very thin and has not been applied to the edges properly. This causes the black veneer to peel easily.
Although the assembly instructions are easy to follow, you do need to invest at least 3.5 to 4 hours in assembling this table. It needs to be assembled upside down so you need to ensure that the foosball men are placed correctly because this is an error that is not easily fixed. Some of the pilot holes do not line up exactly, but with some perseverance and patience, it will assemble into a very strong foosball table.
Comparison
Looking across the Atomic brand of foosball tables, the 56-inch size seems to be the brand's favoured size for their foosball tables. The Pro Force, Gladiator and Eurostar foosball tables are all 56 inches in length, keeping consistency throughout the brand and offering an excellent gaming surface to play on. Another similar feature across the Atomic foosball brand is the use of manufactured wood.
In comparison to the Eurostar foosball table, the Pro Force is definitely sturdier, stronger, and more durable. It also includes more playing balls. The Gladiator and Eurostar both feature cup holders, but this is only a small feature that is not necessary to be included.
Overall, the Pro Force is the most affordable of the Atomic foosball table range, and yet its quality exceeds that of the Eurostar. It is very similar in its features with the Gladiator table, but with so much similarity, one may choose the more affordable option.
Hours of fun are guaranteed with the Atomic Pro Force Foosball Table. If you do not mind spending a few hours assembling it, perhaps under the watchful eyes of the children anticipating playing foosball, then this is definitely a table that can be enjoyed by the whole family. It is durable and sturdy, and it will look great in any room you choose to place it in.
If you are looking for an affordable foosball table, then the Atomic Pro Force Foosball Table will have you enjoying goal after goal for many years to come, just be careful not to leave your drink on the table during all the competitive action. We would also recommend purchasing slightly larger foosballs for better control of the ball.