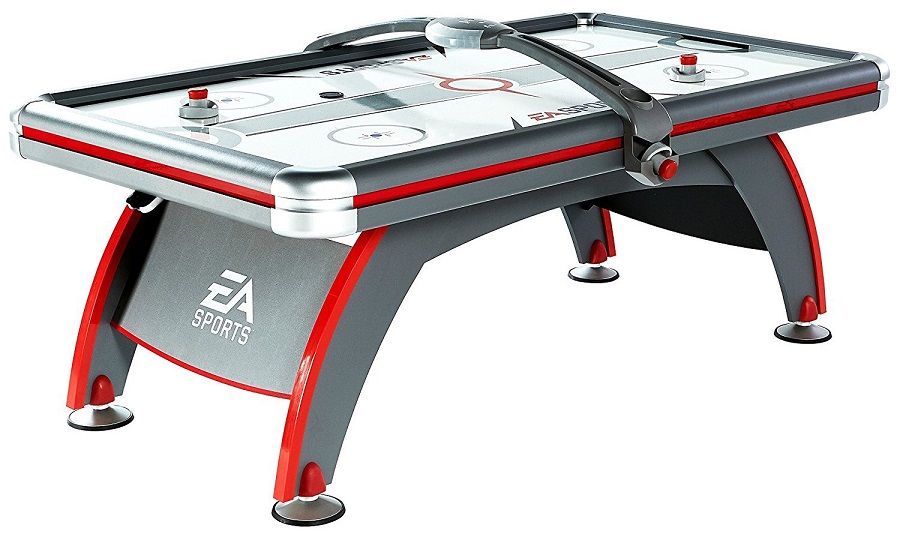 Air hockey is a table based game which is quite popular in America. The need for quick reflexes makes the air hockey game quite exciting and a wonderful pastime. Unlike traditional hockey, the game does not involve rather a frictionless surface and a puck that serve as a reminiscent of traditional hockey sport. Like with foosball tables, pool tables, table tennis tables, and even multi-game tables, if you are going to make an investment, many people look towards the top end air hockey tables to ensure a wonderful play surface and he perfect air flow. A 7-foot Harvard air hockey table is worth the investment whether you're purchasing for personal entertainment or for your kids. Once you fall in love with the thrill of this beautiful game, you will realize the importance of an air hockey table in your home.
The right kind of equipment allows enhanced entertainment and intensified excitement. You are able to go that extra mile with your performance and sports experience, with a high-quality air hockey table. Following are some of the best 7-foot air hockey tables that offer an arcade-like experience any air-hockey fan truly deserves:
Price: less than $1000
You can experience intense game-play with this 82-inch long table that will offer an arcade-style feel. The LED Lumen-X technology will light the table up with red, green, and blue lighting effects that interchange throughout the game. The LED Lumen X technology offers great fun in the dark as well. The solid table is quite impressive in terms of quality and provides high-quality hockey experience. The surface is created with PVC laminated and it is around 41 inches wide, in order to allow high playing speeds to the users. The motor offers enhanced air-flow of 120V while stability is maintained with the four legs.
PROS​
Playing surface is slippery and wide
Solid legs
Easy setup
Interchanging colors
CONS
High Price
Relatively heavy
---
Price: less than $1000
This table is perfect for beginners and even intermediates. The table offers durable PVC lamination and solid stability. The air blow motor is quite powerful and allows gliding at fast speeds as well. The scoreboard is digital and allows timers for 5, 10, and 15 minutes. The additional music feature enhances the excitement with every goal.
PROS​
Wide-top rails
Affordable
6-inch legs (pedestal style)
Easy installation
CONS
Relatively cheap finish
Scoreboard issues have been reported
---
Price: less than $600
This 7-foot air hockey table will reinforce your game. The table is a blend of old fashion style and intense gameplay. The unit consists of an LED electronic scoreboard to keep you on track. The features of sound effects and an electronic timer allow you to make your game all the more fun. You can control the game with the help of air-powered push buttons that are friction-reducing and help simplify the entire game experience. The leg levers keep the gameplay smooth and the table leveled at just about any surface. Stability and durability are promoted with the help of a playfield apron and a top rail. The additional feature of a cup holder offers an enhanced experience.
PROS​
Built-in cup holder
LED Electronic scoreboard
Sound effects and timer
Affordable
CONS
Safety issues have been reported with the edges
Assembly instructions are not simple
---
Price: less than $1000
This table can be regarded as an effective alternative to any gold-level table due the high-quality design and effectiveness of air-flow. It offers a professional table style of gameplay. This table has been specifically designed to improve your hockey experience and performance. The unit consists of a modern design with graphics and a white surface. The airflow is powerful at 110 cubic feet per minute, and the electronic scoreboard keeps things in check. With the help of four deflection walls, the game remains uninterrupted. Convenient access is provided to each player with the help of dual-end puck returns positioned on each side. If you're looking to replicate a tournament-style experience, then this is a great option for you.
PROS​
Electronic scoreboard
Leg levelers
Electronic Timer
Good size
Unlimited minute time options
Dual-end puck return
CONS
Some people reported issues with the scoreboard
Cheaper options available in the market
Not highly portable
---
Price: less than $700
This solid, 84-inch table will take your game to an entirely new level. The table consists of a sleek and sturdy structure which is perfect for intermediate players. A highly smooth movement is offered with the help of a constant blower that keeps the game uninterrupted. The unit arrives with additional two mallets and four pucks. Moreover, with the MDF body and lamination, durability and stability are ensured.
PROS​
Additional four pucks and two mallets
Decent size
MDF body
Sleek structure
Dual-Abacus scoring
CONS
Replacement parts are not available
Set-up can be tricky
---
Price: less than $1000
This table is no less than a work of art, with a stunning overhead arch and materials of superior quality. The blower is quite powerful and the manufacturing is reliable given the brand name. The puck glides easily over the highly smooth table and the screen print is vivid. Moreover, the electronic scoring offers a great experience. The cabinet is highly stable and offers a silver trim. The table weighs around 278 pounds and it is easy to assemble with simple instructions.
PROS​
Great performance
Cherry-finished cabinet
Easy to install
Superior quality
CONS
High price
Uneven air distribution
---
Final Thoughts
It all comes down to your personal needs and budget. If you're looking to sharpen up your skills as a serious player, then you need advanced models. If your purpose of the purchase is entertainment and enhancement of your skills, then a 7-foot air hockey table is the right kind of investment. The aforementioned brands will serve as great value for money. Weigh the pros and cons of each and choose the perfect fit for your house.