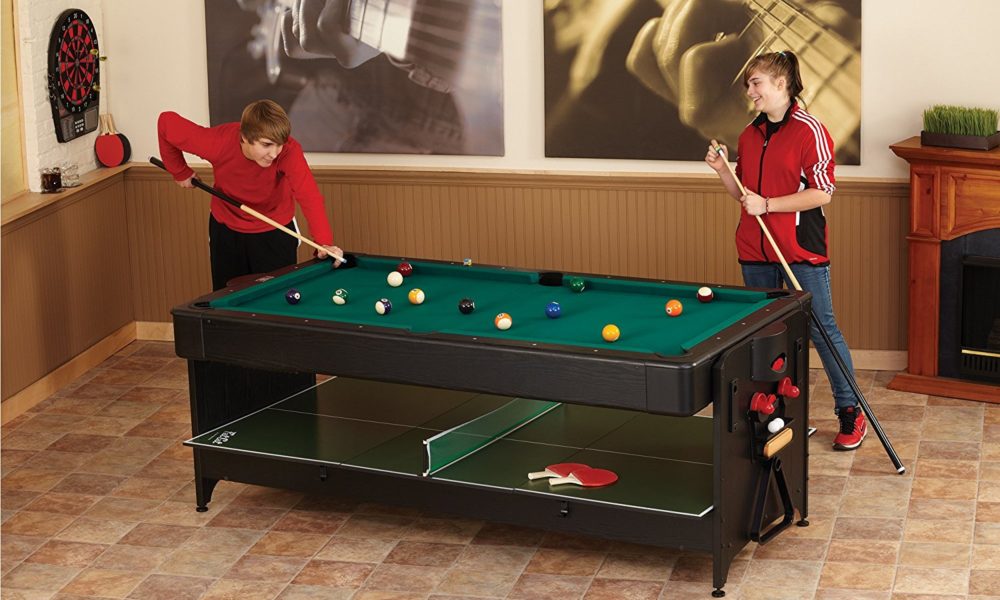 With so many different options when it comes to a pool table and billiards table it can be difficult to know exactly which one you should go for to add to your game room. There are so many different materials and styles to choose from, but you want to make sure that you're getting the best possible quality.
So, what should you do to make sure you're getting what you really want? Well, you may prefer a solid wood table with beautifully designed legs, quality wood rails of several inches, well-made pockets, the best felt cloth for perfect ball control, cushion rubbers or other cushions, a 6.6 or 7-foot table and so on, but one of the key things you need to look at is a wood vs. slate bed pool table top, which means you have to consider the overall price.
This includes both medium-density fiberboard (MDF) and solid slate as well as synthetic slate options. This review takes a look at the different options available on the market today. Once you have decided on the best table for your needs, all you need is a cue stick and a cue ball and you are ready to go—hours of entertainment playing quality pool and billiards.
Wood Table
The biggest advantage for many people when it comes to wood tables is that they are inexpensive.
You'll get a table that's built with MDF is far cheaper than any type of slate and therefore you're going to have a decent table, but not something super high quality.
If you can't afford a lot of extras or you're on a budget you'll definitely want to look at wood. If you want something that you can move around with relative ease you're also going to want a wood table because it's designed with that particle style board. This makes it a whole lot lighter to lift up and carry wherever you want to go. It also helps you to put the thing together when you don't have a lot of people to help.
Finally, you'll find that wood tables are going to help you with beginners or those who want a smaller table.Slate tables don't come in smaller sizes very often, which makes a wood table much better for those who are just getting started or those who want a small game that can be used for smaller children more easily.
​
When we look at the downside you'll see that these tables can have a slightly different playability. You're going to have a different feel to the process and you won't have as much control. You also won't have the same level of speed that you would have when you're using a slate style table.
Warping will happen overall because anything that's made with wood starts to deteriorate. It can happen in a short or a longer period of time and gets worse in humidity, extremely hot situations or anywhere that water and other liquids get into the wood surface, affecting the overall quality and longevity.
Slate Table
A slate table is going to give you a lot better and more natural gameplay than you will get with wood. These tables are true, which means they're extremely flat and they are going to provide you with better control while you're shooting.
This means you'll be able to get straight shots more easily, and more cleanly, which is definitely going to give you an edge when you're trying to play.
You'll definitely want to look at getting some assistance when you're building these types of tables as well because they're going to take a little bit more work and will generally have some additional steps and more elaborate pieces. That means it's going to be more difficult to get everything taken care of the way that you want and make sure that it's all done the right way because of the elaborateness.
No matter which of these that you choose you could see prices that range from moderate to high with some tables being only a couple hundred and many being higher, up to several thousand dollars. That means you want to make sure that you're looking at what you really want and what will get the most use in your household. You don't want to spend a lot of money on something if you're just looking for a fun thing to play once in a while, but if you're looking for something professional you may want to opt for higher quality.
There are plenty of ways that you can check out different tables to make sure that you have something quality that will work well for your purpose. Whatever style you're looking for or what kind of colors and designs you're looking for there are several different tables out there that will help you to get it and you'll have no problem mixing and matching what you want for a table.
Just make sure you pay close attention to the options and that you look at what you can afford as well. There are definitely going to be plenty of choices out there and you'll enjoy the results. Getting a good pool table means looking at everything that your new table has, including the material that it's going to use.
You want to make sure that you have a good table that is going to withstand a whole lot of use and abuse. By looking at the positives and negatives that go along with a wood or a slate pool table you'll be able to decide which one is going to work the best for you and how you can make sure it's a great addition to your home, wherever you want it.