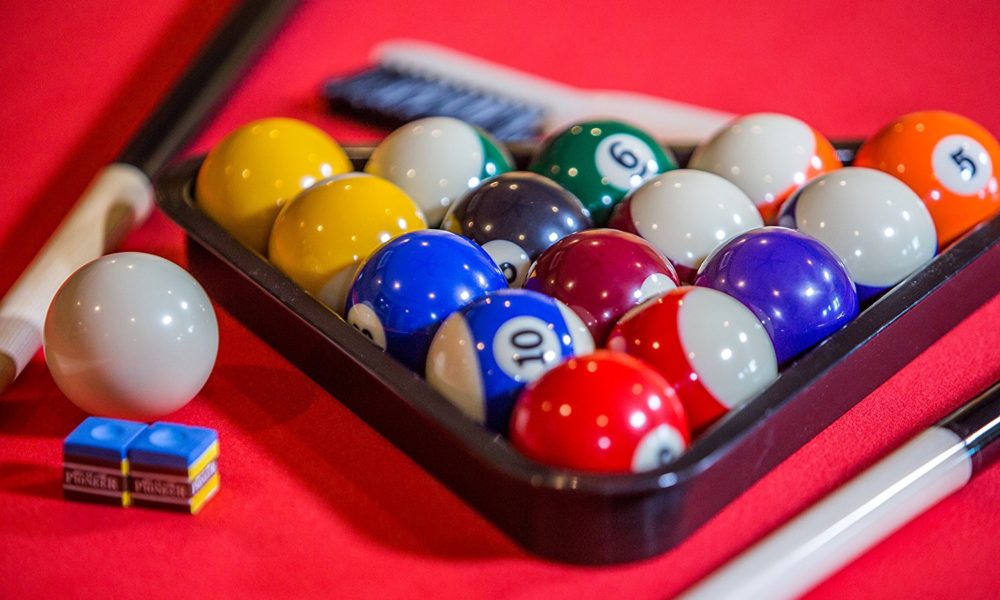 So what do you do if you really want a pool table but your housemate really wants an air hockey table, a foosball table, or a ping pong table for the game room? You get a combination game table (or multi-game table) that will let you play both, of course and provide instant savings and hours of fun! Each of these tables will allow you to play pool or air hockey and switch between the two with ease. You'll be able to have double the fun without spending double the money, which is definitely always a bonus of its own.
Fat Cat Pockey 3-in-1 Table
The Fat Cat Pockey 3-in-1 Table actually allows you to play more than just air hockey and pool. It also lets you play table tennis right there on the same surface. With this table, for around $900, you don't really need to do a lot in order to switch it out. The pool table surface features a traditional green felt with rubber bumpers as well as drop pockets.
Switching to table tennis is easy because all you need to do is unfold it and set it on top and you'll be ready to go. The air hockey gives you a realistic looking design and a manual scoring capability to go along with it.Included in this set are four pushers, four pucks, the balls for billiards, a triangle, 2 cues, a billiard brush, 2 pieces of chalk, 2 paddles for table tennis, the net and posts, and the balls. So you're going to be all set to go whenever you want to play any of these games with the family.
​
Atomic 2-in-1 Flip Table
The Atomic 2-in-1 Flip Table is about $730 and has an air powered hockey table along with the billiard table. When you want to play either game you can lock the tabletop easily and make sure that it's not going to move while you're in the middle of anything.
The pool table features a red cloth and MDF board underneath, which is smooth and easy to roll the ball over and the hockey table is made with white PVC. The air hockey table also has an 110V motor which keeps the pucks moving continuously, keeping your game moving right along as well.
When you want to switch from one game to the other you can easily rotate the table right over and lock it down again and you'll have no problem getting everything going for the next game. What's really great is you get everything you need to play either game and you can even add on a tennis board to play table tennis on top of the table.
Triumph 3-in-1 Swivel Multigame Table
With the Triumph 3-in-1 Swivel Multigame Table, you get to play air hockey, pool, and table tennis with one simple game table. The central air distribution for the air hockey is designed to keep air flowing smoothly so your game goes off without a hitch.
​
The pool table is also designed with the traditional green felt so it looks just like you'd expect and plays that way too. Even better, the table tennis is super easy to set up on top of either of the other two tables so you're able to play whenever you want.
Everything you need to play any of these games is included in the set, so when you unpack the box and set it up you'll be ready to go. The design of the table itself is a little more sleek and modern, but you're going to have a whole lot of fun playing it wherever you want to put it. You'll also be able to swivel the table to get from one game to the other easily.
Giantex 4-in-1 Multi Game Table
The Giantex 4-in-1 MultiGame Table features four different games and it's inexpensive so you can definitely fit it into your budget. This table is smaller than a standard size, but it's perfect for things like air hockey, table tennis, and foosball.
Ideal for younger kids, this game is one that you're definitely going to want to check out for yourself and it's something that comes under budget at around $100.
It comes with everything you need in order to play and it can be set up on a table or on the floor to add a bit of extra height.Designed for younger users, this is a fun table to play with and it's one that you can set up easily and quickly whenever you want or put away when you're done with it so that it stays out of the way.
Playcraft Sport Junior 2-in-1 Table
Finally, the Playcraft Sport Junior 2-in-1Table is an inexpensive table that's designed to keep your younger ones occupied all the time. At around $300, this table has pool on one side and air hockey on the other, so it's easy to switch back and forth and it's even easier to make sure that the game is going to go well.
It uses a 110V fan and the air hockey table is made with high gloss PVC laminate so you get the same smooth game every time. The pool table is made with an MDF board underneath that keeps it sturdy and stable for a long time to come.When you're ready to get started it's easy enough to put together and it can provide you with everything you need in order to get started. You don't need any extra accessories in order to enjoy and you'll be able to set this up anywhere.
No matter which of these tables you decide to go with for yourself, you're definitely going to love the way that they work for your family. You don't need as much space, you can save a bit of money, and you're definitely going to have at least twice the fun while you're at it. What could be better than that? With any of these tables, you'll have at least two different games to play and possibly even more so you're actually getting something even better.