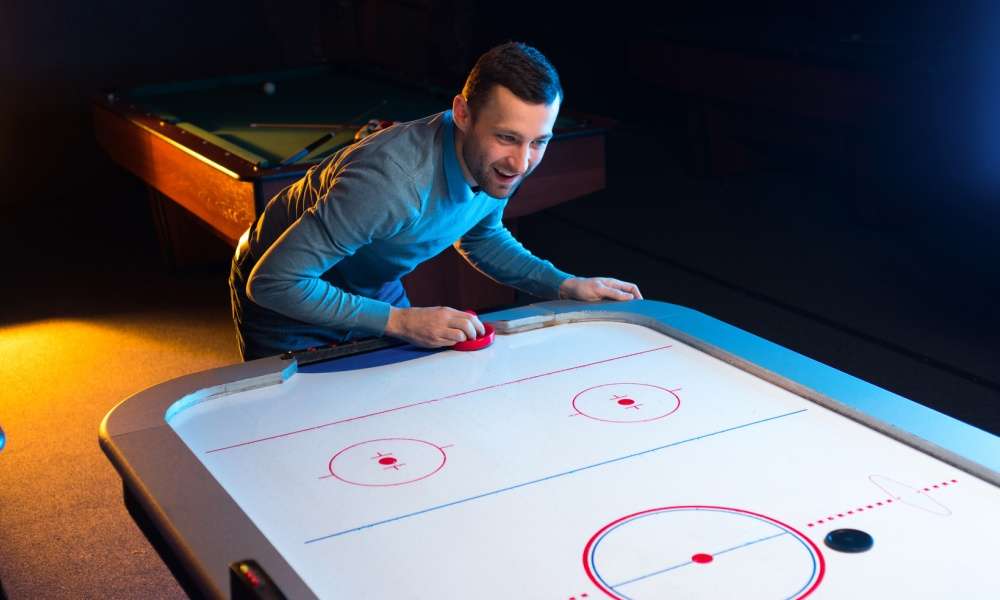 It shouldn't come as a surprise why air hockey tables are a hit in many arcades. It's a fun and exhilarating game that will always keep you on your toes, not to mention the thrill viewers are also experiencing as they look on. When you want to take that same experience into your own home, then it's time you get an air hockey table of your own.
There are a variety of air hockey tables out in the market. You don't and should never settle for the first one you see. Impulse buying won't help you out in the long run when buying a table that's meant to be used for entertainment. When you're looking for one, you should only look for the best air hockey table that your money can buy.
How do you go about getting the best table out there? There are a lot of things to consider and these will later be broken down into simple tips. And although there are a few considerations more than you'd think there would be, it does help to be thorough when it comes to purchasing a table you will want to use for years to come. Getting a good quality air hockey table can be possible through the following tips.
How to choose the best air hockey table
In choosing the best air hockey table for your home, there are four things you want to consider; type, skill level, age of player, and size. These factors will determine whether a certain table is suitable for you or not.
Table type
Air hockey tables don't just come in one standard design; there are different types of tables available. The more popular table is the arcade-style. This comes complete with flashing lights, music, and electronic scoring.
Standard or basic types lack all the extras that come with an arcade-style table but are complete with the necessary parts you'll need to play a game of air hockey. Lastly, there are tabletop air hockey tables that are built to be placed on top of a table and are well-suited for those who live in smaller spaces.
Skill level
The skill level of air hockey players can be categorized into three: advanced, intermediate, and beginner. If you're a beginning player, all you'll really need is the basic table as you are still on your way to learning the game.
If you're an intermediate player with the intent of improving your skills, you can settle for a full table and either go for an arcade-type or basic table, depending on preference. If you're an advanced player, it isn't so much about the type of table, but the quality of the table you want to look for. A good quality table can meet the needs of advanced air hockey players.
Size
A full-sized air hockey table measures at 8' long and this meets the standard for competitive or professional play. Commercial air hockey tables designed for home use vary in size and comes in 4', 5', and even 8' lengths. The decision on size depends on who's going to use the table and how much space you can spare in your home.
Age of player
Who uses the air hockey table should be a good indicator of what kind you want to go for. If you plan to buy one for your kids at home as a form of entertainment, the tabletop versions are a good choice.
If you have teenagers or maybe want one for your business establishment, these players will have much more fun on a bigger or even full-sized table with standard-sized accessories.
What to look for in the best air hockey table
If you've finally settled on an air hockey table based on the abovementioned factors, you will want to take a closer look at your table. Taking this extra step can make you enjoy your purchase; ignoring it and you may regret it in the end.
Durability
Air hockey is meant to be played with force. There will be a lot of movements made with your arms (in the case of a tabletop) or with your whole body (in the case of a full-legged table). Air hockey is also quite a popular game. Even if you have it in your home, it's bound to be used many times.
When purchasing an air hockey table, you want to check if the construction of the table is excellent at best. The table needs to have stable legs and the rink walls have to be thick and made from quality material as this can determine the quality of your game.
Rink walls
The quality of the rink walls is often overlooked, but this is one aspect of the table you should definitely take a closer look at. You want good quality rink walls like nylon or solid aluminum.
Good rink walls will keep the puck in place and allow for good deflection, which can make for a great game. However, if you want good rink walls, you might have to prepare yourself to pay more.
Motor
The playing surface of your air hockey table determines the pace of your game. The faster the pace, the more thrilling and challenging the play is. In order to create a smooth and frictionless playing surface, the fan should be high powered, and able to blow sufficient amounts of air through the miniature holes that puncture the length of the surface.
You also want to make sure that you look for an electric-powered motor, rather than a battery powered one (especially for full-sized tables). You also want to choose a motor that is known to stay cool and not excessively overheat when used.
Accessories
If you're an advanced player, the type of accessories that come with your air hockey table will matter to you. For example, there are different strikers available that suit the preference of different players such as high-top and flat-top paddles.
The size of the accessories will also make a difference. For grown players, handling smaller sized pucks and paddles can be a challenge (such as with tabletop or mini air hockey tables).
Extras
If you want convenience, for example, you can look for electronic scoring in your table rather than the common manual scorers. If your table is electric powered, you want to take a look at how long the cord is; you don't want to lug around an extension cord with you all the time for when you want to set the table up for a game.
You also want to make sure that the legs on your air hockey tables have levelers or rubber stoppers to make sure that your air hockey table doesn't get jostled around as you play an intense game.
Top Air Hockey Tables
The sheer number of impressive air hockey tables out in the market is overwhelming. Below is a list of recommended air hockey tables to make your choice a lot easier.
Playcraft Sport 40-inch Table Top Air Hockey
The Playcraft Sport 40-inch Table Top Air Hockey is specifically designed for young players, occasional players, and for those with limited space. The 40" make it easily portable. It is also compact so you can take it to any part of the house with ease. Storing it away when you're not using it is also quite easy because of its dimensions, and at roughly 18 lbs., it's not too heavy to carry.
The Playcraft Sport air hockey table is an example of the tabletop type with a basic design. This table has no flashing lights, no music playing, and no electronic scoring. What it does have is a manual scoring slider at each goal post, a quick return ABS puck catcher, and a 100 cfm air-powered motor. With the purchase comes the standard 2 pucks and 2 strikers.
This table is well-suited for beginners, young children, and occasional players. Although it's marketed as a toy due to its tabletop design, it is quite durable for its kind. It is made of MDF hardwood making it withstand the abuse of a fast-paced game of air hockey.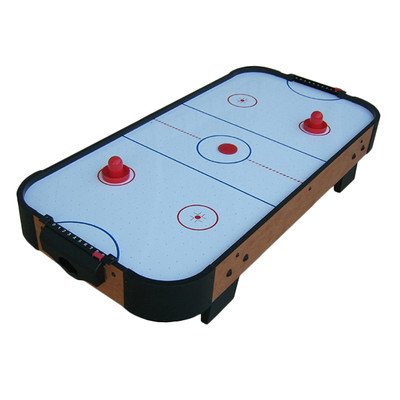 Pros
Motor is powerful enough for its size
Complete inclusions: 2 pucks and 2 strikers
Solid construction
Stores away easily when not in use
For indoor or outdoor play
Cons
Small and more suited for younger players
Small accessories not suited for large players
No rubber stoppers on each leg
Some fixing and drilling needed when parts are lacking
Harvil Tabletop 40-inch Air Hockey Table
There are many things to love about the Harvil Tabletop 40-inch Air Hockey Table. For a tabletop air hockey, its design mimics that of what you would normally find in arcades. It makes use of vibrant colors and graphics to get you in the mood of a game of air hockey at first sight.
It measures 40" and is perfect if you're giving it away as a gift for young children or even if you plan to use in your home with limited space. This easily fits on a coffee table or dining table. You can even play it on the floor and it will still work just fine. The 12V motor is quite powerful and is decent enough for this table size.
This air hockey table from Harvil is easy to set up. You can get detailed instructions and even a demo video online on how to correctly assemble your tabletop air hockey.
Should you find that there are parts missing or damaged upon delivery, you are covered with a warranty. You can enjoy free replacements on parts and even a money-back guarantee if you feel that you are not satisfied with the table after trying it out.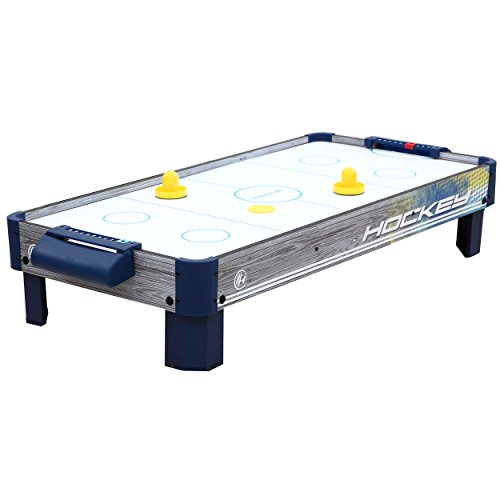 Pros
Cool color combination on the table
Vibrant graphics on playing surface
Includes 2 pucks and 2 paddles
Decent fan for a tabletop model
Easy to set up
Weighs approximately 14 lbs.
Money back guarantee and warranty protection
Cons
Sport Squad HX40 Air Hockey Table
A tabletop air hockey that's suited for all age-groups? Definitely possible with the Sport Squad HX40 Air Hockey Table. It's still a tabletop size at 40" with the same tabletop suited accessories, but what makes it a game that even young-at-hearts can enjoy?
The Sport Squad HX40 is designed to meet the needs of players of different ages. The design is representative of the thrill that can be experienced with a game of air hockey, with plenty of blazing lines and a good color combination.
It may not have an electronic scoring system but it does have a quick puck return feature that makes any game seamless and as fast-paced as possible. The smooth playing surface is achieved through a high-powered fan. You'll enjoy fast-paced action without fear of the table moving around thanks to its non-marking rubberized feet.
You get to enjoy play as soon as the table is set up because everything you need is included in the purchase. It comes complete with 2 pucks, 2 strikers, and an AC adapter for this electric powered air hockey table. There won't be any frequent draining of batteries unlike the battery-operated tabletop air hockey tables.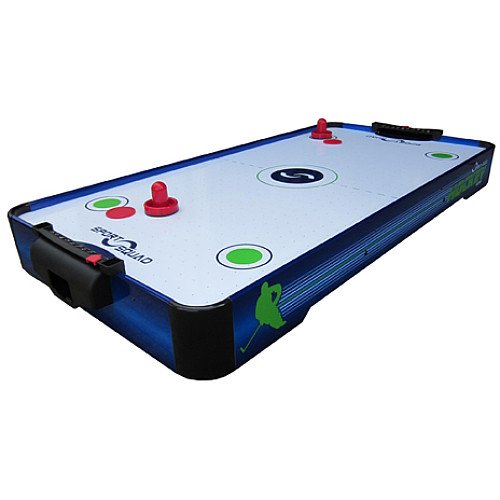 Pros
Smooth surface allows for fast-paced action
Quick puck return feature
Lightweight measuring roughly 10 lbs.
Rubberized feet for stable gameplay
Easily carry it around anywhere
Cons
Motor may overheat due to relatively low table height
Felt from strikers comes off pretty easily
Point Games Blazing Air Hockey
Completely portable but just as fun, the Blazing Air Hockey is a perfect addition to your family game collection. The size is very suitable for kids. It's a mini tabletop air hockey table measuring in at 21", but it is completely safe for children's use.
The table has been designed for kids and has taken all the child-safety precautions into consideration including choking hazards; none of the accessories included in the mini air hockey can be swallowed.
For such a small size, can you expect good gameplay? Thanks to a high-powered fan, a decent playing surface is achieved. Pucks will be able to slide and glide easily across the rink for a fast-paced game. What's even better is that this is a completely portable game. It runs on batteries, so you don't have to worry about finding an outlet to plug it in.
Everything you need to start playing is included except the batteries. The Blazing Air Hockey is also risk free. Should you decide that this game isn't for your or your family, you can return your purchase and get your money back. More often than not, this isn't the case and this mini air hockey table is loved by kids and adults alike.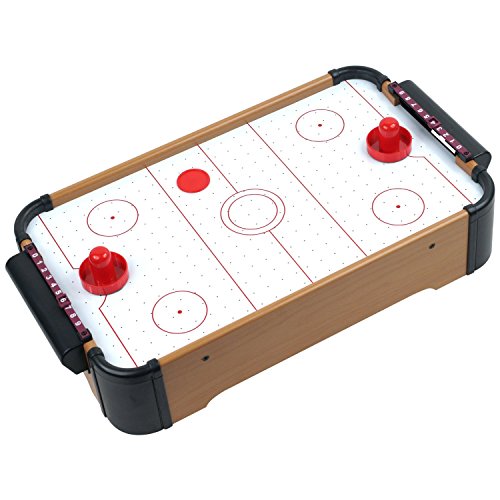 Pros
Completely portable
Size suitable for good gameplay by children
High-powered fan for good playing surface
Child-safety design
Money-back guarantee
Cons
Batteries not provided
Easily drains batteries unless rechargeable ones are used
Very small for adult players
Best Choice Products 40-inch Air Hockey Table
One look at the Best Choice Products 40-inch Air Hockey Table and you're sure you have a keeper. For one, it looks completely professional. The wood finish allows it to adapt to any home or business interior.
If you want a tabletop air hockey but dread the look of the arcade type, then you'll love this table from Best Choice Products. In fact, it looks stylish enough to become a permanent fixture in your home. There won't be a need to store this table away if it looks this good.
It's also a perfect choice if you have young kids in the home. There are no sharp edges and the accessories included are large enough so that it cannot be swallowed by curious little explorers in the home.
As for construction, it's pretty durable. It's made from durable MDF and finished off with a maple exterior. The gameplay is just as exciting as it looks. The 100V motor delivers enough air power to create a smooth playing surface where your pucks can easily glide. The size is good enough that even adult players can enjoy using it. It's as easy to store away as it is easy to assemble.
If you choose to play this on the floor, you won't experience any overheating with the motor as the height of the table gives ample amount of space and airflow between the motor and the floor. You get to play as soon as you finish assembling the table thanks to the pucks and paddles included in this one-time purchase.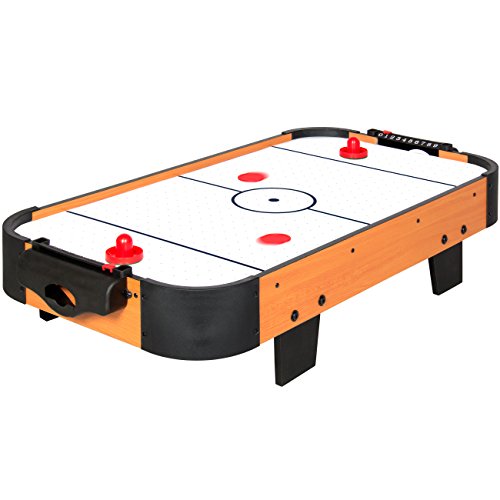 Pros
Beautiful exterior fits any home or business interior
Durable for play by children and adults
40" size suitable for both young and old players
Decent motor for smooth playing surface
No sharp edges
Cons
Not for advanced players due to size
Pucks and paddles included are tabletop size