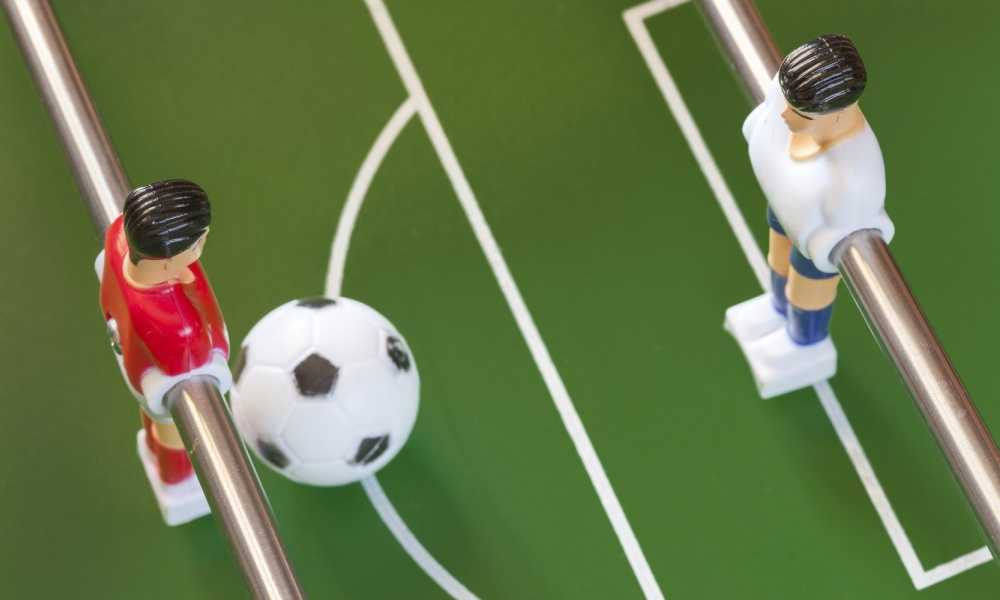 Whether you are new to the popular table-top game of foosball, or an enthusiast who wants to have their own table in the comfort of home or at the office, one thing is guaranteed – a foosball table is a great investment.
If you are looking for an all-round, high-quality foosball table that has a classic arcade design, then you should add the Best Choice Products 48″ Foosball Table to the top of your shopping list, especially if you want to add it to an arcade room, man-cave, or just as a recreational addition to your home.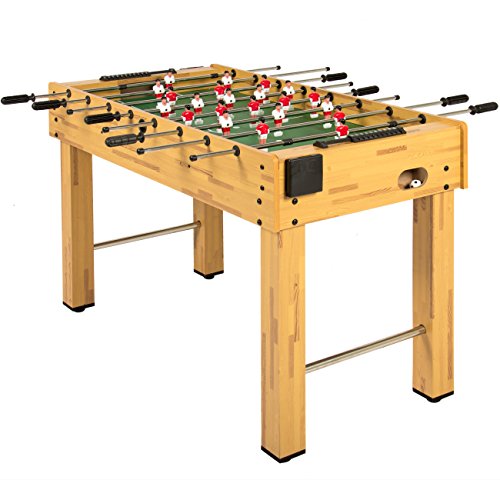 Features
Constructed with medium density fibreboard
Chrome finished steel rods
Dimensions: 47-inch length x 24-inch width x 33-inch height
Comfortable grips
Features two cup holders; one at each end of the table
Eight rows are included within the table (allowing four rows per team)
Eleven red foosball men and eleven white foosball men
Two balls are included
Overall weight: 42 Pounds
Assembly instructions included
 Pros
You will not have to spend hours trying to figure out which screw goes where and reviewing the assembly instructions over and over again. The instructions are easy to follow and the assembly of this table is just as easy. The quick assembly time will have you playing on your foosball table in no time, and it's a great project to get the kids involved in once you start assembling the table.
The steel rods have grips on the handles which will guarantee you a comfortable game that is gentle on your hands and slip-free. Beginners can learn to master their grip with these handles.
The red and white foosball men add to the attractiveness of this sporty foosball table. The colour combination works well against the green field and wood grain of the table, and they not robot-styled either. They look like mini soccer players and have better ball control than the robot styled players.
The casual and sporty appeal of this table will look great as a centre piece for your man cave or as a fun addition to any room in your home.
A highlighted feature of this table is that there are two cup holders; one at each end of the table. Now you can pound the table as you try to score the winning goal and you will not risk spilling your drink as it sits safely in its cup holder. The cup holders fold up and sit neatly against the side of the table so they won't get in your way when you walk past.
The size of this foosball table is great; it is not so large that it won't fit in some rooms and certainly not so small that gameplay is limited to a small playing surface.
Cons
The biggest disadvantage of this Best Choice Products 48″ Foosball Table is that it does not have leg levellers. You will need to ensure that this table is placed on a flat and even surface to ensure that the foosball table is level, otherwise you may have unfair game play with an uneven playing field.
Comparison
If you were to compare the Best Choice Products 48-inch foosball table to the 48-inch Giantex and 48-inch Voit Free Kick foosball tables, then you will find that there is a lot of similarity in the basic features. All three of these tables are missing leg levellers (or at least a shim pack to help level the playing surface), steel rods are common across all three tables, and they all have comfortable grips for better ball control.
The overall design and style sets these tables apart. The Best Choice Products 48" table features two cup holders—a feature that neither the Voit or Giantex tables have. Of course cup holders will not improve your game, but they are definitely a "nice-to-have".  Another nice feature is that of automatic ball return.
Only the Voit Free Kick table has this in comparison to the other two. The Voit Free Kick is also the only table to feature three goalies, making the Best Choice Products and Giantex tables more appealing to skilled players.
If you want to experience a fun-filled game of foosball that can be enjoyed by your whole family, then the Best Choice Products 48" Foosball Table will you offer you excellent quality and durability, all the while looking visually appealing with its sporty and casual appearance.
If you're pounding away, trying to block a goal, or to score a goal, then you can safely place your drink in one of the cup holders and have a halftime break without even having to leave the foosball table.