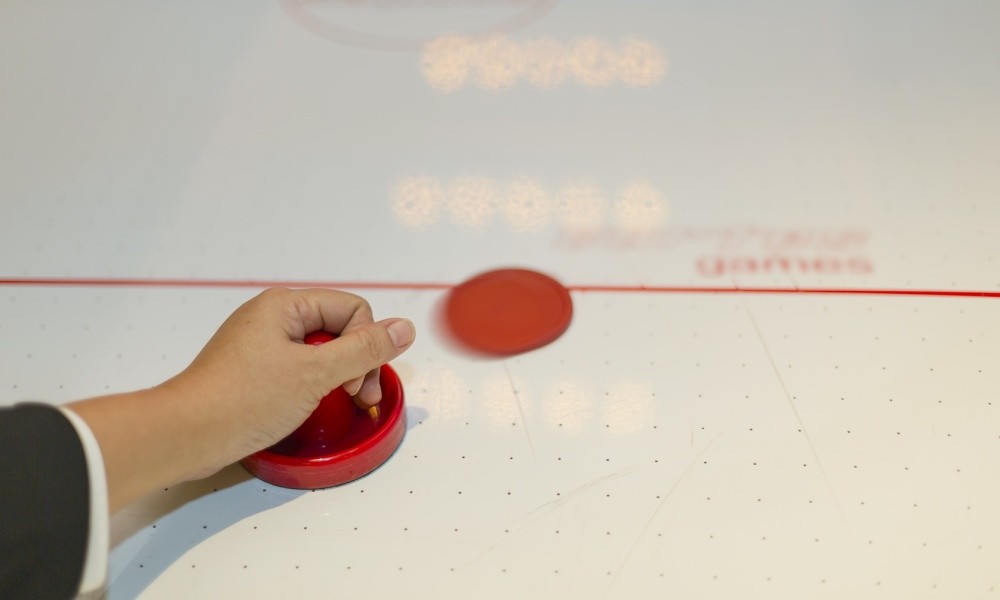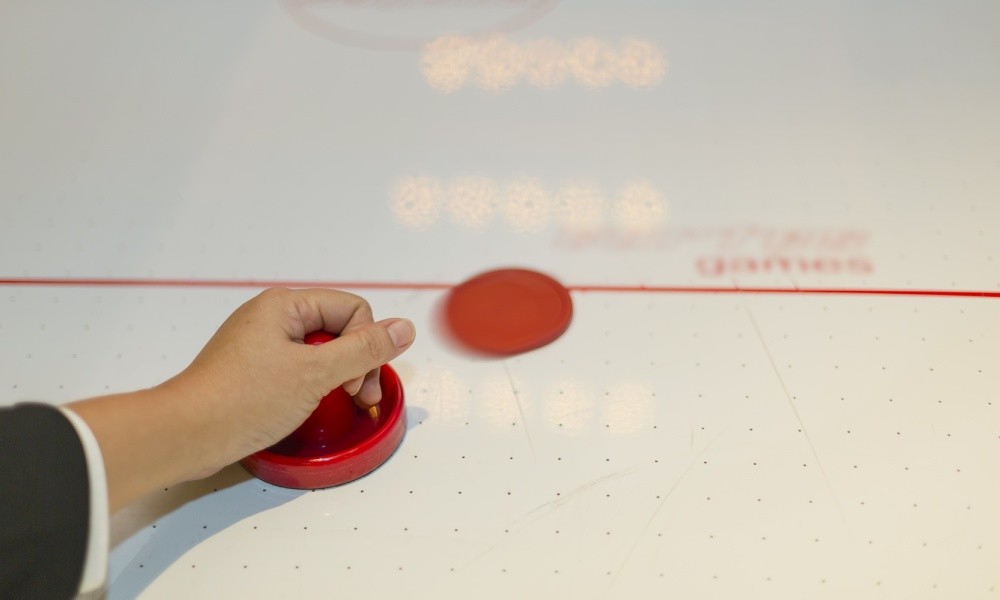 When it comes to tabletop versions of your favorite arcade games or sports, it's best to look for one that looks professional, yet delivers the ultimate amount fun.
The Best Choice Products Air Hockey Table is one such game room essential. Its 40" size is great for tabletop playing but best of all, it uses premium materials so you get more than your money's worth.
Most tabletop versions of air hockey tables have the common complaint of construction issues or fan power. This version from Best Choice Products has these problems addressed so that you'll spend most of your time enjoying the air hockey table, rather than fixing it.
This tabletop air hockey table from Best Choice Products is a good 40" in size, completely compact and suitable for gameplay in the playroom, living room, dining room, patio, or even your local business where you want to deliver a form of entertainment for your customers.
There's so much you can do with this air hockey table and the best thing to do if you don't yet have one, is to get one. The size may be smaller compared to your average air hockey table, but it's double the fun when the whole family gets in on the game.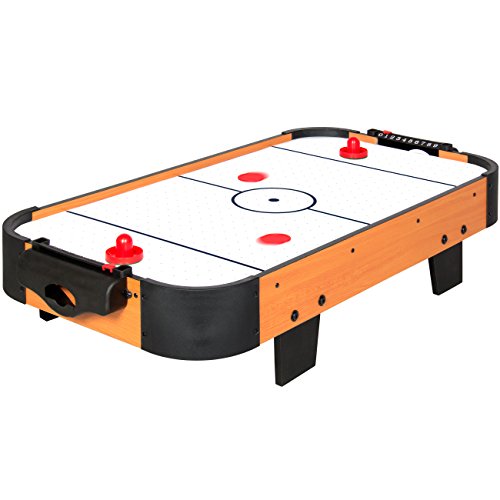 Features of the Best Choice Products Air Hockey Table
There's a reason the Best Choice Products Air Hockey should be one of your game room essentials. Here's a look at some of its features:
Durable MDF frame
Finished with maple exterior
Compact, 40" in size
Portable
Easy to store
Powered by 100V fan
Smooth and frictionless playing surface
Comes complete with 2 pucks and 2 strikers
Stylish design blends well with any interior
Playable for kids and adults alike
Manual score slider for score monitoring
Installed with puck catcher
Measures 40" (L) x 20" (W) x 8.5" (H)
Pros
Exterior maple finish gives it a sleek look to match any home or business interior
Powerful fan lends to better playing surface
Sturdy construction makes tabletop last longer
Easy to store owing to its size
Easy to bring along to family gatherings due to compact build
Complete inclusions, no need for separate purchases
Offers streamlined user experience
Cons
Size and height more suitable for kids
Fan power not comparable to full-sized air hockey tables
Comparison
The Best Choice Products Air Hockey Table may be a little out of the price range for some. If you're looking for a well-built air hockey table at lesser price, you can check out the Harvil Tabletop Air Hockey Table.
Its vibrant graphics on a white laminate playing area make it an attractive choice for those with younger kids. It also features a blue and black finish, unlike the ordinary wood finish of other air hockey tables. What's more is that the Harvil air hockey table offers a money-back guarantee and the product is also covered with a 90-day complete warranty.
Another wonderful tabletop air hockey table option is the Playcraft Sport 40-Inch Air Hockey Table. All three have similar sizes, but Playcraft Sport is the one closest in price range to the Best Choice Products. Playcraft Sports takes child safety into high consideration and incorporates this into their design.
There are other air hockey tables that are taller in height, making it enjoyable for adult players without compromising their backs during gameplay. But at the end of the day, when choosing the air hockey table you want, you should look for child-safety features, durability in construction, as well as great user experience. When it comes to passing all three standards, you're good to go with the Best Choice Products Air Hockey Table.
Verdict
It's easy to see why the Best Choice Products Air Hockey Table can become a permanent fixture in your home or business. It has a professional finish, even for a tabletop game meant for the kids to enjoy. It's a game that every member of the family can have fun with, no matter the age. It's easy to take along on every family picnic or gathering, so you're taking the fun with you.
When it comes to playing experience, this air hockey table from Best Choice Products is one of the best. The air power from the fan is very suitable for its size, allowing for a smooth glide of the puck.
Tracking your score is easy due to the score slider right by the puck catcher. The puck catcher also allows for quick puck return, making your game as quick and seamless as possible.
Lastly, this tabletop air hockey table is built to last you years of playing, even years of playing by kids. This means that you'll get more than your money's worth. Sure, it's a bit more expensive than other air hockey tables on the market, but for the amount of fun it is able to offer you in return, it's worth the money spent.