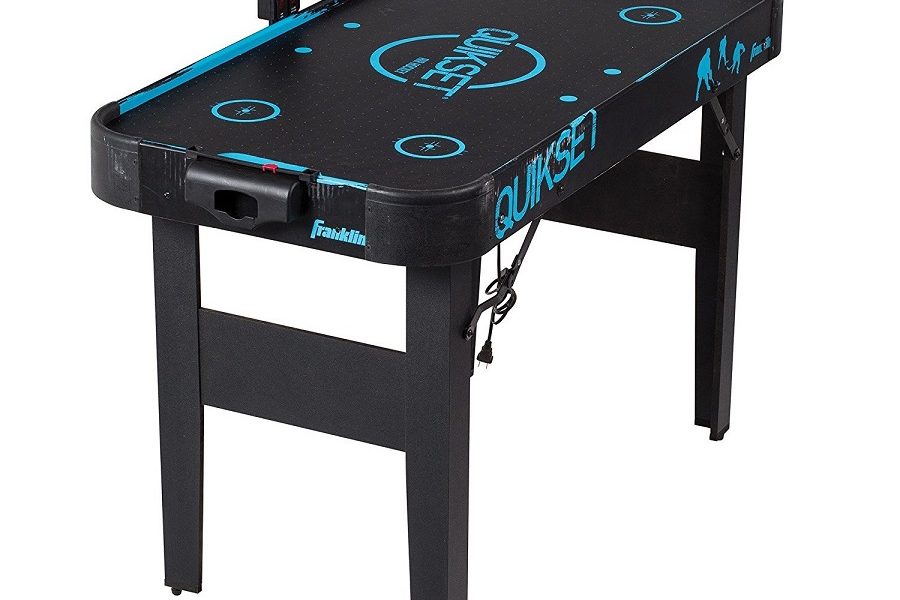 Air hockey is an amazing arcade game that is challenging, competitive, and overall fun. While it seems crazy to consider purchasing a full-sized air hockey table, what if I told you that you could purchase an air hockey table that is smaller, folds up, and is still just as fun? If you got excited reading that last sentence, then you clicked on the right article! As with folding bikes, folding multi-game tables, folding pool tables, folding ping pong tables, and even folding twin sleeper sofa beds, folding air hockey tables, are designed with compact space in mind.
There are so many different types of air hockey tables that you can find online to purchase for easy and convenient for home use. You can find tables that are perfect for kids and beginners all the way to pro or full-sized tables—the choice is up to you. But if you're looking for something that won't take up too much space and will still be incredibly fun for you and your family, you should consider a fold up air hockey table.
Fold up air hockey tables make it easier to store the table after using it and makes it easier to move and transport. While they tend to be on the smaller size, adults will find that they can have just as much fun as kids will on these tables. Now, I know what you're thinking: "How will I find the best fold-up air hockey table for my family and me?" No need to fret, that's what this article is for! Here is a list of 3 of the best easy to fold up air hockey tables that you can find on Amazon that will be fun for all ages!
Around $100
Product Dimensions: 46.5 x 24 x 28 inches
Key Features:​
Folding legs for easy storage
Electronic scoring system
Includes two pucks and two puck pushers
110v high output electric blower
Pros:
The fold able legs on this air hockey table make it so that you can easily store it away after playing a few games on it
The size of this table works perfectly for younger children and adults alike
The electronic scoring system makes it easy to see how the game is going instead of having to change the scores which can be tedious manually
Cons:
You might find that this table is a little difficult to set up because the instructions are subpar, but eventually, you'll get it!
The materials that are used to make this product make it seem sort of cheap, but it does hold up
You'll just have to make sure that the games don't get too crazy to ensure that it doesn't randomly break on you!
---
2. Funmall Folding Air Hockey Table
Price: Around $250
Product Dimensions: 60 x 29 x 31 inches
Key Features:​
The legs fold up easily for better storage
Made of black marble MDF laminated PVC finish
Includes two strikers and two pucks
The table is finished in a smart matt black carbon effect exterior
Pros:
You don't have to worry about where to store this table because the legs fold up easily to give you more options. Now you can easily slide it into a closet after using it instead of having to clear out a room
The overall look of this table is beautiful—it'll be like you're playing on the real thing
Perfect for kids and adults to play on!
Cons:
The score keeping is manual and the score sliders are located right where the puck is returned. So, it's annoying to have to keep changing the score and you can end up accidentally moving the slider
While the table may look incredibly sleek and high quality, the materials can be easy to break if you're not careful: it's just plastic and wood
---
Price: Around $250
Product Dimensions: 48 x 27 x 32 inches
Key Features:​
Incredibly easy to set up
The table folds up easily when you're done using it
Has a nice, sleek, sporty look and feel to it
Durable steel reinforced hinges for maximum stability and durability
Includes two pushers and two pucks
Pros:
This table is so easy to set up, so you can open the box and be able to play in minutes!
There are no dead spots on this table—meaning, the table has no area where the blower doesn't work
The air pressure that the blower sends out is fantastic for a smaller version of an air hockey table
Adults and children will have hours of unending fun using this table to play, and its small size means you can play it just about anywhere
Cons:
While this table looks sleek and high quality, it can break easily. Some people who purchased this table found that the motor went out after a couple hours/days, the electrical wires started to fall out, and that the pucks and pushers were low quality
There is no on/off switch so you have to manually go down to the plug to turn it on to play or off after playing and this is why people found that the electrical wires started to fall out of the bottom of the table
The scoreboard doesn't really work, but you can easily look past that if you just want to play for fun
Now that you have a couple of fold up air hockey tables in mind go forth and find the best one for you! Just know that you won't find a perfect table: not unless you want to dish out a lot of money for a full-sized table. While all of these tables have their faults, they will serve their purpose well and give out hours of never-ending competitive fun. It doesn't matter if you're looking for a table that will be a great present for a child in your life or if you're looking for a new fun game to play at game night with family and friends, a fold up air hockey table is a perfect idea. Bring the arcade into your own home and let the games begin!
---