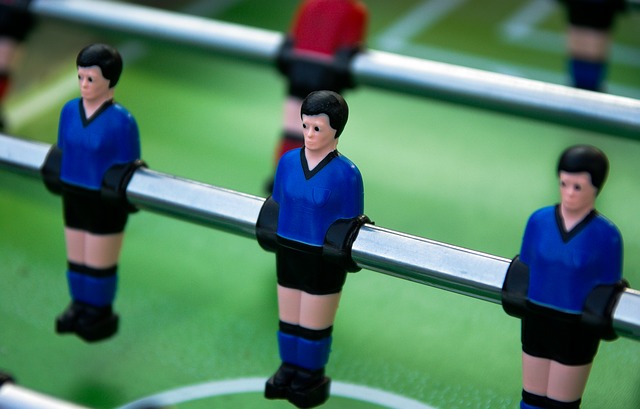 There cannot be a high quality game room or man cave without an air hockey table, a multi-game table, or best of all, a foosball game (or table soccer). The sport foosball is a fun and competitive game that can provide countless hours of entertainment for the entire family. When choosing the right foosball table for your home, several elements should be considered, such as the space that you have available for the table, how often it will be used, and if you will need it to be portable and able to be easily relocated.
Folding foosball tables are a more compact and portable option for those that don't want a solid and heavy table sitting in the home that cannot be easily moved or stored away.​
​Other Buying Tips
Player Skill: A lot of people prefer a more affordable table for beginners as well as a table with adjustable height. Overall, you still want to be sure that the table is made with high-quality materials so that it is durable and sturdy to withstand endless hours of gameplay.
Table Materials: Most tables are made from wood construction such as particle board. However, the particle board can become warped over time and can become uneven which will negatively affect gameplay. For a higher quality table that affords more durability and strength, the table should be made from solid wood or composite construction that is a minimum of one inch thick.
Adjustable Table Legs: The standard height of a foosball table is approximately 36 inches. If your family has younger players, then adjustable table legs are a good choice so that the legs can be adjusted by a few inches to accommodate the shorter players in the family.
The following are reviews of the best folding soccer tables that are currently available:​
1. Portable Folding Foosball Table by Restoration Hardware​
This Portable Folding Foosball table is compact and durable and features wooden players, three wooden balls, durable metal hinges, and a felt field. Its foldable construction allows for easy portability and storage when not in use. The playing field is level and the ball can pass easily from one player to the next.​
| Price | Product Dimensions | Product Weight |
| --- | --- | --- |
| Approximately $70.00 | 18" x 16" x 8" | 11.5 lb |
Pros
Compact design for portability and storage
Foldable construction
Lightweight
Durable construction with metal hinges
Cons
There are no goals for the ball to drop into
Flat surface may cause dead spots and the balls can get stuck
---
2. HLC 4 Foot Foldable Soccer Table
The HLC Foldable Soccer Table as MDF constructed cabinet with folding legs for easy space saving storage. It features a wood grain laminate finish with espresso finish legs for a sleek appearance. It also has sturdy L design legs with cross support beams to provide added stability and ensure a level playing field.
| Price | Product Dimensions | Product Weight |
| --- | --- | --- |
| $179.99 | 48" x 24" x 32" | Approximately 50 lb |
Pros
The durable MDF construction resists any warping
The field is a green lint with football field graphics
Folding legs provide portability and easy storage
Soft-touch rubber octagonal handles provide a comfortable grip
Abacus-style scoring system
Internal ball return, ball entry, and side return
Cons
Board used for the playing field is a little flimsy
There is no place to store the balls when not in use
---
3. Hathaway Gladiator 48-Inch Folding Foosball Table
The Hathaway Gladiator has a unique folding leg design with end panel supports that allows you to fold the table up for easy storage when it is not in use. It features easy to grip rubber handles for added comfort and has a built-in automatic ball return and an ABS manual slide scoring system. It has a three-goalie configuration with ABS molded foosball players.
| Price | Product Dimensions | Product Weight |
| --- | --- | --- |
| $113.16 | 52" x 27" x 6" | 64 lb |
Pros
Folding leg design for easy storage
Compact and durable design
Automatic ball return
Manual sliding score system with goal boxes
Chrome-plated tubular steel rods with ergonomic handles for comfort
3 goalie configuration
Cons
Assembly required and can be time-consuming
---
4. Garlando Open Air Indoor/Outdoor Folding Foosball Table
The Garlando Folding Foosball table is designed for indoor and outdoor use and has a thick weatherproof cabinet that is constructed of innovative compound plastic materials that are also reinforced with fiberglass to add to its durability and overall sturdiness. The legs can fold with the two handles and it has anti-rust bolts, nuts, and screws.
| Price | Product Dimensions | Product Weight |
| --- | --- | --- |
| Approximately $1100.00 | 60" x 40" x 18" | 132 lb |
Pros
Weatherproof design and construction for indoor and outdoor use
Sturdiness due to fiberglass reinforcement
Practical foldable legs for reduced storage space
Steel roller bearings to improve game speed
Unbreakable players are molded onto the bars
Includes ten standard white balls for play
Features anti-rust bolts, nuts, and screws for improved weather resistance
Easy and immediate ball retrieval
Cons
Higher price point
Players are not counter-balanced
---
5. Rene Pierre Folding Foosball Table
The Rene Pierre Folding Foosball Table is extremely durable and portable and is designed to fold to provide easy and space saving storage when the table is not in use. It is safe for kids to use and will provide hours of entertainment for the whole family. Its telescoping rods are designed to not go through to the other side of the cabinet and the rods have comfortable handles that provide a better grip. It has a built-in abacus scoring system and comes with two cork foosballs.
| Price | Product Dimensions | Product Weight |
| --- | --- | --- |
| Approximately $700.00 | 12.99" x 27.95" x 66.93" | 86 lb |
Pros
Durable and portable design
Lightweight and easy to fold and store away when not in use
Abacus-style scoring system to keep track of points
Smooth playing field with a linoleum covered surface
Two teams of die-cast aluminum foosball players with a single goalie on each team
Telescoping rods that are designed to not go through the other side of the cabinet for safety
Comfortable handle grips
Cons
Difficult assembly
Instructions are not written in English
---
Foosball is a fun and competitive game and makes the perfect addition to any home. Always consider the space that you have available before purchasing a foosball table because they do require several free feet surrounding the table for a proper playing experience. If you are looking for a more versatile and storage friendly table, then any of the tables reviewed would be a good start. There are many different tables available in varying sizes with a multitude of features and extras that can provide you with a great experience and years of enjoyment.