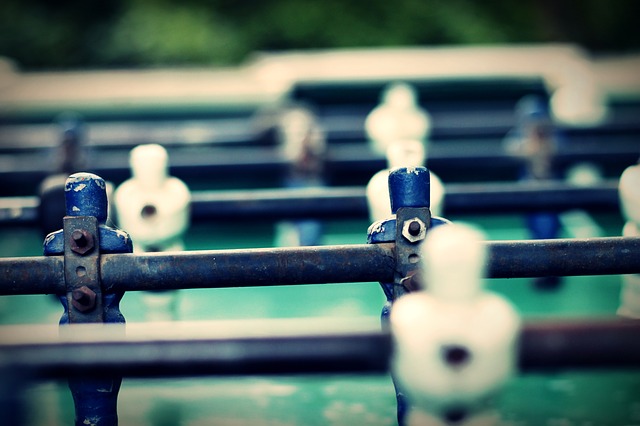 High quality foosball tables (also known as table soccer or table football) can make a great addition to any game room, man cave, or home and are perfect for hours of recreational and competitive fun for all ages. There are many different foosball tables you can choose from including indoor and outdoor foosball tables, tabletop foosball, professional foosball tables, multi-games tables, and foosball tables simply designed for fun. So, it can seem like an overwhelming task when trying to sort through all the different types to find the one that best suits you.
Let's begin with the different grades of foosball tables that are currently available. There are high quality professional-grade tables for the best foosball players, as well as home models. The professional tables typically include additional features and are made from higher-quality materials. They are also larger but have better scoring systems. There are also some tables that have more than one goalie for each side but, generally, all of them host one to three men goalie spots on most table types.
Most foosball tables are made with wood laminate and are very sturdy and durable. The laminate is lighter than wood, so it is easier to move the table around or store it. Other tables are made of plastic, but they are not as durable and tend to have more problems in the long term.
The following are some of the best foosball game tables that are available today in 2017 for your game room that offer the ultimate in game play and may help someone in your family become a professional foosball player:​
1. Hathaway Primo Soccer Table
The Hathaway Primo Soccer Table has a butcher block table design with large independent stabilizing leg levelers. It features ABS counterbalanced players to provide better ball control and has a one man goalie configuration. It has chrome plated, solid steel rods with E-Z spin bearings.
| Price | Product Dimensions | Product Weight |
| --- | --- | --- |
| $472.74 | 60" x 40" x 12" | 130 lb |
Pros
Constructed of CARB Certified MDF
Stylish and durable exterior with an espresso finish
Sturdy box leg design with cross support beams for stability
True level surface for accurate gameplay
Solid stainless steel rods
E-Z spin bearings and ABS counterbalanced players
Cons
Assembly is time-consuming
Scoring discs may not slide easily
---
2. Atomic Pro Force Foosball Table
The Atomic Pro Force Foosball Table has an internal ball return and ball entry and leg levelers that ensure a level playing field. It has a simple and stylish look and is made from durable MDF with rich bamboo laminate and a manual scoring system. It also features hollow chrome steel rods with octagonal rubber handles.
| Price | Product Dimensions | Product Weight |
| --- | --- | --- |
| $309.99 | 54.1" x 34.6" x 12.6" | 144 lb |
Pros
Manual scoring system
Built-in ball return
Comfortable rubber grip handles
Includes four balls
Leg levelers for an even playing field
Heavy-duty legs and steel parts for durability
Cons
Long assembly time
Has to be built upside down and then flipped over
Finish on the legs peels off easily
---
3. Triumph 48-Inch Sweeper Foosball Table
The Triumph 48-Inch Sweeper Foosball Table has a regulation-sized playing field. It features chrome-plated hollow steel player rods and ergonomic grips for comfort. It has twenty-six individually molded players and the table includes four balls. The table uses an abacus scoring system and is made of plastic, rubber, steel, and wood materials. It is a great table for a beginner.
| Price | Product Dimensions | Product Weight |
| --- | --- | --- |
| $99.99 | 50" x 25" x 5" | 47 lb |
Pros
Comfort grip handles
Easy scoring system
Easy to assemble
Sturdy and durable
Easy to move around
Cons
Shorter in height than expected
Holes sometimes did not align during assembly
---
4. American Legend Charger Foosball Table
The American Legend Charger Foosball Table offers the basic features you are looking for in a foosball table and features an abacus style scoring system, an internal ball return system, and a cross bar for added support and extra strength.
| Price | Product Dimensions | Product Weight |
| --- | --- | --- |
| $173.99 | 20" x 52" x 28" | 100 lb |
Pros
Sturdy and durable table
Very attractive design with a walnut finish
Easy to assemble
Sits high off the ground
Solid 3.75-inch legs
Half-inch hollow rods with chrome finish
Cons
Damaged box during delivery
Some missing hardware
---
5. East Point Sports Newcastle Foosball Table, 54-Inch
The East Point Sports Newcastle Foosball Table is an official competition-sized table that is suitable for two to four players. It is made to be sturdy and the finish resists wear and tear. It features a bead-style scoring system and included two foosballs. The oversized leg levelers ensure level gameplay and the player rod bushings spin and slide with ease.
| Price | Product Dimensions | Product Weight |
| --- | --- | --- |
| $234.94 | 54" x 29.5" x 34.5" | 76 lb |
Pros
Competition-sized and ideal for two to four players
High-performance bushings
Durable and sturdy construction
Leg levelers for precision playing
Built-in bead-style scoring sliders
Dense players for maximum power
Cons
Difficult to assemble
Players are not counterbalanced
The adjustable legs are plastic
---
6. KICK Foosball Table Ambassador, 55-Inch
​The KICK Foosball Table Ambassador is an extremely durable and elegant table with a mahogany finish and thick cabinets. It has counterbalanced players which add precision and field play balance. It also features a slide scoring system that is mounted on each end of the table. You can also choose a one or three goalie design and includes four corner ramps.
| Price | Product Dimensions | Product Weight |
| --- | --- | --- |
| $579.85 | 55" x 30" x 36" | Approximately 130 lb |
Pros
Durable and sturdy construction
Counterbalanced players
Premium bearings
Slide scoring units mounted on each side
Eight no-slip grip handles with rod safety caps
One or three goalie man design
Cons
No pre-drilled guide holes for the counters at the end of the table
​
---
7. Carrom 530.00 Signature Foosball Table (Moroccan)
The Carrom Signature Foosball Table is constructed with high-quality materials and is tested for durability and strength. It has a one-inch Moroccan finish and the playing surface has enamel screen-printed graphics. It also features chrome-plated hollow steel rods and eight-sided handles and premium bearings for fast and smooth spinning with a wood-beaded scoring system.
| Price | Product Dimensions | Product Weight |
| --- | --- | --- |
| $712.60 | 50.3" x 36" x 55" | 162 lb |
Pros
Made with high-quality materials and has a beautiful finish
Combines quality with functionality
Playing surface resists wearing over time
Precise player control
Heavy 2-inch leg supports
Pros
Higher price point
Table is on the heavier side
---
As you can see, there are many different styles of foosball tables available and they come in an array of different styles and designs at different price points. When looking for your next table, take all of these into consideration and keep in mind the materials that are used because that will help determine its durability for greater gameplay with less wear and tear over the years.