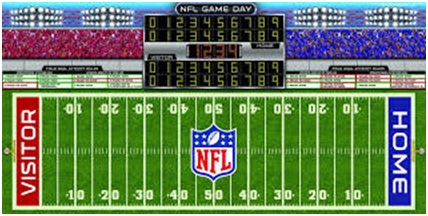 There are many great games out there and none more so than classic football-themed games. If you are looking to entertain friends or family then put down those cards and play board games instead. Here are the Best Football Table Game Options we think are the very best:
1. NFL Game Day Board Game
Sporting a near perfect 5 stars and featuring over 158 reviews on Amazon, the NFL Game Day Board Game is a bestselling board game that is worth every penny. Easy to learn, this fun strategy game is great for family and friends. An officially licensed NFL product based on actual NFL statistics make this game an outstanding gift for any football fan or lover.
At just $26.74, this board game is a veritable bargain and will provide hours of fun for your entire family. NFL Game Day is not just about fun though; the game itself also helps players learn the rules of football while showing them how to create game-winning strategies. Gameplay is done through the use of cards and dice and the goal is to move the players down the football field towards the end zones.​
Each game comes complete with 60 each of the defensive and offensive cars, 20 special-team cards, 6 time-out cars, 32 magnetic end zones, and one each of a die (ball). Also included are 5 clear discs, a yard marker, and the board itself, of course. Recommended for anywhere from 2 to 4 players and for ages 9 and up, this board game is sure to delight football aficionados both young and old!​
| Price | Product Dimensions | Product Weight |
| --- | --- | --- |
| $26.74 | 10.5" x 10.5" x 2.8" | 2.1 lb |
Pros
Quality game pieces
Real Football plays
Multiplayer functionality
Simple and easy to learn
Fun and educational
NFL licensing (great for gift-giving)
Cons
---
2. NFL Rush Zone Board Game
This simple and easy-to-learn game is perfect for kids and adults alike. Players get to choose their favorite NFL team and duke it out against their rivals. A strategy game at its core, this game will teach players how to make bold decisions and engage in tactical decision-making to ensure ultimate victory over opponents.
Fun additions like helmets, mascots, and customized football tokens make NFL Rush Zone a fan favorite for both kids and adults.
You get to choose your favorite of 32 NFL teams and play on a 3-dimensional game board that is highly customizable.
Suitable for up to 6 players and for ages 7 years and up, this game is both easy to learn and fun to play.​
| Price | Product Dimensions | Product Weight |
| --- | --- | --- |
| $1245.00 | 16" x 10.8" x 2.5" | 2.6 lb |
Pros
Authentic licensed NFL product
Educational, easy to learn, fun to play
Teaches decision making, strategy implementing, and tactics
Comes complete with fun accessories
Scorecards for after-game activities
Cons
---
3. GoLong! Football Dice Game
This unique game is a fast-action dice game that is a refreshing departure from the usual cards and tokens featured on most football board games. With touchdowns as the ultimate goal of this game, you will experience things like sacks, penalty flags, and more.
This game can be played on an individual level or multiplayer level of up to 4 players. Equally appropriate for kids and adults alike, this game is as educational as it is entertaining!​
| Price | Product Dimensions | Product Weight |
| --- | --- | --- |
| $15.99 | 5" x 4" x 6" | 12 oz |
Pros
Lightning quick, hard-hitting gridiron action
Easy to learn
Educational and entertaining
Affordable price point
Cons
---
4. Pizza Box Football
A dual player game for ages 8 and up, Pizza Box Football is a marriage of America's two favorite past times: Football and pizza!
Jam packed with action, this calling game has players run through the basic plays of run, short pass, and long pass. With each roll of the dice, a new outcome is determined. A bestseller with good cause, Pizza Football will offer you and your family hours of football fun!​
| Price | Product Dimensions | Product Weight |
| --- | --- | --- |
| $904.99 | 10.5" x 10.7" x 2.5" | 2.8 lb |
Pros
All the excitement of real football
High strategy, fast-paced fun
Perfect for football lovers
Feel like a coach, player, and fan while playing this game
Multiplayer functionality
Cons
Gameplay geared more towards older children and adults
---
5. Classic Sport 444 Platinum Elite Foosball Table
A perennial favorite amongst football-themed board game enthusiasts, 1st& Goal is often characterized as "the best football game ever." With plenty of decision-making involved and many strategic tactics to employ, this game truly captures the essence and exciting feelings behind the game of football.
With two decks of cards, this board game enables players to make running and passing plays, while the included dice determine yards gained or lost. Includes 10 dice, 120 cards, a football, 1st down market, league coin, and 6 score/timeout tokens.​
| Price | Product Dimensions | Product Weight |
| --- | --- | --- |
| $79.95 | 2.5" x 10.5" x 10.5" | 2.2 lb |
---
Football-themed board games are a perfect addition to any game repertoire. Capturing the essence and excitement of football, these endlessly entertaining games are perfect for individuals and families of all ages, young and old alike.
Available with gameplay styles ranging from cards and tokens to dice, there are football-themed board games on the market for every taste and budget. Each game affords players the opportunity to partake in strategy-building, decision-making, and implementing tactics to create an ultimate victory over opponents. As educational as they are entertaining, these board games serve as tools to teach individuals about the rules and nature of football while also allowing players to have immense fun in the process.
NFL licensed games are available and make awesome gifts for football aficionados and lovers. There are also cult-classics available like 1st& Goal that offer the ultimate in football-themed board game play, where players can engage in both card and dice play to make running and passing plays and determine yardage gained or lost.
Whatever your fancy, there is a football-themed board game out there for you that is perfect for your needs. Whether you are buying for yourself, a child, a friend, or for your entire family, these games are sure to bring players together for hours of endless fun and entertainment!​