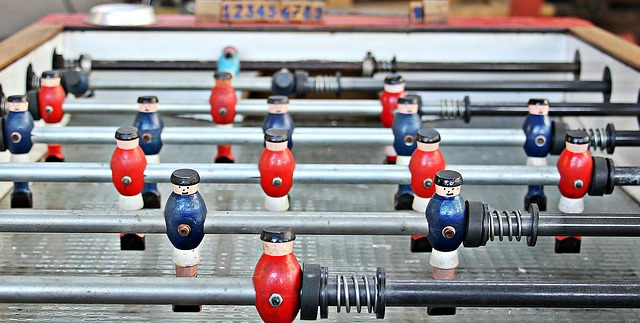 Harvard is a company that has been manufacturing high quality foosball tables for many years and is owned by the Escalade Sports parent company. They have been in business for over 80 years and are the home of the Atomic Foosball table brands, as well as an array of other sports and arcade games and fitness equipment.
Currently, Harvard only produces four different foosball table models (also known as table football and table soccer), but they also have some other family-oriented games including air hockey tables, basketball hoops, and ping pong.
Harvard foosball tables wouldn't necessarily be seen at any professional tournaments because they are a brand you will find more in the department stores. Conversely, they are not seen as a cheap foosball table, either. However, they make a great gift for children and families for entertainment and recreational purposes, along with fantastic game play of what is known as "the beautiful game".
The four table foosball models that Harvard manufacturers are Rematch, Goal Getter, Black Deca, and Midfielder. The following are reviews of the best Harvard Foosball game tables that are available.​
1. Harvard GO1888W Mid Fielder Soccer Table
This Harvard Mid Fielder Soccer Table has been designed for fast paced gameplay and features sturdy five-inch square legs with chrome steel tube crossbars for added durability and stability. The table also features a pair of cup holders and a wood scoring system.
| Price | Product Dimensions | Product Weight |
| --- | --- | --- |
| $675.71 | 54.75" x 34.5" x 30.75" | 186 lb |
Pros
Sturdy and stylish design
5-inch chrome steel legs with crossbars
Octagon shaped wooden handles
Large 15-inch apron
Two cup holders for convenience
Three goalie setup
Side ball return
Includes four soccer balls
Leg levelers to ensure fair and level gameplay
Cons
Very heavy table
Cannot withstand excessive and rough gameplay
---
2. Atomic Gladiator Foosball Table
The Atomic Gladiator Foosball Table comes from Harvard's parent company, Escalade Sports. It is made of sturdy and durable MDF aprons with solid chrome steel rods and easy-to-grip wooden handles for added comfort. This table also features integrated cup holders and an abacus style scoring system. The leg levelers provide extra stability and ensure a level playing field for fair game play.
| Price | Product Dimensions | Product Weight |
| --- | --- | --- |
| $480.82 | 58.5" x 33.3" x 14.8" | 225 lb |
Pros
Sturdy table and very solid construction
3.5-inch leg levelers for even and fair play
Cup holders for added convenience
Includes four soccer balls
Internal ball return system and ball entry
Cons
It takes a few hours to assemble
Table is extremely heavy and hard to move
---
3. Harvard Black Deca Foosball Table
The Harvard Black Deca Foosball Table includes counterbalanced foosball players and adjustable leg levelers. This table is one of Harvard's more affordable options but does not lack when it comes to features and craftsmanship. It has contemporary black paneling with a silver trim finish and is made from sturdy medium density fiberboard.
| Price | Product Dimensions | Product Weight |
| --- | --- | --- |
| $280.00 | 55" x 29.2" x 34" | 98 lb |
Pros
Comfortable octagon handles
Counterbalanced players in a 5-3-2-3 formation
Sturdy legs with leg levelers for an even playing field
End panel ball return
Block scoring system
Affordably priced
Cons
Assembly can be time-consuming
Some of the wooden pieces may appear slightly warped
---
4. Harvard GO1341W Rematch Soccer Table
The Harvard Rematch Soccer Table has a large tapered leg design and four black rubber handles to provide a tighter and more comfortable grip. This table is ideal for beginners and even kids that are learning how to play and master the basics. It is not a professional grade table. It has black wood laminated cabinet walls with a matching laminated foosball field surface. It also features robot style foosball men and has a black and silver block scoring system.
| Price | Product Dimensions | Product Weight |
| --- | --- | --- |
| $250.00 | 55.2" x 28.2" x 33.8" | 84.7 lb |
Pros
Chrome-plated half inch hollow steel rods
Black plastic foosball handles
End ball returns on both sides of the table
Black and silver block scoring system
Great for kids of all ages
Cons
Better for beginner players who are learning the basics
Handles are hard to put on
Assembly can take a few hours
---
5. Harvard 4-Foot Foosball Table
This Harvard Foosball Table is more compact and smaller than other models which make it easier to move while still providing durable playability. It features a contemporary white, black, and red finish and has half-inch chrome finished rods. The foosball players are painted for a more classic appearance and the table has an L leg design with side panel support for added stability.
| Price | Product Dimensions | Product Weight |
| --- | --- | --- |
| Approximately $30.00 | 48" x 24" x 32" | 55 lb |
Pros
Slide scoring system
Black rubber handles to provide better grip
Compact and durable
Lightweight and can be moved around
Half-inch chrome rods for accurate ball action
Cons
Cannot sustain aggressive play
Arms can easily bend if it is played too hard
---
6. Harvard Goal Getter Soccer Table
The Harvard Goal Getter Soccer Table features a green soccer field PVC laminated playing field. It has robot-style foosball players and large laminated aprons for additional stability. The table has a beautiful wooden look and is ideal for younger players and beginners. It is not meant to withstand rough or professional gameplay.
| Price | Product Dimensions | Product Weight |
| --- | --- | --- |
| Approximately $225.00 | 54" x 26.375" x 34" | 90 lb |
Pros
Manual scoring beads
Octagonal PVC handles that provide a better grip
Hollow steel rods with standard style players
Includes two black and white soccer balls
Large laminated aprons for added stability
Black powder-coated hollow steel rods on smooth bushings
Cons
Not meant for rough or aggressive play
---
Harvard foosball tables are best suited for younger players and beginners who are trying to learn the basics of the game. Harvard currently does not offer a foosball table model that is of professional grade. Their tables are built with high-quality materials and include key features like the ball return and scoring systems for convenience. They are also affordably priced and would make a great addition to any home or game room and will provide hours of competitive fun for the entire family.