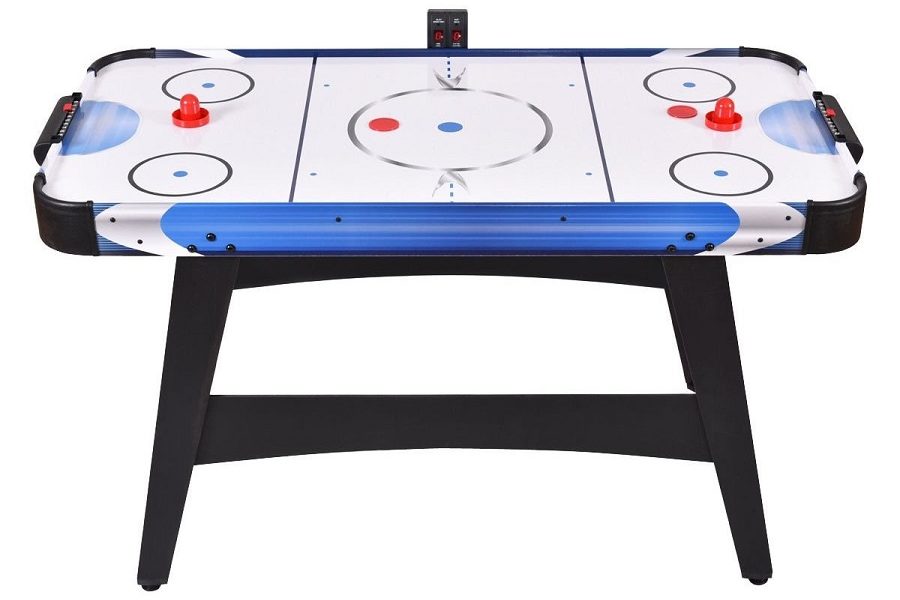 If you don't have an enormous game room with a plethora of different sports tables and arcade games to entertain a dozen players, all is not lost. Nowadays, there are many top-quality mini tables for you and your friends and family to play on. However, before diving into the list of top mini air hockey tables on the market right now, let's talk about the decision-making process first. Like with mini pool tables, mini billiard tables, mini ping pong tables, and mini foosball tables, you need to familiarize yourself with the workings of a mini air hockey table prior to checking out Amazon and any other store for the best air hockey table for your specific needs. You need good value for your hard-earned money rather than landing yourself on a cheap table that is likely to last you only a month. A high-quality table will keep you entertained for many years to come. Invest carefully and by thinking about the following pointers:
Table Types
There are a few different types of air hockey tables for you to choose from. No singular type is regarded as the best. It all comes down to your specific requirements. Following are the types:​
Mini air hockey table or tabletop air hockey table
Stand-alone air hockey table (the most common type)
Multi-game table
Table Size
The second thing to consider is the size of your table. If you have had the chance of playing air hockey in a recreational room or an arcade of any sort, then you know your way around a regular stand-alone air hockey table. While this is one of the best types of air hockey tables out there, these take up a lot of space and aren't the best choice for your home. In the case of a small apartment or any space challenge in your house, you should opt for a table top or mini air hockey table.
A mini air hockey table can easily be stored in your closet or even under your bed for that matter similar to a ping-pong table. Moreover, it is preferably the best option for kids and that too, at an affordable price.
Scoring Methods
There are two types of scoring methods-manual slider and an electronic one. The sliding scorers are usually found in cheaper air hockey tables. These allow you to keep track of all the points by sliding the scoring beads. On the other hand, electronic scoreboards keep track of the scores automatically. These are usually found in arcades.
Power Source
While some tables require batteries to perform, others need an electric outlet. This situation arises when you choose a table with an electronic scoreboard or a fan/blower. Experts suggest that you go with the option of an electrical outlet as the mini air hockey table will consume the batteries quite fast. Moreover, you run the risk of running out of batteries in the middle of a match.
Levelers
The higher-end models tend to have built-in leg levelers in the design. Opt for a model with such a feature as it allows keeping your table leveled on an uneven surface as well. For starters, you can never be too sure of the leveling of your house, and, with this feature, you will be able to play anywhere regardless of the surface.
Cost
Cost is a huge factor in this purchase. You can compare the prices of top brands and models available online and in stores. You can search through the market for an air hockey table within your budget or simply demand the best value for your money. You can find a good mini air hockey game by spending less than a hundred dollars while high-end brand tables will cost you more than a thousand bucks. Keeping your specific needs and budget in mind, you should opt for one of the following brands as they offer the best quality:
American Heritage
Playcraft
Top Five Mini Air Hockey Tables of 2017
Now that you have a stronger grip on what to look for in a mini air hockey table, have a look at the top five choices of this year:
Price: around $200
This table offers you the gaming experience in the dark as well owing to the LED lighting featured. While the 54-inch table is quite smaller than the traditional tournament size but it is reasonably sized compared to the smallest tables available. The cross-braced legs offer good support. The table is perfect for beginners and kids that require a decent model for entertainment and skill learning.​
PROS​
LED mallets and puck
Affordable
Tall legs
CONS
Not the best build quality
Only one light-up puck offered
---
Price: around $70
The table is nearly 40-inch in size. Not only is this model easy to maintain but it offers a great level of durability as well. The table has been designed specifically for children of younger ages in order to get them familiarized with the air hockey sport. The frame is strong and made of hardwood and it can be mounted on any table. The unit features an air-powered motor of 100 CFM. Moreover, the product includes two strikers and two pucks that will get you started without any additional investment.
PROS​
Additional two strikers and two pucks
Highly affordable
Durable
CONS
​Not meant for adults
Leveling features are not available
---
Price: less than $50
This air hockey table will fill up your living room with laughter and fun. It is ideal for an entire family. Not only is the table size compact but it is very portable. You will be able to store your unit in just about any space. The low height of the unit makes it perfect for young children. Moreover, the product arrives with two pucks and two strikers so that you can start playing right away.
PROS
Additional strikers and pucks
Suitable for kids as well
Portable
Compact size
Affordable
CONS
Not highly durable
Adults might not prefer the small size
---
Price: less than $200
Entertain your friends and family with air hockey thanks to your 54-inch air-hockey table. This model is perfect for anyone looking for light fun especially kids. The table is air-powered and constructed with high-quality materials. The 12V motor offers a steady flow of air for improved action while the coating of the surface ensures smooth gliding of the puck. The table includes two pushers, felt pads, goal boxes, pucks, electronic or a manual scorer.
PROS​
Includes Scorer (electronic or manual)
Includes puck, pushers, goal boxes, and felt pads
Durable
Decent size
CONS
---
Price: less than $100
The wood construction along with the L-shaped legs, the Harvil 4-foot air hockey table offers stability and fun. The adjustable levers allow ease of use while the powerful blower keeps the puck sliding. A rather small electric scoreboard displays the scores. The gaming experience is made realistic with the help of blue graphic lamination. The size and compact design help in keeping the table just about anywhere.
PROS​
Self-leveling legs
Easy to install
​Attractive design
Two paddles and two pucks are offered for free
CONS
Cheap materials
Problems with the electric scorer are reported
---
Final Thoughts
With the aforementioned information, you can now make a sound decision. Whether you are on a budget or looking to splurge for great value, you know what to look for. Think of your mini-air hockey table as a smart investment that will keep your family and guests busy and entertained. Happy shopping!​
---