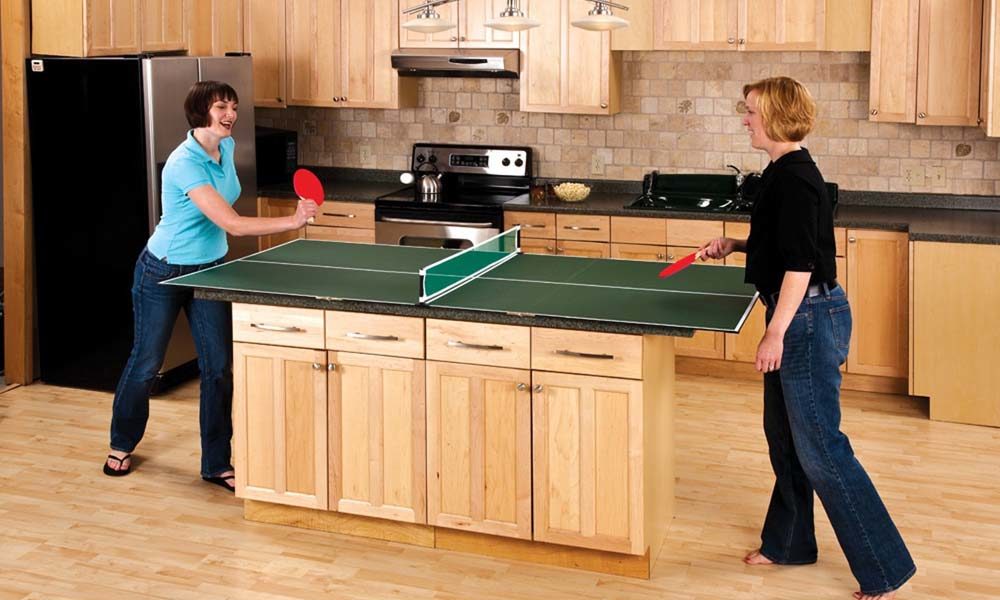 Ping pong is a favorite pastime for many players. The problem is that not everyone has room for a full-sized table tennis table at home. That's where mini ping pong tables come in. Mini ping pong tables allow you to enjoy that favorite pastime without taking up too much room. Many of the mini ping pong kits available today are fully portable meaning you can play your favorite game whenever and wherever you like.
Mini ping pong tables are great fun for just about anyone. They provide a great way for players of all levels to spend some of their free time without breaking the bank. And, being mini they can be set up just about anywhere. Below are 5 of the best mini ping pong tables available on the market at the moment so you can play ping pong whenever and wherever you want:
This mini table tennis table set has everything you need to play a full-blown tournament from the comfort of your own home, office, or picnic table. The kit comes with 3 balls, 2 paddles, a net, and posts and fits nicely into a neat little carry case. It's lightweight and compact enough to be carried out with you and with its easy set up you'll be playing like a pro in no time at all. Another great feature about this mini ping pong set is that it's bright and vibrant making it great for kids or adults.
Verdict: If you're looking for a portable ping pong set, this is fantastic value for money. The balls could be a little better as don't bounce particularly well. But the net and paddles are both fine. It is one of the lower priced sets out there, so I guess you do get you pay for. Overall rating: 7/10
Another of the lower priced models, this mini ping pong table will have you looking like a professional within your own lounge, office or games room in a matter of seconds. It comes with two paddles, a table, net and a ping pong ball. The actual playing surface is 12 x 24-inch and will fit any standard size table. Unlike some of the other tabletop mini ping pong tables that simply lay flat on the table, this one has legs to give the table a little more height while in play.
Verdict: Having legs on the table is a nice touch and it does have a very professional look about it. The overall quality of the Homeware Mini Portable Tabletop Ping Pong Game Set is also very good. If you're looking for a portable ping pong set that can be set up and packed away in seconds and won't cost the Earth, this is perfect. Overall rating: 9/10
If you have a little extra to spare and have enough space, you might want to consider this mini ping pong table. Measuring in at 60 x 28 x 30 inches, this mini ping pong table is the next step towards a full-sized ping pong table. Made from laminated MDF, this table is sturdy, built-to-last, and folds up for easy storage when not in use. It even has a Velcro lock and carry handle that makes it easy to carry around or move. You can set up the table in under 5 minutes and is durable enough to be used by both kids and adults. Included with the table are 2 paddles and 2 balls.
Verdict: It may be one of the more expensive models available, but the Park & Sun Sports mini ping pong set is pretty good all around. It's easy to set up, easy to pack away, can be used indoors or outdoors, and is the closest you're going to get to the real thing without spending a lot more money and needing a lot more room. Overall rating: 10/10
This portable mini-ping pong table is great fun to use and transforms any kitchen table, pool table, saw platform, or any other flat surface in seconds. Its tri-fold design means that it packs up very neatly into a cute little carry case ready for transporting or storing. Included with the table is a net, two paddles, two balls, and the carry case. You do pay a little more for the Viper Portable Tri-Fold Ping Pong Game Table Set than some of the other tables available but you get quite a big playing area (84 x 42 x ¼ inch) for your money.
Verdict: The quality is good and it's really easy to set up. However, with it being so big it does take up more space than some of the other mini ping pong tables. So, unless you have a lot of spare room, I would perhaps choose another model. Overall rating: 8/10
A mid-priced model, the Funmall 60-inch Mini Ping Pong Table offers great fun for the whole family at a very reasonable price. Now you can play one of your favorite games right within the realms of your very own home. This 60 x 30 x 27-inch table is built to last using a good, sturdy steel frame and comes equipped with foldable legs for easy assembly and disassembly. The tabletop itself is made of good quality fibreboard too so will not be easily damaged while playing. And, you get everything you need to play with this set including a net, 2 paddles, and a ball. If you want a mini ping pong table that is not too far from the real thing, but for a fraction of the price, this is the model for you.
Verdict: An all-around decent sized, mid-priced model, that isn't too expensive. The only thing that let's it down slightly is that it's not waterproof, so is for indoor use only. Overall verdict: 9/10