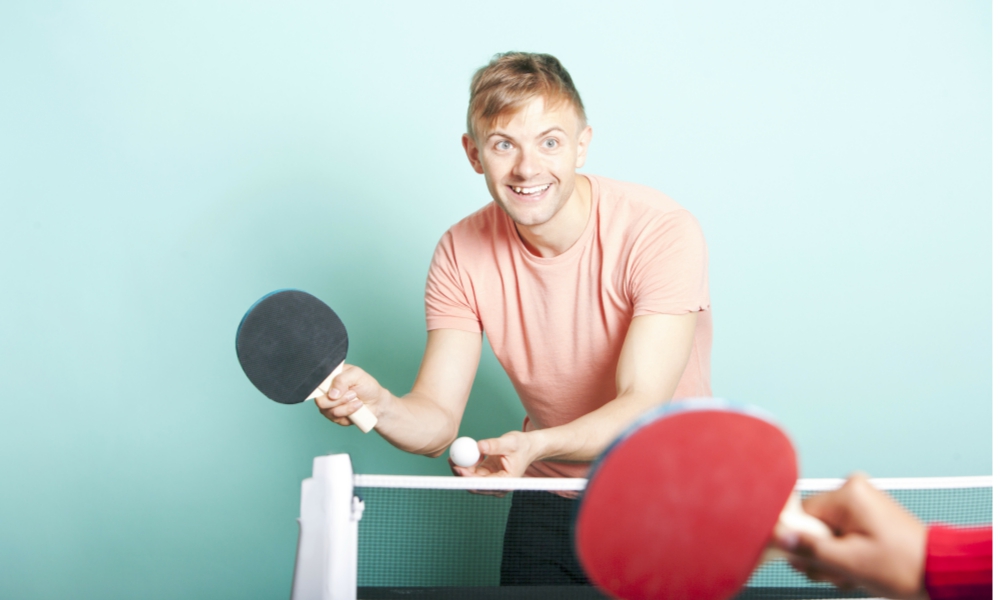 Choosing a ping pong table for your game room probably seems as if it would be one of the easiest things you've ever done. After all, you're shopping for a game, and as long as a table is in your price range, it would probably work for you.
Right?
Unfortunately, you'd be wrong. While choosing a ping pong table isn't exactly the worst or most unpleasant thing you'll ever do, it can be stressful and it will require some research and understanding of your situation and your table options. There are many things you need to consider when choosing a ping pong table, and while your budget is important, it isn't the only factor. If you really want to get your money's worth, you'll want to invest some time in the process before you invest any money at all.
Where Do You Start When Selecting a Ping Pong Table?
Your first consideration should be where you intend to use the table. This is going to narrow down your table selection more than any other decision.
Will the table be indoors or out? Will you keep it in place or store it away when you aren't using it? Will you be using the table in a common area of your home where you host guests or will it be for only those who live in your home?
Once you've answered these questions, you'll be able to sort your table options into small categories. For instance, you might need an indoor table that can rollaway and is stable enough for four players at a time. Or you might want an outdoor table that remains in place and is sturdy enough to stand up to the elements in a moderate climate.
Keep in mind, there are no right or wrong answers when your narrowing down your selection of ping pong tables. An outdoor table isn't better or worse than an indoor one. It's simply where it's the better selection based on your circumstances. You should be able to get a high quality table in any category, but unless you choose a table that suits your needs, it isn't going to be the better table for you – no matter the cost, features, or quality of the materials.
One feature you should consider regardless of the specific table you need? The ability to allow playback. This is when you can lift one side of the table to create a backstop and allow someone to play by themselves. If you're a busy parent investing in a ping pong table for an only child or you're someone interested in practicing ping pong, but your friends and family don't share your passion for the game, this feature is essential.
​What are the Best Ping Pong Tables for the Money on the Market?
Now that you've narrowed down your choices and you know what you need in a ping pong table, you can take a look at some of the best models available. There are still plenty of tables available, regardless how specific your list might be concerning features, but you won't feel as overwhelmed as you would walking into your buying experience with no idea what you need in a table.
Below, you'll find our list of recommendations in ping pong tables for looking for a table for their home:
STIGA Synergy Table Tennis Table
This is a great table for the novice at-home user, but is also able to handle more experienced players – including those who are interested in training to be competitive players. It's an indoor table that is one of the most stable options on the market. It features three quarter inch steel legs and has an apron made of two inch thick steel. This table is easy to move and can be folded upright for individual play.
​Butterfly Playback Rollaway Indoor/Outdoor Table Tennis Table
This indoor/outdoor table is sturdy, featuring steel legs and railing rim, and a synthetic laminate playing surface. The table is also fitted with TW24B with safety levers on each side of the table. These levers protect players from hurting themselves, even if they aren't the most safety conscious when using the table.
Cornilleau 500M Crossover Indoor/Outdoor Blue Table Tennis Table
This is another table suitable for indoor and outdoor use. It has a great design with an eye toward safety, but is still made of high quality materials and is easy to use. Cornilleau is known for building products that are durable and safe – so this is a table you can feel confident investing in. It's a foldable table with the patented DSI safety system, so it's easy to fold and store without concern for anyone pitching themselves or having the table topple over onto them and cause injuries.
An additional feature of this table we love is its anti-glare coating that makes outdoor play easy and comfortable. The table also comes with a 10 year manufacturer warranty.
Centrefold 25 Rollaway Table Tennis Table
This table is professional quality, but is still great for at-home play. It has a wooden tabletop on top of a two inch thick steel surface, so you get plenty of stability. The table folds and rolls away for easy storage, and is a great option for those who want to know what it feels like to play on a professional playing surface.
Killerpin MyT5BlackPocket Table Tennis Table - Premium Pocket Designed Ping Pong Table with Thick Durable Frame and Table Top That Stands Up To Hard Use
This might be our favorite of the rollaway tables because it's so easy to move from one location to another. It has large wheels and a large frame, so it's sturdy when it's in use or when it's in storage. It can be assembled in less than 10 minutes and allows players to position it in playback position for hours of solo play.
The playing surface is made from 15 mm MDF that is engineered in an RRC process that creates a unique game every time you play.