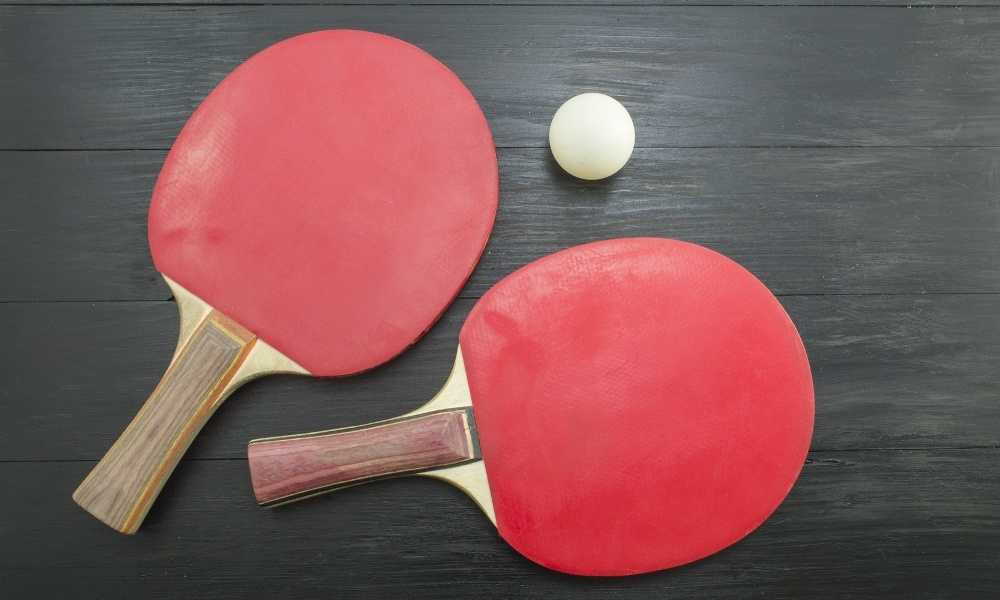 Ping pong, or professionally called table tennis, has entertained many people and the sport has produced great athletes over the years. It has challenged many to defy their limitations and has produced abilities that were once thought impossible to accomplish. The sport is great for the body and as well as the mind.
To understand the table tennis, it is important that the concepts behind it are well-understood. Many of the sport's technical terms are easy to understand, and this is why many are attracted to playing table tennis.
Playing table tennis will require two people for a singles match, and four people for doubles. The principle is similar to playing tennis, though on a smaller scale and with the use of a table. The most crucial element in the sport is the paddle.
The paddle is a small version of a tennis racket but is made of wood and covered in rubber. It consists of a blade that is layered with plywood and coated with rubber on the outside. Size and design of the paddle should follow rules set out by the International Table Tennis Federation, an international group that oversees all activities of the sport.
To be able to know what paddle is best for you, the first thing you need to do is determine your playing level. Beginners and recreational players choose a light and less bouncy paddle. The ball tends to bounce too much and too fast if the rubber is too hard. Heavier paddles are used by advanced players because the paddle makes the ball spin, hit hard and fast.
There are paddles which have a uniquely designed grip. Some are concave to create firmer hold. Other paddle handles are made with solid wood to make the paddle heavier. There are manufacturers who make paddles with extra rubber layers to make it softer.
Ping Pong Playing Techniques
Learning to play ping pong should start with knowing the basic terms and playing techniques. You will get by quicker and effectively play with the knowledge of these words.
Spin
To create a spin, a movement similar to a brush stroke is made with your paddle to hit the ball and make it travel to your opponent. Types of spinning include the topspin, backspin, and sidespin. A front spin is a movement that is done by making the hit in front of you and creating an angle with your paddle that goes towards the opponent. This is the most common type of spin. Most paddles are designed so players will spin better.
During a sidespin, the paddle is moved to make the ball go the sides of the table. You can predict the type of spin that your opponent will be making by watching the angle of his paddle. The spin will then determine the strength of his hit. You can quickly strategize from there.
There are playing tactics that you can employ. The three major tactics are defensive, offensive and all-around. Defensive is basically putting you under the control of the opponent and returning the ball to his disadvantage. Playing on the offensive tactic will require you to apply more force and strengthen your hits and weakening your opponent.  The all-around tactic is used if you want to be both offensive and defensive.
Block
This is when you try to hit the ball as soon as it bounces off the table using the same intensity as it was coming to you. This is a defensive technique that will catch your opponent by surprise.
Smashing
A technique used in defensive mode and is done when the ball bounces on the net and it quickly intercepted to continue the drive.
Chopping
This technique is similar to the act of chopping with a cleaver. It is done by moving the paddle vertically to make the ball bounce higher and faster to the opponent.
Push
This is an offensive style when the offensive player tries to maintain the strength of hitting and returning the ball to the other side.
Understanding playing techniques will help you choose the paddle that will work best for you.
There are paddles for harder hits and some are made for control and speed. The speed, control, and spin ratings are marked on the label and this will give you an idea on the paddle's level of performance. Usually, the ratings are done from 1 to 10.
Many players think that the strength of a hit is essential. Some think that control is more important. Control of the ball means that you can maintain its strength and predict where it will land. Ultimately, the strength of a spin will determine if you can return the ball or not.
Consider the quality and durability of the paddle. When buying the item online or when at the sports shop, check the product carefully. Online customer reviews will help you find the best-suited paddle.
Best Ping Pong Paddle Brands
Good ping pong paddles are made by trusted and well-reviewed manufacturers. The latest in the sport's technology has proven that even ping pong paddles have changed and were fine-tuned to improve a player's performance. Many of these paddles work well as learning tools and will teach you how to upgrade your playing skills.
Here are a few brands that dominate the market and produce excellent ping pong paddles.
Stiga
Stiga has produced many high-tech paddles and one even has a VP system that was created through precise temperatures to make the paddle have a stable and hard structure. They focus on offensive playing that is good for competitions. Stiga is the trusted manufacturer of the Chinese National Table Tennis Team.
Joola
Their paddles are made with 7 layers of wood and Joola has a solid and trusted reputation for making quality products. Their paddles are used by many advanced and professional players. Joola's design also makes use of 2 plies of carbon. If you want speed and high control, this paddle is the best to have because the rubber pad is durable and the blade makes hits accelerate. Their products are lightweight and balanced.
Adidas
Famous sports products maker Adidas also created a great line of ping pong paddles that are engineered for all levels of playing proficiency. They have paddles that are made with carbon blade that is ideal for offense and hard-hitting drives. The Adidas blade is called Hypertouch because it is soft and gives good control.
Fibers are embedded into the sponge to give the player more speed and control. The paddle is intense during offensives and the softness of the paddle becomes gentler during returns.
Donic
They are the designers of Carbospeed, a technology on paddles that makes use of high concentrated carbon on its blade. This paddle manufacturer puts 5 layers of plywood and 2 layers of carbon. They are known to make paddles which are very fast and durable. The paddle is hard and drives will be faster. Donic paddles work great with offensive players.
Andro
Andro makes light paddles and is usually 70 grams in weight. Their products are made for rapid response and controlled speed drives. Players are comfortable when using the paddle even at intense games. Not for the weak at heart, beginners will not have an easy time at first due to the speed that the paddle creates, but the paddle has a soft rubber and gives a mild bounce. The paddles are also good for defensive tactics.
Xiom
If you want to strike hard and crush the enemy, Xiom has the paddles for you. Their offensive style paddles are designed to make spins more accurately. The blade is made of Limba wood. Shots are fast and will require you to make the extra effort to loop and block. The player can make strokes that are closed-angle as well as full arm swings.
5 Best Ping Pong Paddles
Apart from manufacturers, there are products that truly stand out. Based on customer reviews, here is a narrowed down list of 5 products that give high performance and winning games.
Sport Game Pro Ping Pong Paddle
The paddle has a speed of 82, the spin at 91, and control of 79. It is of moderate skill that can be used by amateurs and enthusiasts who want to get good results. The paddle is reliable and will improve your game because it is made of high-quality rubber and multiple layers of wood. The ball will go really fast and will be a secret weapon against your opponent.
The paddle will make the ball twist to a high degree. The player becomes more confident in his play. Amateurs could advance to a higher degree of proficiency. Customers trust the manufacturers' many years of technical experience.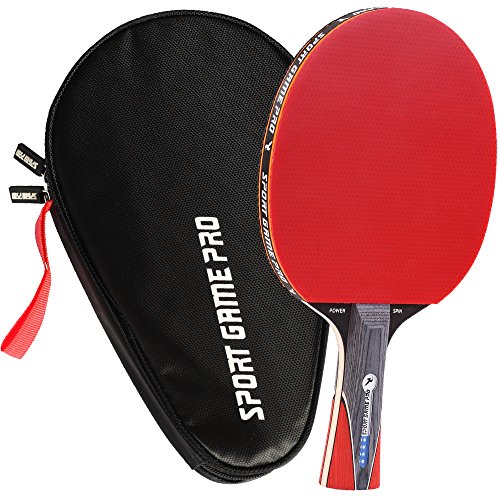 Pros
Has an attractive design
Made of high-quality rubber measured at 2mm thickness
Made of 5 plies of wood
Enables high degree of ball twisting and combination of strategies
Has 30-day warranty
Has comfortable and solid grip
Paddle has good structure
Grip is firm and does not cause discomfort
Great for offensive play
Comes with a good carrying case
Cons
Broke easily
Not any different from professional paddles
JOOLA Spinforce 900 Racket
Joola made this professional grade racket and made sure that the product has high-grade rubber. Joola is a brand that is trusted by many table tennis pros. The Spinforce produced good results and players' game is improved. This product gives a spin that is controlled and strong.
It is designed to cater to the needs of offensive players and those who want to shift their playing techniques to become a more aggressive athlete. As a proof of quality, the racket is approved by the International Table Tennis Federation.
Even beginners can use this light and easy to swing racket. The Spinforce series is made to be used by both professional and amateur players. Players use this as a learning tool to develop an offensive play and developing advanced spins.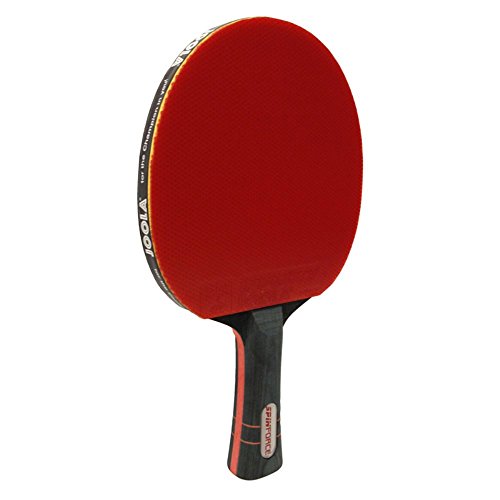 Pros
Racket is pre-assembled
Design is sleek and soft rubber
Lined with a soft sponge
Rubber can be replaced or upgraded
Used by beginners to advanced players
Can be used by defensive players learning offensive styles
Blade has 7 layers of plywood
Approved by the International Table Tennis Federation (ITTF)
Good for offensive playing
Improves service and produces powerful spins
Cons
Bad customer service
Poor exchange policy
Slyspin Rapture Table Tennis Racket Ping Pong Paddle
The Slyspin blade is made of 6-mm quality rubber and an elastic sponge that enhances the ball's spinning properties. The sponge is rated as 8 using a 1 to 10 scale. The handle is sturdy with good quality wood and is comfortable to hold. The paddle is for intermediate players. It is useful for players who practice spinning, speed, and ball control.
Service is well executed, while spinning is done with better precision. The bounce of the ball is more predictable and there is a bigger push to the ball. The elastic sponge of the blade is durable and dependable during tournaments.
This product can be used by beginners and professional grade players alike. For advanced players, they will be pleased with the paddle because it puts greater intensity into the game. Skill levels are challenged and pushed to advance further.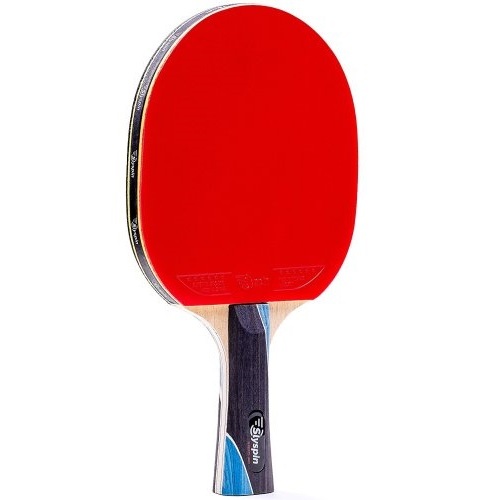 Pros
Can be used by beginners and professionals
Hard blade makes the ball faster
Reasonably priced
Durable and can perform well in tournaments
Has a 6-mm blade made of carbon
Handle is made of high-quality poplar wood
Specs use 1 to 10 scale
Has high-grade rubber blade
Comes in premium racket bag
Cons
Wooden handle makes the racket heavier
Handle breaks easily
Poor customer service
Pasol 7 Star Premium Ping Pong Paddle
This product gives accurate control and moves are more predictable. The paddle is two tones and is 1.5-mm thick. It is a paddle for professionals and spins are more intense. Therefore, players are put into an advantage and their game will improve.
This paddle is for intermediate players that want to be advanced players and is good for all types of offensive, defensive and all-around players.
The product has a wooden handle that provides a tight and comfortable grip. The paddle is rated 9 for spin, 8 for speed and 8 for control on a scale of 1 to 10.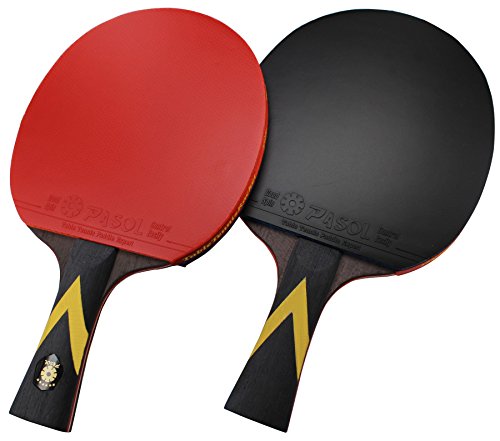 Pros
Has a comfortable wooden handle
Gives more control to hits and spins
Built with 1.5 mm high-performance rubber
Paddles are red and black
Can be used by intermediate to advanced players
Can be used during competitions
Paddle has 8 rating for control and speed based on 1 to 10 scale
Has 30-day warranty
Gives more spin and playing intensity
Paddle is well-structured
Good for tournaments
Cons
Handle is too heavy
Rubber peels off easily
Coast Athletic Ping Pong Paddle
This is a set of recreational paddles of 6 pieces with different bright colors. The paddles are unbreakable and have sturdy plastic material. The size of the product is standard with paddles and light enough for any level of proficiency.
The paddle does not have layers of plywood and rubber that peel off after multiple uses. The set of 6 makes doubles or playing in many tables fun among family and friends. Players have fun through friendly competition.
The product received good reviews from customers who have bought the paddles. One particular customer was impressed with the product's durability and she said that they float on the water. She liked the bright colors and did not fade even when exposed to the sun.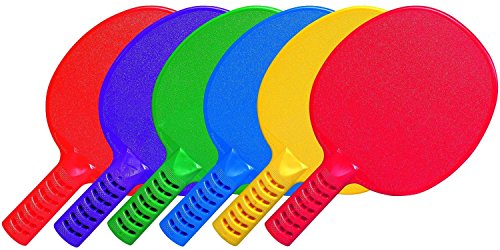 Pros
Good for entertaining guests
Fun to use
Entire unit is made of strong plastic material
Lightweight and comes in standard size
6 paddles included in set
Each paddle comes in blue, green, red, yellow, purple, and orange
Does not have rubber or wood layering
Does not peel off
Good for entertaining guests and group activities
Cons
Breaks easily
Material is substandard
Conclusion
Choice of products will depend on your purpose. However, there are many high-quality ping pong paddles that can be used in a wide range of skills. There are paddles that can be used by beginners to professionals, and even amateur players should not feel inferior to use paddles that are professional grade.
The most important factors to consider are durability and strength. If the product lasts long, you can hone skills and improve your game. There are paddles that are strictly for recreational use and will be great for family vacations and entertaining guests.
For players who want to become better athletes, take note of the developments in the field of the sport. Paddles have been developed over the years to provide athletes with what they need to improve their game. However, there are offensive rackets that focus on speed and manufacturers that focus on the comfortable grip for better delivery and powerful serves. Make the most of this to improve your skills and be more competitive.