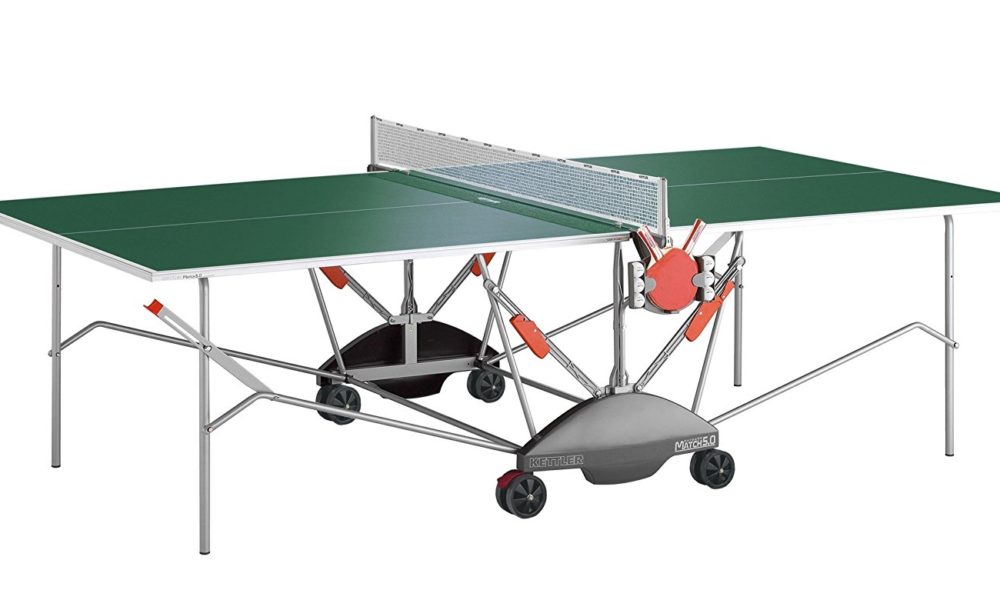 You have your favorite ping pong paddles and ping pong balls, but finding the best ping pong table in 2017 that is made from genuine material can be a daunting task, primarily as there are so many good ones on the market. However, all is not lost! To make things easier and before you start to play ping pong, here are our five top picks of ping pong boards of the year. Whether you are looking for an indoor or outdoor table tennis table, we think that these table tennis boards really stand out and are the ones international players should use to fine-tune their skill in the game.
First of all, here is a list if things to look for when choosing a ping pong table for your enjoyment time:​
Table thickness
Quality play surface
Size
Portability
Durability
Cost
Brand
High quality powder-coated steel legs
Here is our breakdown of the best ping pong table review for outdoor and indoor ping pong tables:
1. Butterfly Centerfold 25 Rollaway Table Tennis Table
Butterfly Centerfold has created world-class table tennis tables that leave no stones unturned. It is a well-made table that professional and beginner table tennis players can practice their skills on although it is most suitable for professional players. The product comes with a strong table top and frame and it is a great value for your hard-earned money. The table top gives a really great bounce to the ball because of the 1-inch thickness of the board. Manufacturers give the table a green or blue top with white lines to mark the edges and these color features make it look really outstanding. This product's undercarriage is a durable one and it carries a powerful frame structure along with it. The structure has removable wheels that give it some movement and the folding feet makes it portable enough to move from one location to the next.
Key features:​
Release lock and other safety features
Feet are adjustable and great for leverage
High quality steel legs
Butterfly brand net and post
Locking rubber wheels
Great bouncing table top
Portable
Suitable for indoor and outdoor ping pong
2. Stiga Premium Compact Table Tennis Table
If you want to find a table tennis board that allows you to play long and hard, then take a second look at Stiga Premium Compact tennis board. This board is made just right for the savvy table tennis player that you have become or trying to become. It has all the essential features you need to get your game playing at full throttle. For a good quality table that will last you a long time and at a reasonable cost, this sports product is your best buy. It supplies accessories such as net and posts are awesome and you will get the most rewarding uses out of them. This tennis board has a single drawback, though, and that is it is a board that is made to be used indoors only.
Key features:​
Durable enough with strong solid construction chassis
Easy assemble
1-inch thick board
Color blue playing surface
Full-sized playing table measuring 9 ft (L) x 5 ft (W) x 2.6 inches (H)
Strong steel apron
Approved playing table by the International Table Tennis Federation (ITTF)
3. Joola Tour 2,500 Indoor Table Tennis Table
As a top table tennis board in its niche, Joola Tour 2,500 indoor table comes with lots of advantages that can only make you a better table tennis player. This is an indoor board that Joola produced as one of their top-quality tennis products. The company has been around for years and has become a top supplier of tennis equipment at Olympic and US Open as well as US National team meets and, therefore, has enough experience in the business. Therefore, if you want a professional touch that can help to make you into a better player, you can buy a Joola board to get you going.
Key features:​
Thick table top
Strong powder-coated steel undercarriage
Easy to set up table tennis board
Comes almost in pre-assembled setup
Easy storage
Net with brackets and screws
4. Killerspin MyT7 ClubPro Premium Table Tennis Table
The Killerspin MyT7 table tennis board is a quality constructed item that carries an affordable wallet tag. Whether you are a beginner or experienced player, this tennis board will keep you playing the game for a long time to come. It is a great product that can be used in international competition as well as for personal use. This tennis table is great for playing against an opponent and learning as time goes by. In addition, if you are using the playback feature, you will be sure to be getting great practice sessions from it. It is an easy setup table that gives you no problem at all once you handle it the right way. For serious play time of your favorite sport, make Killerspin the tennis table to keep you company.
Key features:​
Easy storage
Easy portability
Great playing surface
Durable product
Club Pro version
Suitable for indoor and outdoor ping pong
5. Kettler Match 5.0 Table Tennis Table
Kettler comes to the industry with a fresh look as they introduce their Match 5.0 table tennis table to the public. This tennis table top is mainly used for outdoor playing but can also be used indoor as well. Since it is designed to play outdoors, it has strong weather-resistant capabilities that will keep it from losing its playing days for a long time. The table top is solid and carries strong durability feature. This stylish tennis board will keep you playing the game longer than you expected and with each passing day, you will get better at the sport.
Key features:​
Good enough playing surface
Weatherproof components
Water-based paint
Dual lock safety
Aluminum apron
Perfect bouncing surface
Conclusion
To be a successful table tennis player, you have to practice on the best board available to you and the above are only a few of the best ping pong table in 2017. You will have your hands full using these awesome tennis boards to keep you going and you can be sure that your game will change for the better because of the type of playing surface you practice on. Therefore, step up your table tennis game playing a notch and join the winners' circle.​