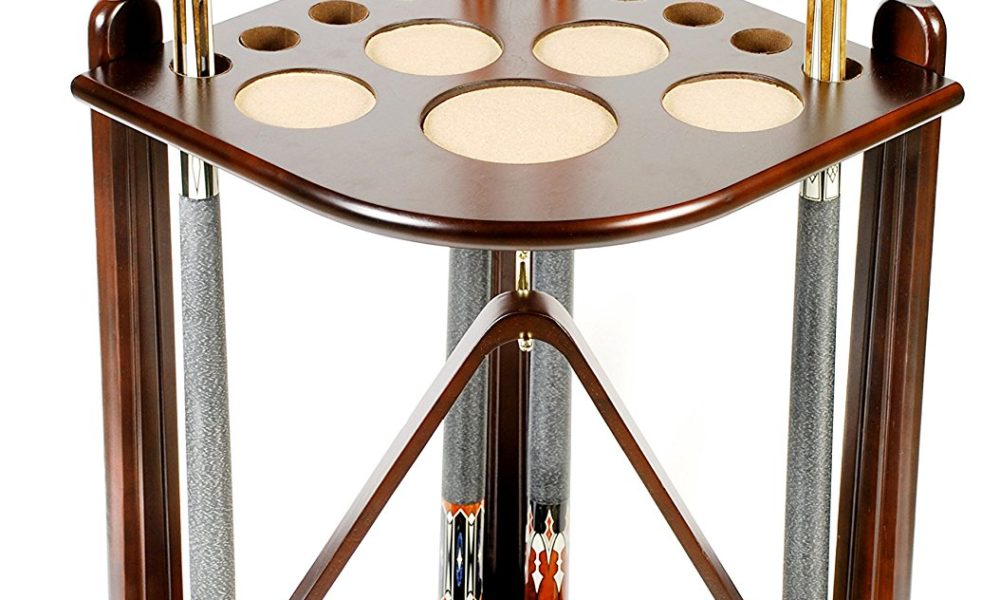 Pool cue wall racks are necessary tools needed for you to play a great game of pool with yourself, family members, or friends. Since your best pool playing days are still ahead of you, your time spent using any one of the cues accessories mentioned in this piece will be well worth your time and effort. Therefore, knowing the best pool cue wall rack and floor rack options available in the market today will gives you a heads up in the sport.
1. Viper 8 Cue Rack
Viper 8 cue racks pack a whole lot of fun to enjoy when playing your favorite sport using its cues to hit the ball with. This pool cue holder has an easy touch and you can put it together easily and effortlessly. There is no need to go out and buy any mounting hardware that it needs to work properly because the manufacturers sell the wall cue rack and ball rack with them as part of their supply accessories. The cue rack will remain sturdy and steady once you mount it in any room on your wall at home or office. It can hold up to 8 cues and storage space is easy to find for the rack because it carries a dimension of only 21.4 x 6.6 x 3.5 inches. Its construction is made from mahogany wood that makes it an ideal accessory in the pool playing industry.
2. Iszy Billiard 10 Cue Rack
Iszy billiard pool cue holder can hold up to 10 cues at a time and even the balls and cue ball and therefore makes it stands out from other cue options that can hold fewer balls in them. This rack will stand out in the basement of your home or family room. It has a solid wood mahogany oak or black finish that gives it its outstanding look. The level of quality that this rack possesses is of a high standard that you or other people can appraise easily and it will make a fine addition to your room surroundings. Its space saving measurements that go with it are 41 ¼ H x 29 ½ W x 8 7/8' D.
3. Iszy Billiard 8 Cue Rack
The Iszy billiard 8 cue rack is a standard item that is suited for the savvy pool player. This rack is also great for saving space in your home because it is small enough to go anywhere and big enough to be noticed by visiting family members and friends. The measurements for this awesome piece of work are 30 ½' H x 15' W x 15' D and can hold up to 8 balls and other pool accessories all at the same time. Although this item is made from wood, by carefully caring for it while it is in your possession will make you keep using it for years. This cue product comes in two main colors such as the mahogany and oak and both of them will give your home furnishing a great compliment.
4. Rustic Corner Rack
For a great looking rack option to go with your home furnishings, you can always call on the Rustic Corner Rack to come to your rescue. This ideal corner cue rack for your room corner has a Winchester and Cimarron finishing look that makes it stand out from other pool playing racks in the market. It is made with a combination of both ash and pine mix that will make your room stand out even more. The Rustic corner cue rack can hold up to about 9 balls, the cue ball and 6 cue sticks all at once as well as you will even have more space to place other accessories on it.
5. Rustic Floor Rack
As with its sister companion the corner rack, this Rustic Floor Rack has all the essentials you will need to place it on the floor of your game room or basement. This one of a kind rack can hold up to 9 balls and 6 cues without losing its grip. Its construction is made from sturdy pine and ash, which ensures its durability feature for years to come. You cannot go wrong with a Rustic Floor Rack present in your home and your pool table will always get the attention it deserves at all times due to the function of this wonderful rack in your possession.
6. Sterling Floor Rack
The Sterling Floor Rack has a nice finishing touch to it because of its contemporary style design. This game rack has easy storage feature and if necessary you can move it to any room of your choice in the house. It has a movable storage tray that houses the balls and this method makes it easy for you to transport the rack to the pool table where you can have easier access to its use. This innovative rack holder can hold to up 10 cue stick and it is made from sturdy white mahogany wood that is not easy to break. Its dimensions measurements are 19" x 14" x 37" and weighs 14 lb.
7. Aria Floor Rack
The Aria Floor Rack comes with a finish that is unlike others in its niche offering perfect stick storage. It is a mixture of stainless steel and wood that helps to give it its sturdiness. In addition, its acrylic finish is what gives it its ultra-modern look and thus making it able to be placed anywhere in your home. This cue rack can take up to 8 cues and it has a triangle rack and ball holder as part of its makeup. It has a 23 lb weight and its dimensions measurements are 23 1/8' x 9 ½" x 24" H. You can buy your Aria in any finished options you prefer such as chocolate, desert, and blackberry so that it will match almost all pool tables.
Conclusion
Your best cue pool rack options in the market today are many, including floor, wall mount, and corner variations. However, each one is designed with its own unique look to give its surroundings a more stylish appearance. Your pool playing games can only get better as you use your cue rack to advance your games. Not only will you be enjoying the use of the cue stand that is in your home, you can use it as an excuse to work in some valuable family time with your loved ones at home as well.​