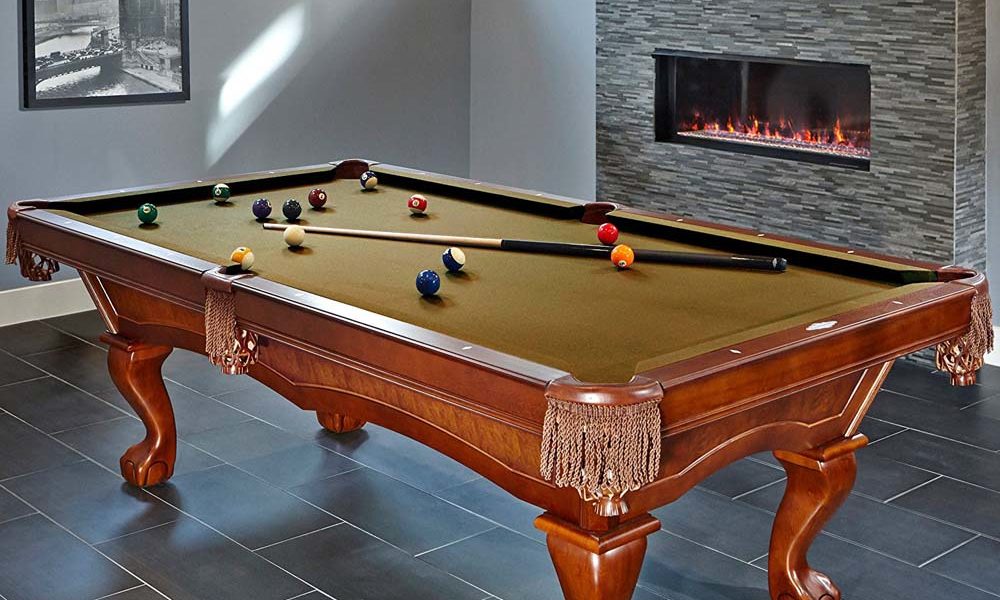 Brunswick pool tables are an extremely beautiful and popular brand of pool tables. These pool and billiard tables are innovative and unique and are designed to give you the best billiard experience possible at an affordable price. Brunswick pool tables are also extremely elegant and sophisticated and are perfect for any pool player on the market for a new pool and billiard table. These tables are perfect for serious players and are beautifully crafted to give you the most accurate, consistent, and superior gameplay, along with a stunning play surface. Brunswick offers a large variety of pool tables that are also ideal for billiards, including:
Traditional
Transitional
Modern
Rustic
Industrial

The wide and versatile range of pool tables that Brunswick offers cannot be compared to other pool table brands. Whether you like the classic and traditional look or a more rustic, industrial look, you won't be disappointed with their selection. Built and crafted to perfection, Brunswick pool tables are sturdy, secure, durable, and reliable. These pool tables offer the best in elegance, craftsmanship, and quality. Each pool table is unique and beautifully crafted.
The Brunswick table you purchase will depend entirely on your budget, the style you are looking for, and how often you play pool. This buyer's guide will walk you through the various types of Brunswick pool tables you can purchase. If you're unsure of the type of pool table you want to purchase, or if you can't seem to decide what style you are looking for, this guide will lend a helping hand. With versatility and quality that cannot be compared, Brunswick has a selection of pool tables that can fit anyone's needs. Take the time to learn about the various types of pool table that Brunswick offers and you won't be disappointed.
The Brunswick Black Wolf pool table is extremely elegant, sleek, and durable. Made of high-quality wood, this pool table comes equipped with metal pocket corners and a smooth playing surface. The high-quality wood gives the Black Wolf an extremely long lifespan.
This table comes equipped with a set of pool balls, 4 cues, an 8-ball rack, 12 pieces of chalk, a bridge stick, and a plastic table brush. The Black Wolf offers protection with round rail sights and jet-black laminate covers the surface.
Its polished surface makes this table look professional and appealing to the eye. The design is modern, dramatic, and a great addition to any type of game room. You will not experience any snags or knots playing on this pool table because of its woolen cloth and it is strong, sturdy, and extremely reliable.
The Allenton Table has solid wood rails and premium slate. With diamond-shaped rail sights that are resistant to wear and fade, this table is not only beautiful but also offers amazing playability. The Allenton comes in chestnut or cherry finishes and two leg options: tapered legs or the classic ball and claw leg. The Allenton is an extremely stable and sturdy pool table and is easy to disassemble. The leather pockets on this beautiful pool table are manmade and stylish. The Allenton is a classic, sophisticated pool table that will add modern elegance and class to your home.
The Danbury pool table comes with a beautiful chestnut finish with Contender woolen cloth. Your choice of cloth color includes green, merlot, blue and sahara. This table has wooden rails as well as diamond-shaped rail sights, and also comes with a pool accessory kit. The kit includes cues, a bridge stick, bridge head, plastic table brush, 8-ball rack, and 12 pieces of chalk. The wooden rails on the Danbury pool table also add stability and durability.
The Glen Oaks pool table has an espresso finish as well as a Contender colored woolen cloth. Made of engineered wood products and veneered hardwood, this table is 8 feet long and offers a strong structure which provides stability and a longer lifespan. This table is built with heavy-gauge steel fastening systems which ensure stability even under the toughest of circumstances and comes with a pool accessory kit for all your pool-playing needs.
The Treviso pool table comes in an espresso finish and is extremely elegant and classic. The design of this pool table alone makes it a wonder to look at. The Treviso has arched legs which make it look like a museum art piece. The wood is clear and polished, giving it a modern, classic, and elegant look that is pleasing to the eye. The base is also strong and sturdy.
The Treviso is bound to receive all sorts of compliments from guests at your home. It has a superior, elegant look which simply cannot be duplicated. This table boasts the classic Brunswick design, structure, and stability. It is a perfect addition to any home which boasts modern furnishings and sits like a piece of art. With a unique outline and shape, this piece is contemporary yet classic at the same time.
The Best of the Best
Brunswick pool tables are known for their exceptionally crafted design and innovative techniques. Offering sophisticated and elegant styles, Brunswick has a great selection of all sorts of tables depending on what you are looking for. Brunswick pool tables range in price from $$ all the way to $$$.
When shopping for a Brunswick pool table, you are guaranteed to find something that fits all your billiard playing needs. Brunswick tables have high-performance nut plates, high-pressure bonding and solid hardwood rails. These exceptional pool tables are easy to install and have a solid foundation which is reliable and sturdy. Brunswick tables are also made with Brunswick slate, which is diamond-honed and precision-machined. Brunswick slate is leveled to thousandths of an inch and is consistently inspected and certified to offer you lifetime playability. If you're looking for a high-quality pool table that is unique and reliable, Brunswick is the way to go. Not only are Brunswick pool tables classic and sophisticated, they also offer an extremely long lifespan and are the perfect choice for any avid pool player.