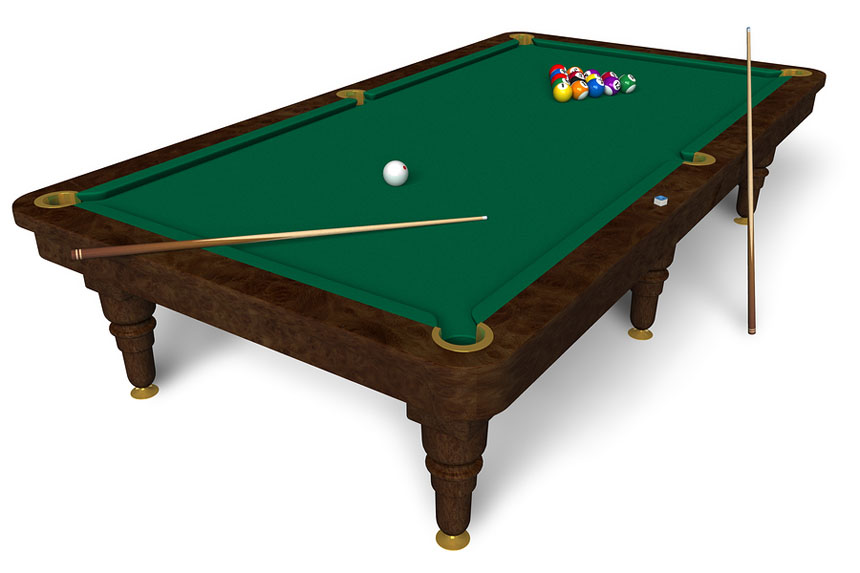 Pool can be a great way to spend an evening with friends, but if you play often enough it can get expensive. Luckily, it's possible to bring all of the fun and socializing of billiards into your home game room. Buying a billiard table and all that comes with it can be expensive, but it's an investment well worth making if you love playing pool and you know that over time you'll get your money's worth.
What do you need to know before buying pool table sets for your own home?
Pool tables and the accessories you need to go with them are a major investment. Think of some of your long-term furniture pieces that you intend to use forever and that you hope stay in your family long after their tenure in your life has ended. A pool table can be the type of investment you pass on to your loved ones, especially if you've enjoyed playing pool with people in your family.
A pool table for your home can cost a regular price of anywhere from $900 to $5000, depending on the quality of the piece. There's a large selection, and there are many variations that affect the quality of a pool table. In most cases, the bigger your budget the nicer the table you'll get. However, it is possible to get a good quality table for a reasonable price, as long as you know what you're looking for and you understand a bit about how pool tables are constructed.
Your first consideration when buying a pool table set for your home is whether or not to get one made with slate. There are other options on the market, including fiberboard, solid wood, plywood, slatex, honeycomb, slatine, slatron, and permaslate, but none offer the same playing experience as slate. Of course, that means your table might cost a bit more, but if you're already investing in a pool table set, you might as well get something that is made of the best quality materials.
Slate is a natural type of rock that takes thousands of years to form. It's made from volcanic ash or clay, and then is mined and cut into smooth, flat sheets. There are several different thicknesses available for pool table slates, ranging from ¾" to 1" to 1 ¼". According to the pros, 1" slate is the most accurate, and that is what is used on tables for competition play. It's possible to buy a pool table with thinner slate, which is still better than the alternative materials, but not as accurate as the 1" style.
Next, you'll want to consider the craftsmanship of the legs of your pool table. This is not only a functional consideration, you should also take your existing home décor into consideration. A pool table with ornate scroll work carved into the legs might look beautiful, but it isn't going to suit homes with a modern aesthetic very well.
It's also important to think about all the work pool table legs do. Not only must they support the table and the game play equipment, they also need to stay up to players leaning on the table while playing. Most players prefer post legs because they're made from solid pieces of wood, from the slate to the feet. This ensures they are reliable and will prevent a lowering of the gameplay as the table ages.
Another important features of your pool table is the frame. The best tables are framed with wood glued to the bottom, along with cross beams for additional support. The slate determines the size of the frame, so make sure the frame provides enough support for whatever slate you've chosen.
Next, you'll need to choose the felt or cloth that goes on the surface of the pool table. This is the usually green fabric made of wool and nylon and covered in Teflon that serves as the playing surface. The felt is available in colors other than green, so consider whether you want a traditional look or something a little out of the ordinary.
Finally, you'll choose the rails of the table, which can be made from synthetic materials or from gum. Synthetic is usually less expensive, but tends to dry out and you'll end up with a dead rail Rails made from gum tend to offer a predictable bounce for the life of the table, so they're worth investment.
If you're looking for a complete set that provides you with all of the materials you'll need to play pool, consider this option.
Pool Table Sets and Playing Equipment
Now that you've designed the perfect table, it's time to complete your pool table set with playing accessories.
You can buy all of these items in a single set or purchase them individually. We like this 32 piece accessory set that provides you with everything you need to play, if you're just getting started.
Begin with the obvious and most necessary accessories – pool cues and billiard balls. Pool cues or cue sticks are pieces of wood designed for striking billiard balls. They are typically constructed of maple wood, as well as fiberglass, carbon fiber, and graphite, and range in size from 48" to 58" long. Weight is one of the most important factors when it comes to choose a cue you love to use, and you'll be able to opt for a stick weighing between 17 and 22 ounces, unless you have a custom made cue.
The next most important item in your pool table set is your collection of billiard balls. Most sets including 15 numbered balls that are divided into solids and stripes, and include a single striking ball. Size and other features can vary a great deal, and you can choose from a variety of designer options, so take your time and choose a billiard ball set that you really like and that suits your style. This set features a fun design based on the style of traditional cue balls.
Finally, you'll want to choose bridge sticks to help you play and a pool ball rack to help you get your game started. These are the last of the necessary items for playing pool, but there are still plenty of other items you'll want to add to your set, including cue chalk, table covers, pool cue cases, trail brushes, and repair kits. Though these items are useful and eventually a must for at-home billiards, you can take your time building your collection and focus on the major necessities to begin.