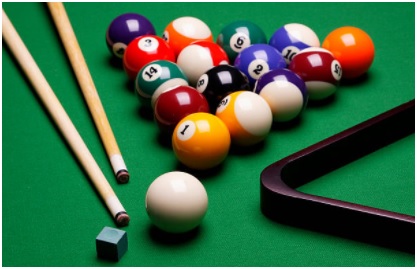 Like foosball tables and table tennis tables, coin operated pool tables are perfect additions to a variety of venues, including pool halls, bars, restaurants, and clubs. Providing customers an incentive to prolong their stay at a bar, restaurant, or club, pool tables offer affordable entertainment while encouraging customers to purchase more food, drinks, and other items. Equally affordable to business owners, coin operated pool tables are a boon for business profits and are an easy and effective way to increase sales and add to the ambiance at all sorts of businesses.
Business owners will want to procure a coin operated pool table that is designed with commercial use in mind and ruggedly built with a top-quality solid construction with a beautiful cloth surface and pocket liners that will ensure a reliable product capable of performing for many years to come. In choosing a pool table, buyers should look out for sturdy cabinets constructed of durable plywood on both sides as well as the underside, domed shake-proof bolts and washers on all four corners of the table, a smoothly performing and rapid ball return system, as well as a simple and efficient coin box housing.
Other important design components to look out for and consider include the following:​
An anti-cheat system to prevent unscrupulous customers from engaging in free play
Under-table locking hatch with hinges for easy cleaning and storage
Steel-center supports to provide reliably flush-level playing surfaces
Large-sized cash box to accommodate earnings without the need to constantly empty the box
Durable warp-resistant playing surface with industrial strength fabric covering to withstand vigorous and aggressive play
With a great number of convenience and security options available for coin operated pool tables today, business owners can pick and choose from myriad options to source a table that is absolutely perfect for the needs of their establishment.
Read on below to learn more about the top 5 coin operated pool tables available on the market today in 2017!
Along with Dynamo and Great American, Shelti is unarguably one of the three best-known and most respected coin operated pool table manufacturers in existence today. Sheltie's Bayside model is a best-selling option on the market and has consistently accumulated high sales year after year. With its bevy of optimal features, performance, and long-lasting durability, the Bayside's perennially favorite status amongst business owners is sure to remain consistent in the coming years.
Highlights:​
Precisely designed bi-folding and pivoting doors provide a simplified ball trap and optimal ball response and roll
Increased durability and resilience from a comprehensively reinforced construction throughout
Regulation sized playing area featuring a wool and nylon blend surface covering
| Product pricing | Product weight | Product "nose to nose" length |
| --- | --- | --- |
| ​$5595.00 | ​966 pounds | ​101" |
---
From Dynamo, the Valley 101" Coin Operated Top Cat Pool Table is a premier, high-end option for business owners that comes complete with all the bells and whistles expected with its attached price tag of almost $6300.00.
Innovative details such as Motion-sensing LED lighting in the coin door box and ball-view areas ensure complete visibility for consumers as well as service technicians needing to make the occasional repair.
Highlights:​
Wooden construction with beautifully stained finish
Carved wood rope-style trim
Motion-sensor LED lighting in coin door box and ball-view areas
Top rail mounted with LCD window for optimal convenience for players
Flush-mounted corners and metal trim featuring a satin finish provide a classic, elegant, and timeless look
Easy-to-understand ownership instructions and guides
| Product pricing | Product weight | Product "nose to nose" length |
| --- | --- | --- |
| ​$6299.00 | ​915 pounds | ​101" |
---
A fantastic budget-friendly option for business owners, the Dynamo Sedona Coin Operated Pool Table with DBA is lighter weight and slightly smaller than competing pool tables.
Despite its smaller stature, the Dynamo Sedona doesn't skimp on the features. Included are sturdy, block-style squared legs for increased stability, a contemporary looking aesthetic composed of wood-finished laminate, solid-black accents, and a traditional green wool and polyester blend surface covering that is warp-resistant and able to withstand aggressive playing styles.
Highlights:​
Reinforced strength and durability through hardwood rails that are screwed directly into the table
ABS-style molded wooden legs
Stabilizing leg levelers with easy adjustment capability
Cabinet hardware lasts for much longer due to metal coverings
Proprietary "Death-to-the-Dead-Spot" special rails for optimized gameplay
Heavy-gauge, galvanized-steel supports
Exclusive noise reduction designed ball return system
| Product pricing | Product weight | Product "nose to nose" length |
| --- | --- | --- |
| ​$4659.00 | ​760 pounds | ​84" |
---
Despite its lower price point and comparatively smaller stature, the Great American Monarch Coin Operated Billiards Table is jam-packed with exceptional design elements and top-quality accessories. Buyers will love the exquisite quality found in the handcrafted single-piece slate and plywood constructed cabinet accented with unique gold trim. Far more ubiquitous to modern pool tables are chrome trim and accents, whereas gold is a rare addition to find. In abundant supply on this table, the gold trim beautifully accentuates the wooden foundation and deep forest green felted surface.
Highlights:​
Lexan ball-viewer with integrated retaining screws
Top quality plywood construction with gold trim and accents
Rapid and efficient ball return system
Under-table locking hatch with easy-swing hinge for convenient storage and easy cleaning
Double rollers provide extended table life, smooth gameplay, and rapid starts to new games
Each table is handcrafted with single-piece slate construction
Shake-proof bolts and washers on all corners, rails, and supports
| Product pricing | Product weight | Product "nose to nose" length |
| --- | --- | --- |
| ​$3249.00 | ​747 pounds | ​72" |
---
With its contemporary looks resulting from a bold black construction accented by plenty of brushed metal trim and a deep green felted table surface, the Dynamo 78' Coin Op is a perfect option for business owners looking for a table sporting modern looks and a slightly more compact size than found on many other tables. Packed full of thoughtful features and high-end design elements, this table is an affordably priced option encompassing great value, performance, and durability.
Highlights:​
Rapid ball return system with noise reduction capability
Molded legs with increased durability through comprehensive reinforcement
Adjustable leg levelers
Hardwood trim and rails serve to reinforce overall table strength and stability
Cue ball with magnetic separator
Locking pocket fasteners
Rubberized pocket liners
Perfect for tighter spaces
| Product pricing | Product weight | Product "nose to nose" length |
| --- | --- | --- |
| ​$3149.00 | ​702 pounds | ​78" |
---
Coin operated pool tables are great additions to all sorts of businesses including restaurants, bars, and clubs. Providing customers opportunities for extended fun and thus promoting extra sales, in-house pool tables give business owners a great advantage in creating a welcome and entertaining atmosphere while, at the same time, easily creating opportunities for increased profits.
To learn more about pool tables for businesses, homes, offices, and more, visit gameroomexperts.com today!​