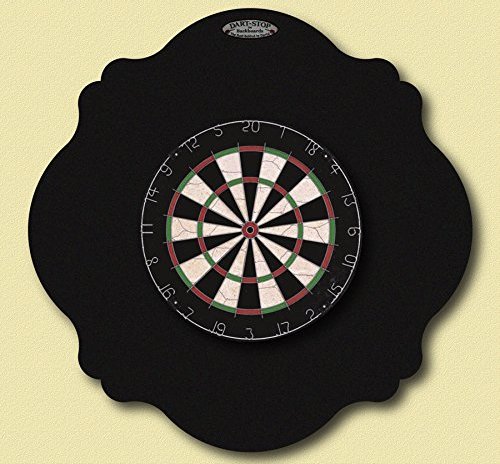 A game room will fast become the most popular room in the home. This is true whether you have kids or not. The young, and young at heart, cannot help but be drawn towards areas designed for fun, games, and leisure in mind. The game room will quickly become the heart of the home and the place everyone wants to be. While creating a game room might seem like it would be prohibitively expensive, it doesn't have to be.
A lot of people create their game rooms in a more do-it-yourself fashion. Not only does this save money, but it allows you to put your personal stamp on every item in the game room, and make the room exactly as you want it to be. Most game rooms have a combination of classic and more modern game offerings, but something a game room would not be complete without is a dart board.
The dart board is one of the most iconic and classic billiard style games and it has remained popular in the centuries following its creation. You can't beat a classic game that is the ultimate blend of simplicity and skill. It is incredibly easy to learn how to play darts, but it takes a great deal of practice and some skill to master and become dominant in. There are also many different dart boards available, such as magnetic dart boards, electronic dart boards, and classic boards like the Winmau dartboard.
It might not seem like there is much to think about when it comes to putting up a dart board, either. What else can you need? The thing is it isn't as simple as that. Dart boards are often mounted in cases or mounted on some sort of backing. This is to allow you to hide the dart board when not in use if you so desire. Perhaps, more importantly, the backing provides extra protection for your walls for those throws that miss their mark—even the very best sometimes throw a wayward arrow.
Different Types of Dart Board Backing
What follows are three popular, affordable, and well-reviewed backing options for standard-sized dart boards:
From the trusted and well-known Dart World, which makes a range of high-quality, professional dart-related equipment and accessories, is a wall backing that will protect your walls and fit most standard sized dart boards. At less than $75, this is a great deal for a high-quality protector that can even withstand steel-tipped darts.
The wall protector is made of high-density foam that is 1" thick. It is reversible, which means that once one side has become worn you can simply turn it over, doubling the life. The protector is suitable for all standard-sized bristle dart boards and is easy to assemble in four pieces that fit together like a jigsaw.
From the trusted and reputable brand, Dart-Stop, is the professional quality and stunning scalloped backboard. At less than $200, this backboard will not only protect your walls from errant darts, it also adds eye-catching appeal as well with its unique shape and design.
The backboard is made from plush that is designed to hide dart holes so you don't end up with a pockmarked backboard. It also features a recessed space with mounting brackets for secure placement of the dartboard on the backing. It is 1" thick, which protects your walls even from the hardest throws and is proudly made in the United States.
This is another great option from the trusted Dart World brand. At less than $115, this is an excellent option for people who have a lot of novices and beginners playing darts at home. This backboard is larger, giving more coverage and protection to your walls than the standard-sized backing.
It comes in one solid piece with a durable carpeted back and is easy to hang. It provides enhanced coverage for all standard-sized dart boards.
---
If you are a creative type, you can use your imagination and make your own backing out of cork, cloth, and tailor it to your exact liking. A lot of people, however, either aren't all that creative or they do not have the time for a bunch of craft projects. If you are creative, you should check out the tons of different ideas and inspirations that you can find on the wide range of crafting and do-it-yourself-oriented websites.
If, however, you are not particularly creative or you are against time, but you still want to be able to customize your dart board to look as you want it to, there are separate backings that you can buy to pair with the dart board of your choosing. We will now briefly review a few of the more affordable, versatile, and popular backing options people choose.
When making the ultimate do-it-yourself game room, you are looking for a nice blend of fun and action that doesn't break the proverbial bank in the process. Doing it yourself is a great way to save a ton of money and to make your game room exactly how you want it to be. One of the classic games that people often put in a game room is darts. This is because it is an affordable, fun, and classic game that is fun for people of all ages and skill levels.
Most people think that all you need is a dart board and, well, darts, but there is one key element missing: the backing. Some people choose to put their dart board in a cabinet type case that has doors that can be used to conceal the dart board when it isn't in use. More commonly, people use a variety of different types of backing so as to help protect their walls from the unavoidable miss when throwing darts. These misses can lead to a Swiss cheese of holes in your drywall without proper backing.
Whether you choose one of the backing options we briefly review here or you use this as a guide to do further research, we're sure you (and your walls) will be happy you selected a high-quality backing for your dart board.​