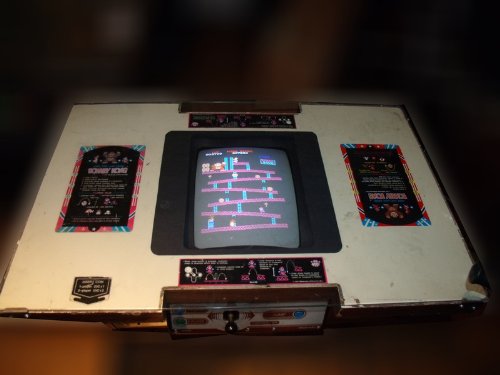 There really isn't much that can beat a classic arcade game. Those standing consoles of our youth are something that all the modern technology of the time just cannot duplicate. Thankfully, there are still ways of getting your hands on either actual classic arcade systems or diligent reproductions that let you bring this part of your youth to your very own home for you and a whole new generation to love. Arcade games were immersive and allowed you to lose yourself in the fun and excitement of various kinds of games, whether they were fighting games, sports games, or even traditional platformer games.
If you are looking to set up a home game room, chances are you have one of these classic games in mind. One of the most iconic of all arcade games was the original Donkey Kong arcade game that debuted in 1981.
A Little Donkey Kong History
Donkey Kong is a platform-style video game that as released by Nintendo in upright, mini, and cocktail-style console systems. It would soon after being released in tabletop version of the arcade machine as well and had kids around the world trying to work their way up the ladders to hit the high scores and move through the levels. The platformer focuses on the adventures of the main character, Donkey Kong, as you help him navigate a two-dimensional world, avoiding danger, dodging obstacles, and jumping over barrels and everything else that might get in your way.
The arcade version of the video game would receive such praise and popularity that it would be released on home Nintendo consoles and youngsters had the chance to save Mario's damsel in distress on the classic Game Boy and Game Boy Advance. From there, a whole line of games featuring the main character would follow. This game is also the first time that Nintendo introduced the world to the soon-to-be-infamous character, Mario.
Donkey Kong Arcade Games for Your Own Home
What follows are three brief reviews of different options of home arcade game console that features the classic, original Donkey Kong game:
From the trusted and well-known Suncoast Arcade, this table or bartop console system faithfully reproduces the look, feel, and operation of a classic arcade console game and the giant ape and girders, but with some updates for the modern age. This is an incredible value at less than $900 and it includes far more than the classic Donkey Kong arcade game.
This arcade video game unit features sleek and stylish classic design with a full size 19" LCD screen and classic control panel, which provides for far superior viewing than on one of the original consoles. The console is programmed with 412 of the most popular classic arcade games, including, of course, Donkey Kong, but also Galage, Ms. Pac-Man, and so many more.
Unlike their classic version, this modern reproduction weighs only 45 pounds, which makes it far easier to move than the incredibly heavy classic models—and probably lighter than the barrels that were thrown. Not only does this make the console easier to set up, it is light enough that it can also be easily transported. The design is space saving, so you get the same look and feel without the need for nearly as much floor space.
This system comes with a two-year warranty, giving you added peace of mind that you are going to get your money's worth out of the product.
This classic item is not always easy to find and, when you do, you should expect to pay a premium. Popular retail sites like Amazon will, on occasion, have an offering like this available through a third-party seller and these classic units often sell for some $3,000 or more. But, for those who want the classic, the original—the actual console that they played when they were young—there is no substitute.
The original is a full-sized arcade video game console manufactured by Nintendo and has awesome playability. The game featured a speaker on the front of the console to provide game sound. It also features a four-way joystick that is used to navigate your character through the two-dimensional world.
The original 1981 console also features the classic 19" Color Raster Monitor, giving you the same unique viewpoint you remember from your local arcade.
While the original upright Donkey Kong console is incredibly rare and can be difficult to find, this does not mean that you are stuck with only a reproduction as your option. Nintendo also released a tabletop version of the famous Donkey Kong game and this version is the first Nintendo game that the Mario character appeared on.
The tabletop system has been completely refurbished. You can buy one of these refurbished classics for about $2,000. Even though the console is obviously used, it comes with a 90-day warranty, which covers both parts and labor, giving you the peace of mind that your money is being well spent.
---
Nothing beats the classics and, for many who are setting up their ultimate game room, there is no alternative to the classic console arcade game. Whether you choose a tabletop console, a stand-up console, or a faithful reproduction, you can bring the look, feel, fun, and unique gaming experience of the arcade console to your own home without breaking the bank. It is up to you whether you want the real original or something made from updated technology that provides a classic look and feel.
The '80s was the heyday of console arcade games of all types, but none took the world by storm quite like the original Donkey Kong arcade game released by Nintendo in 1981 in a variety of arcade console forms. This was the world's first introduction to what would become an iconic character in the Nintendo game franchise. This fun original captivates game lovers young and old and it definitely stands the proverbial test of time.
In this review, we provide details for a few ways that you can purchase this console arcade game for your own home. You can buy a reproduction, tabletop console machine that has tons of different classic games installed, or you can look for the original. They are out there if you are willing to look and pay the price asked. Regardless of what you choose, we're sure you'll love having the original Donkey Kong as part of your game room offering.​