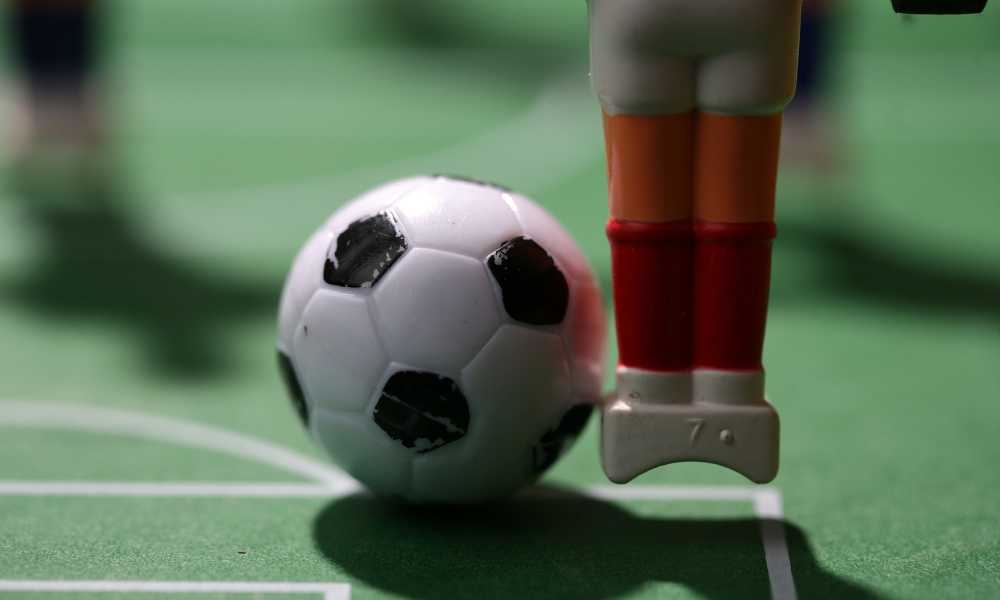 If you are a beginner or intermediate foosball player looking to purchase a foosball table for your home, to enjoy with your family and friends, then you do not need to be focussed on purchasing an expensive foosball table that is played by professionals at tournaments.
The 60-inch Liverpool Foosball Table, brought to you by the EastPoint brand, is ideal for home use and for recreational play. It is not commonly used in tournaments by advanced players, but it will definitely offer you hours of thrilling soccer action in the comfort of your own home, especially with its large, competition-sized playing surface.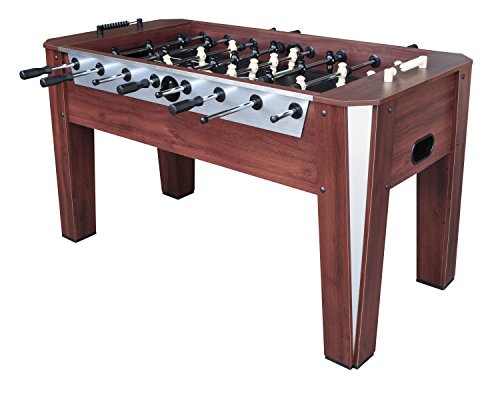 Features
Competition-sized soccer table
Robot-style foosball players
Four textured foosballs included
Shim pack included
Hollow, steel player rods
Moulded bushings with bearings
Bead style scoring
Dual layered, tapered style legs
Soft moulded, comfortable handle grips
26 black and ivory players
End ball return
Wood-grain laminate finish
3-Man goalie
Dimensions of playing field: 46.63 inches X 26.75 inches
Full table dimensions: 60 inches x 29.75 inches x 34 inches
Pros
The large, competition size of this table means that more friends and family can join in on the action during a game. Two to four players can play at any given time.
The shim pack that is included helps to keep the playing surface perfectly flat. Your game will not be interrupted with a ball getting stuck, and there won't be a one–sided playing field if the table is not level.
The four foosballs that are included are textured balls; your ball control is improved and you can deliver some memorable shots with these balls. It is ideal that these balls are included because you will have complete game play the moment your foosball table arrives, no extra orders and expenses to still buy some decent playing balls.
The moulded bushings with bearings enable you to spin and slide with ease, allowing you to increase your power and accuracy for smooth and consistent play.
The bead-style scoring helps you to keep track of all of the goals scored.
The wood-grain laminate finish makes this foosball table attractive enough to place anywhere in your home, or even in your office.
The soft moulded grips are comfortable and will ensure a slip-free game.
The durable and sturdy construction of the cabinet will have you playing on this foosball table for many years to come. Even though this table is not commonly used in tournaments, it is a high-quality foosball table, one that can definitely take some aggressive pounds as you score the winning goal.
Cons
The robot-styled foosball men are not favourable in design. They create a negative impact on performance as well as on ball control. They are also not very attractive, especially for an attractive table with a great finish like the EastPoint Sports Liverpool Foosball Table.
The large size of this table is excellent for increasing the number of players who can play at once and for having a larger playing surface, however, this table may not fit into everyone's designated foosball table area. Its large size may propose space problems, and some customers may have to turn this table away because it simply won't fit.
The legs of this table are not adjustable. This is not ideal, especially for such a large table.
Assembly of this foosball table will set you back a few hours.
Comparison
The Sports Liverpool table is definitely one of the largest tables produced by EastPoint. Its Sports Newcastle table is 54 inches in length, and the Premier Cup table is slightly closer in size to the Sports Liverpool table at 56 inches in length.
The Sports Liverpool table does not have adjustable leg levellers—a big negative for this table, especially since the Sports Newcastle table and Premier Cup table have adjustable leg levellers and not just an included shim pack. This table is the only table from the EastPoint range of foosball tables that is made from PVC laminate; the more common cabinet finish being wood veneer for EastPoint foosball tables.
If you have the space, the EastPoint Sports 60-Inch Liverpool Foosball Table will look great in your home with its wood grain laminate finish, and it will appeal to beginner and intermediate players, even to the more advanced players with its large, competition size. Unfortunately, it does not have adjustable leg levellers so the younger children may feel a little left out if they cannot reach the table to play.
Overall, this foosball table is great quality, durable, and it would be the perfect fit in any home or office. Young and old will enjoy many thrilling hours of soccer action.