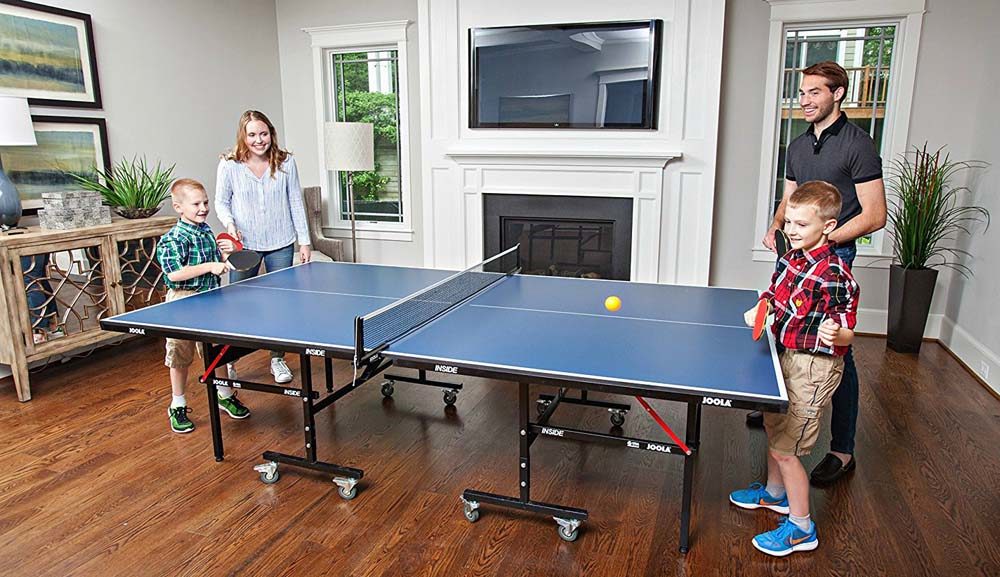 Who doesn't enjoy a good game of ping pong? Whether it's a fun game among your nearest and dearest or a fierce battle among friends, ping pong is a great way to spend some of your spare time. Good, folding ping pong tables, or table tennis tables, are quite an investment and, for that reason, it's important to do a little research before you part with your hard-earned cash, just to ensure you're getting a good deal.
What do I need to know when shopping for a folding ping pong table?
When shopping for a folding ping pong table there are few things to bear in mind:
Location:

Depending on where you're going to put your folding ping pong table top will depend on the type you'll want to buy. If it's predominately going to be outdoors, make sure you get one that's waterproof. You'll also want to take measurements of the area in mind to ensure there's plenty of room for the table to fit and for people to maneuver around while playing.

Quality:

A ping pong table's quite a large investment so you want to make sure you buy one that's made with quality materials. It's important that the table remains stable when playing and can withstand even the toughest of players. Look out for the thickness of the table too. Anything with a thickness less than 12 mm should generally be avoided.

Cost:

Folding ping pong tables do vary greatly in price, so it's really down to the individual's budget as to what they can afford. Just don't compromise on quality for the sake of a few dollars as a good folding ping pong table will last for years.

Storage:

One of the best features of folding ping pong tables is that they don't take up a great deal of room when packed away. Just make sure you opt for one that's quick and easy to disassemble. Please note that not all folding ping pong tables have wheels. So, if you're not planning on keeping yours out all the time, it may be wise to choose one that does.

So, now that you have an idea of what to look for, check out the below for 5 of the most popular folding ping pong tables available currently:
These indoor folding table tennis tables are of the mid-priced models and their overall quality is pretty impressive. It's a regulation-sized table that can be set up in under 20 minutes and will provide you and your family/friends hours of entertainment. The thickness of the table is 15 mm and is USATT approved. When done playing, the table can easily be folded in half using the innovative automatic anti-tilting locking device. Then you can simply store it away using the 8 locking caster wheels. The rubber leg levelers protect your floor from being scratched while in use or when stored away and enable height adjustments to guarantee you an even playing surface.
Verdict: This folding ping pong table is sturdy, relatively easy to set up, and is great for using indoors. The only real downside is you do need two people to set it up. Overall rating: 9.5/10
If you're on a budget but still want the benefits of a good folding table tennis table, look no further. This tournament sized table comes complete with 2 posts, a removable net, 2 paddles, and 2 ping pong balls. The thickness of the table is 15 mm, has a nice playable surface and is durable enough to withstand many hours of play from the whole family. One of the great things about it being foldable is you can play alone to get even more practice in. It also creates the perfect solution for space-saving storage.
Verdict: Although it's light, it does still need two people to set up and move around. It's also a 4-part table opposed to a 2-part, so may take a little longer to assemble than some of the others on the market. Overall rating: 9/10
A traditional 4-piece model, this folding ping pong table is ideal for those with very little spare storage space. It's a mid-priced model that offers no accessories with it. But, the table is tournament-sized and fully laminated for protection against even the toughest of players. It's made using a sturdy steel frame and 1.5 in thick legs for maximum support. When you've finished playing with it, the table can be folded up with ease and placed in a corner, closet, or even under the bed and has built-in wheels attached for extra help while moving.
Verdict: Overall, the quality is pretty good and I like the way it folds up so you can place under a sofa or bed opposed to standing. However, setup is a pain even with two people and the fact that you have to buy the paddles and balls separately is a little disappointing. Overall rating: 8/10
This compact table measures in at 71 x 40.5 x 30 inches and is ideal for those with limited space. It offers to play at regulation height, just at a scaled-down size. Another mid-priced model, the STIGA folding ping pong table is one of the easiest out there to assemble. Simply pull it out of the box, unfold it, and you're ready to play! It's made from a durable steel frame and square steel legs offering maximum stability while playing. The net and posts are included in the package, but you will have to buy your own paddles and balls, unfortunately.
Verdict: Absolutely love how simple it is to assemble. However, due to the size of it, it is not really suitable for adults. Overall rating: 7/10
One of the high-end models of the folding ping pong market, this Butterfly folding ping pong table will keep you entertained for many hours. Being made from one of the biggest names in Butterfly, you won't be disappointed with this table. The table top is 19 mm thick, meaning durability is no issue. There are also 5-inch ball-bearing casters attached for easy maneuvering when not in use. You can easily fold up the table without removing the posts or net to store away or to be used in the playback position.
Verdict: This is an extremely well-made, professional-looking folding ping pong table that is guaranteed to last for years. It may be a little more expensive than some others available, but you are paying for quality. Just grab your paddles and your ping pong balls and get playing. Overall rating: 10/10