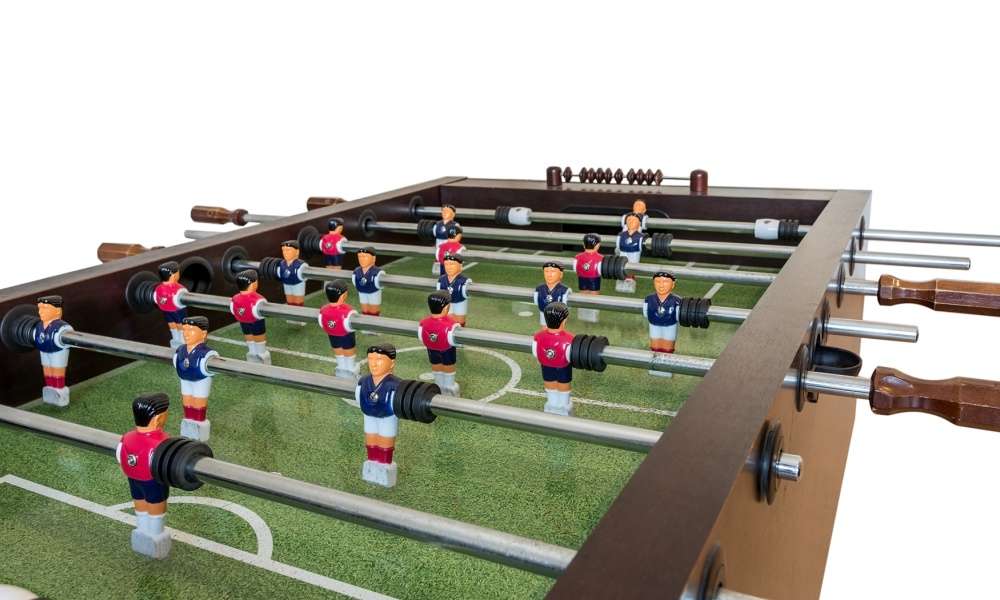 Whether you are a skilful competitor, or simply enjoy a good game of foosball in the comfort of your own home, then you will want to know exactly what to look for when purchasing the right foosball table for you. There are so many different tables that are available to purchase, whether you are looking to buy online or from a store.
So, what features should you be looking at? What makes one foosball table so different from the next? Here is a simple guideline to help you find the right foosball table for you.
Types of Foosball Tables
First, you need to decide what type of foosball table you are looking to purchase. Do you want a stand-alone, table-top, or a multi-game table? If you are looking for a foosball table for a pub or arcade, do you want a coin-operated table?
One must also bear in mind that there are two grades of foosball tables: professional and home models. Again, you need to decide which type you are looking for.
Finding the Right Table for You
Once you have decided on what type of table you are looking for, then you can start identifying what foosball table will be best for you and your requirements.
Budget
What are you willing, or able, to spend on a foosball table? Table-top foosball tables are generally the cheapest of the different types and will mostly like fit into most budgets. However, the higher expense is with the stand-alone foosball tables. They can range from $100, to a couple thousand. If you have decided on this type of table, then you will need to focus on your budget.
Who Will Be Playing Foosball?
Who will be playing on the foosball table? Will it be children or teenagers, or adults? If adults will be using the table, then what skill level are they at? Are they beginners, intermediate, or highly advanced players?
If you are buying a foosball table for children to play, then it is best to go for a cheaper model, and one would recommend a tabletop foosball table for easy reach.
For the intermediate players, look for mid-level tables that have smooth rods and adjustable table legs. You will also want a more durable table to withstand more vigorous play.
For the more advanced and skilful players, you will want a high-quality model that is regulation sized and has a flat, heavy playing surface, made of only the best and most sturdy materials.
Table Materials
How much you pay for your foosball table is going to affect the quality you will receive.
If the table is made from particle board, then the durability will not be high, and the price will be low. This is best suited for children. If the foosball table is made from either composite or wood, then this is a more durable table and will last you longer. The more expensive models are made from composite or wood.
The next component to look at are the steel rods. There are three types: hollow (highest quality), solid, and telescoping.
Lastly have a look at the surface. A smooth, hard surface enables faster game play. Tempered glass offers the highest quality play, while a wooden surface slows down the game.
Space
There are different sizes of foosball tables. Analyse the space that you have available for a foosball table, and don't forget to factor in the space around it that you will need to have in order to play.
Table Legs
Some tables come with adjustable legs that allow the height of the table to be adjusted to even out the table if the floor is not level. The higher quality tables come with levellers.
Goalie Setup
A one-goalie setup is ideal for the more advanced players. A three-goalie model is designed for faster play.
Players
For the more intermediate to advanced players, the counter-weighed men are preferred; this feature indicates that the foosball table is a professional one.
Warranty
The standard warranty for a foosball table is one year.  However, the furniture styled tables have a smaller warranty since they are more decorative and built to last longer.
Once you have decided on what type of foosball table you are looking for, and what your budget is, then the rest of the features listed above will fall into place. Just remember, your budget will determine your overall quality.
If you are willing to spend a little more, your foosball table will become an investment that will last you many years of game play. Skill level is a big factor. If you are an advanced player, you will want the best quality table available.