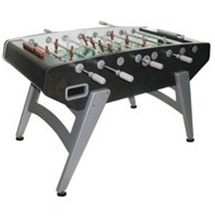 Garlando is an internationally recognized company and a major player in the foosball table industry, offering some of the high quality foosball tables (also known as soccer tables and football tables and table football), as well as the most coveted products for foosball aficionados across the globe. Based in Italy, Garlando has been manufacturing and distributing the highest quality tables for the foosball game since 1950. Garlando is distinct in that it has acquired certifications for environmental safety and toy manufacturing safety. Their product offerings are also highly distinctive and are constructed in bold color profiles, unique designs, and an unparalleled level of European quality. While based in Europe, Garlando makes the highest quality tables for both the European and American markets, with coin operated and non-coin-operated options. Read on below to see some of the top picks from Garlando in 2017!
1. Garlando G-2000 Outdoor Table
The Garlando G-2000 is distinct from its competitors due to its all-weather utility. Perfect for both indoor and outdoor use, the Garlando G-2000 features top-quality weatherproof construction and anti-rust steel. A marine plywood body is fabricated with waterproof flue and features a cheerful white and blue façade. Premium touches like adjustable leg levelers, end ball returns, and telescopic rods make this a perfect choice for entry level and seasoned buyers alike.
| Price | Product Dimensions | Product Weight |
| --- | --- | --- |
| $1169.00 | 56.3" x 30" x 34.6" | 152 lb |
Pros
Weatherproof construction
Bold and unique aesthetic
End ball returns
Telescopic rods
Sliding abacus scoring mechanism
Cabinet constructed from marine quality plywood
Rust-resistant parts
Cons
Unusual color profile may make this table hard to blend with other decor
Heavy
---
2. Garlando G-5000 Wenge Foosball Table
The Garlando G-5000 Wenge Foosball Table is a tour de force in the foosball market. Featuring professional handles with wooden inserts designed to reduce respiration and improve grip, players made from unbreakable molded plastic, and leg levelers that provide a perfectly flat playing field, this table is for serious players and enthusiasts alike. Check out the steel roller bearings that greatly improve the speed of the game, providing hours of fast-paced and competitive gameplay!
| Price | Product Dimensions | Product Weight |
| --- | --- | --- |
| $1670.00 | 59" x 43.2" x 36.2" | 176 lb |
Pros
Steel roller bearings
High-resistance steel telescopic safety bars
Comfortable rubber grip handles
Anti-rust chromium plating
Professional handles with wood insets
Players made from unbreakable plastic materials
Cons
Long assembly time
Unique design is distinctive from other furniture
Table design makes singles play challenging
---
3. Garlando Master Champion Foosball Table
Featuring a coin operated mechanism; this table from Garlando is a perfect choice for commercial settings and foosball hall settings alike. Identical in construction to the "World Champion" model from Garlando, the Master Champion was created for commercial use and offers "free to play" functionality. This high-end table is competition-grade and has highly sought after features like side ball returns, advanced ball control, and adjustable leg levelers.
| Price | Product Dimensions | Product Weight |
| --- | --- | --- |
| $1729.99 | 59" x 30.3" x 35" | 182 lb |
Pros
Steel legs with anti-scratch finish
Adjustable leg levelers
Tempered glass sanded playfield
Thick cabinet side walls
Competition abacus scoring mechanism
Cons
Coin operated functionality makes residential use cumbersome
---
4. Garlando Open Air Outdoor Foosball Table
This table from Garlando is one of the few on the market that is completely weatherproof. Perfect for outdoor functions and backyard gatherings, this table features grab-and-go functionality without sacrificing quality. Folding legs enables you to take this table anywhere your heart desires and fits perfectly in the back of a truck or SUV.
| Price | Product Dimensions | Product Weight |
| --- | --- | --- |
| $1322.99 | 56" x 43.5" x 35" | 195 lb |
Pros
Folding legs for maximum portability
Weather-resistant playing surface
Tropical anti-rust treatment
Stress resistant telescopic bars
Immediate ball retrieval
Melamine coated cabinet
Cons
Made in China
Poor quality control
---
5. Garlando F-200 Evolution Foosball Table
This entry-level offering from Garlando is a budget-friendly table perfect for new buyers to the foosball market. Without sacrificing an ounce of quality, this table is constructed with the professional detailing that Garlando is known for. A slightly thinner cabinet and an absence of adjustable leg levelers make this cabinet far more budget-friendly than some of Garlando's other offerings. However, this table is still a solid and viable pick for someone looking for a top quality and budget-friendly table.
| Price | Product Dimensions | Product Weight |
| --- | --- | --- |
| $789.99 | 59" x 43.25" x 36" | 140 lb |
Pros
Telescopic high-impact resistant rods
Steel roller competition grade bearings
Players constructed of unbreakable ABS plastic
End ball returns with baskets
Cons
Thinner cabinet
Non-adjustable leg levelers
---
If you are looking to buy a new foosball table, Garlando should be amongst the top brands you check out. Their uncompromising commitment to quality and a wide range of available price points make this company one that every prospective foosball table buyer should check out. Garlando's specialty and custom offerings include top-quality weatherproof tables that can be folded and transported anywhere your travels may take you with the utmost ease and convenience.
The bright colors and bold designs of Garlando tables make fun additions to any game room, living room, or commercial setting. Available with coin-operated and non-coin-operated functionality, Garlando's tables are ubiquitous and can be found in homes and businesses in Europe, the US, and across the globe. Known for their strong, durable construction, unparalleled stability, and professional detailing Garlando makes some of the best tables in the business. Whether you are buying an entry-level, budget-friendly table, a top-of-the-line premium table or something in between, Garlando has a vast array of options available to fit your budget and playing needs.
Garlando is also widely known for their commitment to environmental safety and they have earned many certifications that help to set them apart from their competitors. When you buy a Garlando product, you are buying a product that is safe for the environment and for children of all ages. With their wide selection of unique designs, bold color profiles, and all-weather finishes Garlando has the table you are looking for! Check them out today in your search for a new foosball table!​