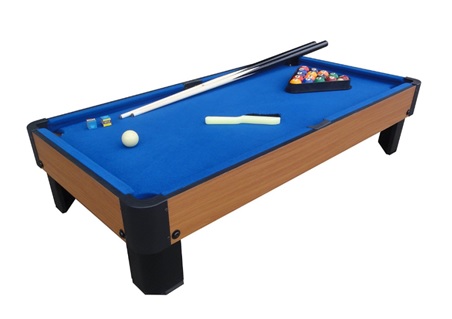 Mini pool tables are an excellent choice for consumers who love the game of pool but can't sustain the expansive dimensions associated with traditional pool tables. With options measuring as small as 44 inches in diameter, miniature pool tables also come in folding style models and can be found at extremely affordable price points.
Plenty of mini pool tables are available on the market and come with near-identical equipment as their traditional counterparts, along with a bevy of similar features and capabilities.
Perfect for children and adults alike, mini pool tables are great practice options. For children, in particular, the smaller dimensions of mini pool tables enable them to easily adapt to gameplay and helps them develop and sharpen their skills for later use on professional-sized tables.
Great for smaller spaces such as homes, apartments, and dorms, the convenient sizing and easy storage capabilities offered by mini pool tables make them perfectly suitable choices for consumers seeking the fun and entertainment provided by pool but simply don't have the space.
Mini pool tables solve any dilemmas involving space and provide a wonderful option for friends and family to enjoy hours upon hours of safe, accessible, and easy fun and entertainment together.
Read on below to learn more about the best mini pool models available for purchase in 2017 for any game room. So, grab your pool cue ball and get playing!
Constructed from wooden and metal build materials, the CHH Mini Folding Pool Table comes fully assembled with foldable legs and is ready for gameplay right out of the box. The folding legs fold right on top of the pool table for easy storage and effortless unfolding. The pool table itself comes complete with all necessary accessories, including a full set of mini pool balls, rack, chalk, and brush. Ideal for kids and adults alike, this mini pool table is durably constructed.​
| Product price | Product dimensions | Product weight |
| --- | --- | --- |
| ​$167.68 | ​47x26x6 inches | ​37.8 pounds |
Highlights:​
Folding functionality
Realistic gameplay
29-inch height—great for children and adults alike
Durable and beautiful wooden construction materials
Seamlessly blends into a variety of décor styles
Durable surface cloth covering
Quick-folding legs fold right on top of the table for easy storage
---
With its bold black and cobalt color combo, the Hathaway Fairmont Portable Table is a sight to behold. Players will be impressed with the expansive playing surface measuring up to 66 inches by 33 inches, along with the ½ inch wide poly-sealed MDF playing surface topped with a bright blue polyester wool blend felt. Sturdy 1 ½ inch leg levelers provide assured stability and safety and ensure the table stays well-situated to the ground.
Beautiful design elements can be found throughout this table, including but not limited to chrome-plated castings on all four corners and a melamine cabinet finished in an elegant matte black color that looks fantastic against the bright blue of the table surface.
Players will immensely appreciate the top rails constructed of durable melamine, along with the plenitude of rail sites and l-cushions for fast-action play.
Ready for out-of-the-box play, this outstanding table from Hathaway comes complete with all essential equipment and accessories along with an included storage bag with carrying capacity.​
| Product price | Product dimensions | Product weight |
| --- | --- | --- |
| ​$444.92 | ​80x51x10 inches | ​110 pounds |
Highlights:
½ inch wide poly-sealed MDF playing surface
Unique and striking bright cobalt blue and black color combination
Chrome-plated castings on all four corners
Substantial weight; durable
Expansive playing surface
---
With its classic looks and simple design, the folding Mini Billiards Table from HomCom is a no-frills option for consumers looking for the utmost in affordability. Coming in at just over 41 pounds, this lightweight table is for the most basic of play and is best suited for children just beginning to learn the game of pool.
The table's lightweight construction is owed to its composition of plastic and MDF board materials and can easily be transported around the house for on-the-go play. With legs that quickly and easily fold to the underside of the table, this product can be easily stowed away in closets, under beds, and even under the couch.
A perfect option for children and for anyone looking to purchase a table that is space-efficient and lightweight, the HomCom mini pool table is ready to go for out-of-the-box game play with its included cues, balls, frame, and chalk.
| Product price | Product dimensions | Product weight |
| --- | --- | --- |
| ​$129.99 | ​55x25x29 inches | ​41.3 pounds |
Highlights:​
Legs fold to the underside of the table for easy storage
Quality polyester fleece surface covering for optimal ball movement
Can fit in apartments, dorm rooms, and many other smaller rooms
Lightweight—can be easily moved
Bumper cushions simulate realistic play
Affordable practice table option for children and adults
Comes with all needed accessories and equipment for out-of-the-box play
---
This extra-large folding pool table option from Bello Games New York has topped bestseller lists across the Internet for years. With its expansive playing surface, durable construction, and myriad convenience elements, this product is widely considered by consumers to be a best-bang-for-your-buck option for those looking for a scaled-down version of a professional pool table.
​Plenty of thoughtful consideration comes with this table including a no-assembly setup that merely requires a quick unfolding of the legs, a perfect 4.5 foot playing surface that is great for older children and adults alike, hardwood construction materials, a high-quality wool blend surface covering that is wear-resistant, and a complete accessories package for ready-to-go game play.
| Product price | Product dimensions | Product weight |
| --- | --- | --- |
| ​$366.99 | ​50x26x30 inches | ​40 pounds |
Highlights:​
Hardwood construction materials
Wear-resistant wool-blend surface covering
No assembly required
Expansive playing area
Folding functionality
Realistic gameplay
4.5-foot height—great for older children and adults alike
---
With its wood construction and smooth and velvety felted playing surface, the HLC Folding Space Saver Billiard Table is a delight to play on. Included solid wood cues heighten the experience for an authentic look and feel that can't be found on many other competing tables.
The included ball set features high-quality balls that are dense and reminiscent of professional quality balls that further the authentic feel in game play on this table.
With its lightweight and easily foldable legs, this table can be effortlessly moved from room to room when space is needed or guests arrive. When folded, the table becomes flat and can be stored flush against any wall or neatly under beds, couches, or wherever it fits.
Affordably priced and from a reputable company, this product is a solid option for consumers looking for a table encompassing value, durability, and performance.​
| Product price | Product dimensions | Product weight |
| --- | --- | --- |
| ​$149.99 | ​55x29x31.5 inches | ​47 pounds |
Highlights:​
Wooden construction materials
Wooden cues
High-quality balls
Authentic look and feel—reminiscent of professional table play
Affordable pricing from a reputable company
Lightweight and can be carried from room to room when space is needed
Velvety smooth surface covering
Quick-folding legs slide down into a flat position for storage
---
Today's market has a multitude of options available for consumers looking to add a mini pool table to their home, apartment, dorm, or other smaller-sized room. With options ranging from just over a hundred dollars all the way up to premium models sporting price tags of over $500, mini pool tables can be found in a variety of build materials such as wood, plastic, steel and more. With plenty of choices in sizing, materials, and included accessories, consumers can easily handpick a mini pool table that perfectly meets their exact needs and be well on their way to endless hours of fun right in their own homes!