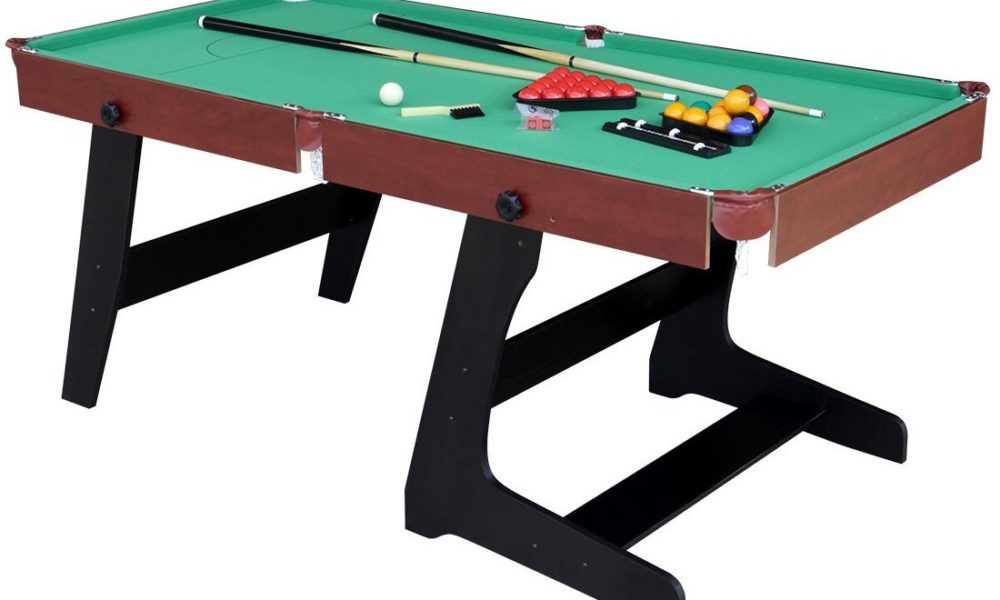 Small pool tables around the world have always been a hit with consumers and especially die-hard sports enthusiasts maybe like you. With such a large selection of brand name pool tables and billiards tables selling on the market today and you can get one to buy anytime. However, knowing which ones are top brands will give you heads-up in choosing the right kind to buy the game room and ensure a great play surface where ball return is perfect… just grab your pool cue stick and break off.
1. Hathaway Fairmont Portable Pool Table
The Hathaway Fairmont Portable Pool Table is only 6' long but is truly an amazing piece of work. It is designed so that you still can enjoy your game in a tight space. The designers built the pool table to ensure that the cue ball moves perfectly whether at home or away. Although its size is on the small size, it still has many different features you can look forward to.
Advantages
The Hathaway Fairmont table has a number of advantages geared to please you and one of the advantages you have is to transport it anywhere you like. It is easy to handle and you can set it up and pull it down quickly in no time as well.
The table is designed to entertain the entire family, including adults and children because of its size and easy-to-set-up capability. You can spend quality time with your family at home playing pool with them for hours.
Although it is small in size, the pool table is sturdy and ensures smooth movement of the cue balls. It is built to last and, therefore, you will have many years of pool playing to catch up on with it.
Paying your money for a Hathaway pool table will make you feel a winner because the table is worth every cent. You could not get a better deal from another brand name maker nowhere else
2. HLC 6' Snooker Table with Ball Set
The HLC 6-foot table and ball set for pool and snooker is the ideal gift to buy yourself and a friend in 2017. Its features are just great for you to really sharpen up on your game. It is made from a solid material that gives it the capability to last long while in your possession. It is a wonderful household item to have in your home setting and you as well as the kids can enjoy your Saturdays off playing pool, without the need for creating a full pool room.
Advantages
The pool table is a great fit anywhere such as in the home, office, bar, club, community and sports complex. Your family, friends, and customers will get to enjoy every bit of it.
For easy setup and pull down, the table comes with folding leg support so you can play your game anywhere and at any time. All you have to do is to close or fold the legs and you are good to go.
Since the table is so small in size and has folding feature attached to it, you can easily store it almost anywhere you want. Store and retrieve easily so you can have plenty of time doing other things as well.
3. CHH Billiard Mini Foldable Portable Pool Table
As a mark of excellence, the CHH billiard mini pool table has all the necessary attributes you will need to brush up on your skill of the game. This table is a wonderful buy for 2017 and it comes with all the attractive features necessary to make pool playing an exciting game. It is small enough to fit snugly in your home or office yet big enough to get noticed. Playing on this mini pool table will make you feel as if you are playing a game of billiards on the larger table.
Advantages
You do not have to be a pro to assemble this billiard table because it is easy to handle. You just have to fold and unfold. It is easy as counting 1, 2, 3… and it will fit in almost any room.
The table is easy to maintain so you can keep playing your game for a long time without worrying about carrying out any major repairs. This advantage also helps you to save money.
Since the table is small in size, you can easily fold it and store it in a closet for safe keeping. Take it out back again when the need arises and unfold it within seconds.
Your pool table is made by solid and durable work done with precision building. Though it doesn't boast a slate surface, the materials used in its construction are solid wood, ABS, plastic, pine, polyester fleece cloth, and medium-density fiberboard.
4. HLC 6' Green Foldaway Snooker/Pool Table
The HLC green pool table is an ideal guest to have in the home or office because it keeps you from getting bored. It is small and compact enough to hold almost in any space. Among its main features, easy storage is one of them and set up and pull down is another simple process. In no time, you can have your new game underway without any hassle whatsoever and if you are not using it, you can just easily slide it to a corner in the room or place it inside a closet. This is an awesome game changer for your 2017 calendar.
Advantages
Whether you want to enjoy a game of pool at the home, office, club, or bar you can do so because of the flexibility the HLC pool game table has. This means you can take time out of your busy schedule any time of the day to play a little pool on the side. Therefore, set your mind at ease and enjoy your time with this magnificent billiard table game and thus get on with your day better.
Unlike other pool playing tables on the market selling, the HLC table is made from solid material that makes it a durable construction and boasts quality-made pockets, rails, and cloth. You need not worry about losing it too quickly due to wear and tear because it is built to go through tough treatment.
Your entire family can use the game table anytime. Therefore, why go out to the bar to play pool when you can stay at home playing the game with your entire family.
Conclusion
Small pool tables are making a strong show on the market today and you can cash in on any one of them easily. You can remain at home and enjoy a night of pool playing with the guys as well as gals because of the awesome benefits each brand name table gives to you. Your games will take on new meanings because you can always be around your family at home 24/7 because of the ease by which your pool table can fit into your home.​