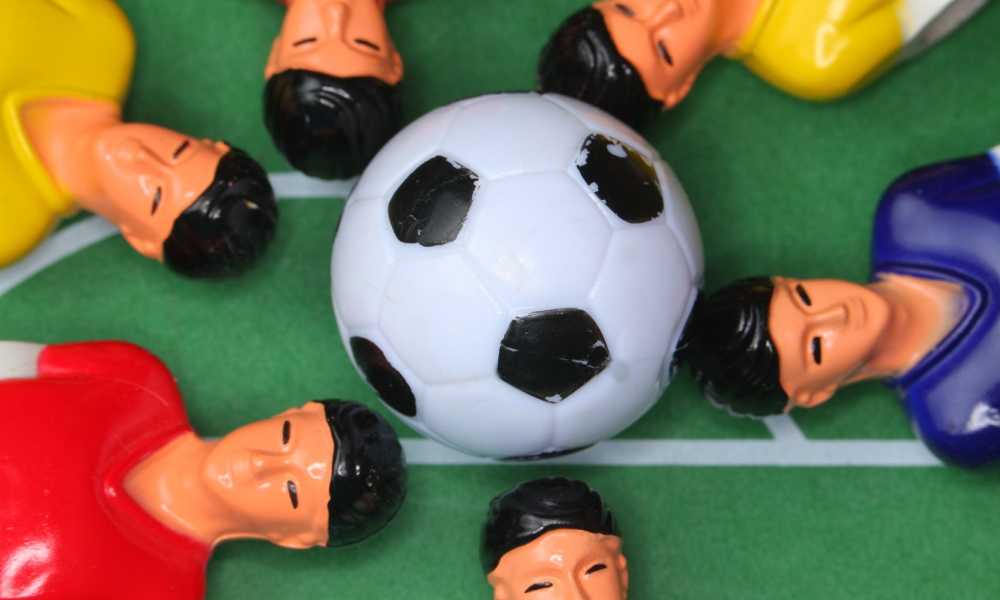 The foosball table doesn't get bigger, maybe the 55 inches, 52 or within the range of the 50 inches mark. Just like a football field marked out to the standard of play to constrain the users and save their unnecessary energy expending, the harvil defender foosball table actually gives both players the edge of comfort and the ability to conserve energy.
I remember when I first got to be told about the game of foosball and I blossomed into the delight of actually experiencing my first game with an opponent just as excited as I was and some years down the line, it did and i remember me saying to myself, is this really what this game actually feels like?
And it really was what it was! And that's exactly what the harvil defender table guarantees its users on every penny spent.
The harvil table is one foosball table that is quite sturdy with a size of about 54 inches in Length by 29 inches in width and 34 inches in height . That is, 54''L * 29''W * 34"H. It has a rectangular external surface with leg levelers to provide great support. It also provides 5/8 inches hollow steel rods with rubber grips for both a comfortable and an enjoyable game while playing with a relentless opponent.
Features
Foosball Players
The players are actually made to look like robots using both the white and black colors to differentiate one opponent from another. The robots are made with a rigid plastic material to give that firm grip while both players are struggling to contain the fast pace of the game.
Size
A very big table with a weight around 86 pounds, usually it arrives in a big brown cardboard box and if you might be probably considering this as a surprise gift for a family member. It might actually do the trick to delight the receiver but, coming as a surprise is one skeptical idea because of its actual size. It has a dimension of (54"L * 29"W * 34"H). And more so, it is quite heavy and very sturdy.
External Surface And The Body
The leg is rectangular in nature with a lever attached to it to keep it balanced. With two steel bars spread across the leg. The rectangular shape gives the foosball table the simplicity to be desired. It makes it look appreciated and common or general purposed.
The body consists of the players, steel rods with plastic corners to be held by the players to control the players. The plastic edges give the players that ease and freedom to play the game without strain.
Pros
The size of the harvil defender table isn't quite a worry, although it is still heavy. It actually isn't as heavy as most of the foosball table around.
It comes with very detailed information on how to set the harvil foosball table up. Quite detailed that an external help is almost irrelevant except for pushing the unpacked table through.
It has one of the simplest designs there is for any foosball table around, and it brings a little aesthetic to the house which it resides.
It is quite sturdy and will guarantee the owner a worthy lifespan and a fair buy.
It sells for a discounted price which is basically a great buy for the table it is.
The Harvil Defender foosball table also includes 2 ball entry cups and 2 black and white 36mm balls
It is a nice way to keep a kid off an extended stay on the couch without losing his fun for the day.
Its simple looks are absolutely amazing and regardless of which every other advantages of the harvil defender, the looks added to the sturdiness is simply a great quality for a foosball table.
Cons
So far so good there has been no reason to complain or disregard the harvil defender foosball table for any reason whatsoever, because it simply meets every requirement a person might desire in a foosball table.
Conclusion
Therefore, the harvil defender foosball table is one great buy to be recommended for every feature it has. From its simplistic look to its sturdiness and the ease with which the steel rods are maneuvered to effectively control the players, there's no iota of doubt that this foosball table is impressive. I so much wouldn't mind staking something to guarantee the buyer would have every worth and even more for any penny spent in purchasing the harvil defender foosball table.