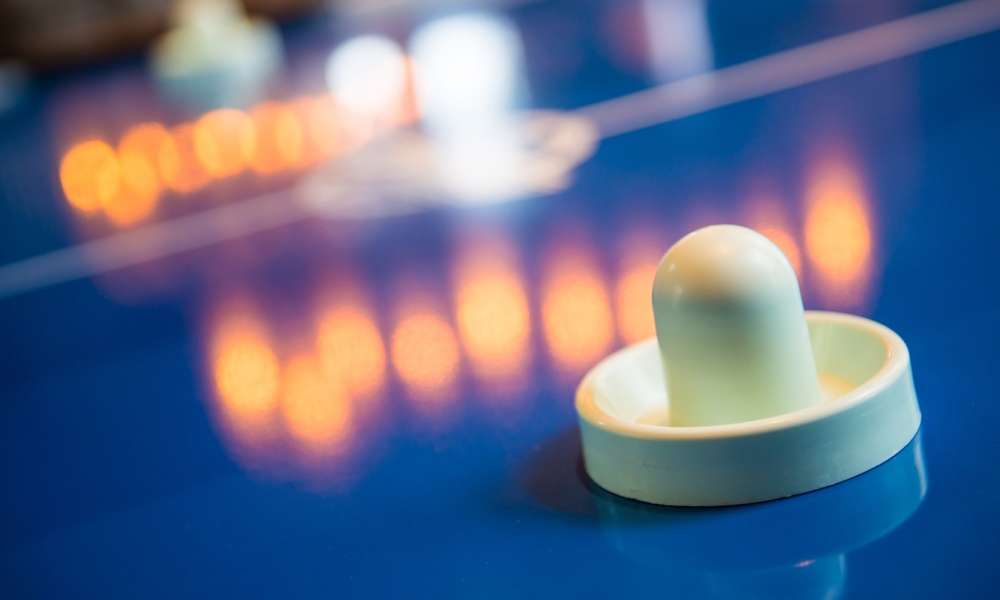 Gone are the days when you have to go to the local arcade to play a good game of air hockey. Thanks to the Harvil Tabletop Air Hockey Table, you can play the game anytime and virtually anywhere you want. This completely portable air hockey table is easy to assemble and practically easy to store away… if you can tear yourself away from the game, of course.
Let's face it, a regular air hockey table can be way out of the budget especially when you're only using it for fun and not for competition. You can rest assured that this product from Harvil will not break the bank.
It comes from a trusted American brand who knows what Americans needs for their leisure time. What's more is that your purchase is covered with a 90-day warranty, where you can have replacement parts shipped to you or have the whole table replaced if you observe any damage or manufacturing defects.
Assembling the tabletop air hockey table is a breeze. You'll find a detailed manual and all the parts you'll need to set up the table. You can even find an assembly video online if you need more visuals to help you. When you're done, simply plug in the device and you're all set to go.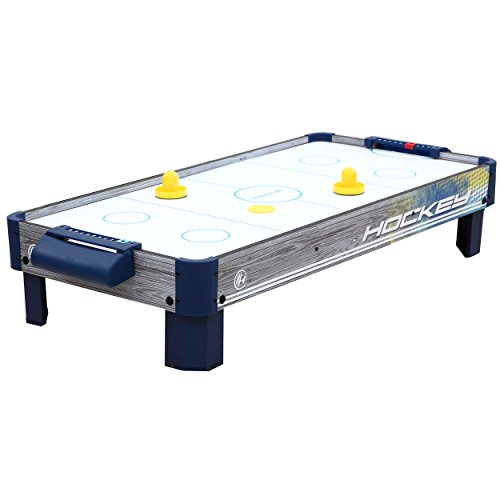 Features of Harvil Tabletop Air Hockey Table
The Harvil Tabletop Air Hockey Table is a favorite among many families across the nation. Its features include:
Durable construction made with dense fiber wood
Completely portable weighing only 14.77 lbs.
Compact design with an assembled dimension of 40" L x 19.63" W x 8" H
White laminated play area complete with vibrant graphics
Powered by CUL-certified AC-12V motor
Easy assembly with complete instructions and online video tutorial
Comes with 2 paddles and pucks
Designed and engineered in America
Covered with money-back guarantee and 90-day warranty
Pros
Completely portable
Assembly is easy with complete parts needed
Electric blower able to keep puck lifted for great play
Easy track of score with the manual slide scorer
Attractive design with vibrant graphics and colorful puck and paddles
Pucks and paddles are included in the purchase
Complete 90-day warranty on parts or whole table damages
In-home delivery and assembly available for a fee
Cons
Size more suitable for youths
Felt can come off during play
Air isn't as forceful compared to arcade air hockey tables
Comparison
What makes the Harvil Tabletop Air Hockey Table a great purchase is the fact that you get a completely entertaining experience without the hefty price tag. Its features are comparable to other tabletop air hockey tables that are on the market for a much higher price. This could mean a better deal for you in the end.
However, if budget is not a concern and you can opt for something pricier, there's the Ancheer Air Hockey Table. It's similar in size to the Harvil hockey table including a manual score slider, powerful air-powered motor, and even comes with 2 pucks and 2 strikers.
The Ancheer does make mention of an ABS puck catcher that makes puck return quicker, which is a total advantage when you want to compare tables.
If you like the Harvil Tabletop Air Hockey Table but want an option that's not a tabletop model, there's the Harvil 4 Foot Air Hockey Game Table.
It features a stable design and its dimensions aren't too big to overpower a room, nor too small to limit your playing experience. What sets it apart from the portable air hockey table is its electronic score board, eliminating the need for manually keeping track of your score.
At the end of the day, if you end up choosing the Harvil Tabletop Air Hockey Table, you won't regret the decision to do so. It's one purchase you are sure the whole family will love to play with.
Verdict
The Harvil Tabletop Air Hockey Table is a good investment especially for families. It can provide hours of entertainment for the family and their guests. You're not even limited to keeping the air hockey table at home; because of its portability, you can easily take it with you on picnics or get-togethers outside of the home.
Although many of the parts may be made in Asia, the design and engineering behind this portable air hockey table was done in the USA. Harvil also covers their consumers with their comprehensive 90-day warranty.
You can have defective parts replaced and damaged parts repaired at no extra charge. If you find that you are not satisfied with the product, you can avail yourself of a full refund within the days specified.
When it comes to gameplay, it is on par with the air hockey tables you've tried in the arcade, but with the advantage of being able to take the tabletop air hockey able with you anywhere you go.
You can even flaunt the Harvil hockey table because the design is second to none. The white laminate play area has cool and vibrant graphics that make the whole gameplay experience even more entertaining for the whole group.