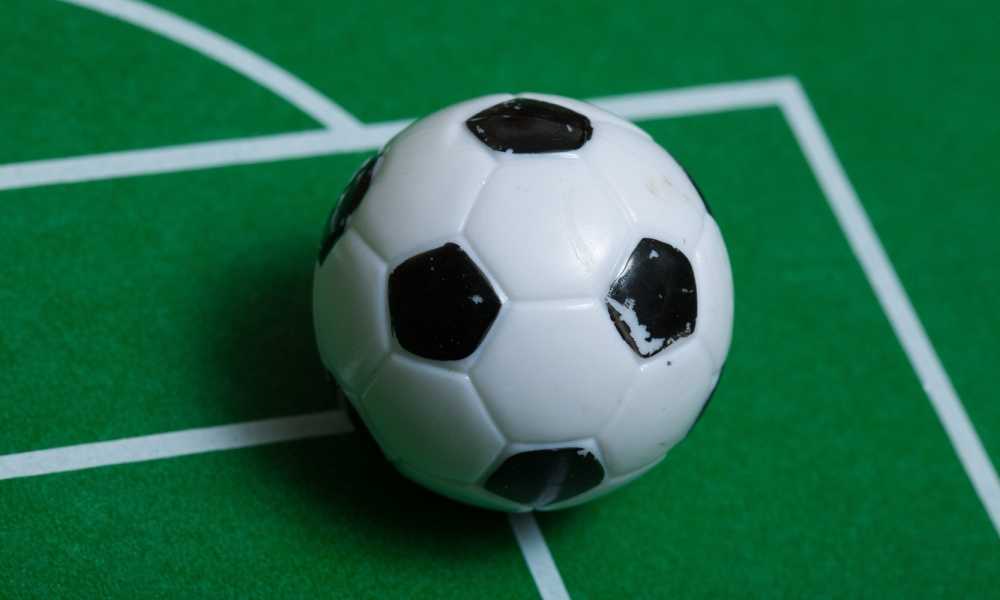 If you are looking to purchase a foosball table to be played by friends and family who range from beginner foosball players to skilled foosball players, then you will want to find a table that will accommodate the different skillsets. If you are an advanced player, you will want to play on a foosball table that will not only accommodate your skillset, but help you improve your game further.
It is difficult to find such an accommodating foosball table; one that will appeal to both beginners and advanced players, but fortunately there is the Hathaway Hurricane 54″ Foosball Table.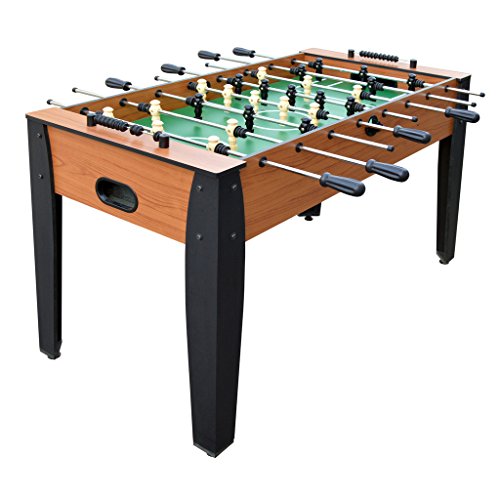 Features
Dimensions of playing surface: 46 ¼ inches x 24 ¾ inches
Dimensions of table: 54 inches (length) x 27 inches (width) x 33.25 inches (height)
Dual manual ABS slide score counters
13 quality ABS player per team
Three-goalie configuration
Automatic ball return
Sturdy CARB certified (3/16-inch-thick) manufactured cabinet – finished in light cherry melamine
CARB certified manufactured L-shaped, tapered legs – finished in black melamine
Stabilizing leg levellers
Ergonomic ABS sure grip handles
½-inch chrome plated, hollow steel rods with E-Z spin bearings
Four balls included
Pros
The dual manual ABS slide score counters will help you to easily keep track of all the goals scored.
The ABS foosball men are high-quality and will ensure the ultimate in ball control. They can definitely take a pounding.
The three-goalie configuration will appeal to the younger and beginner skillset players, making it easier to block their opponent's goals.
This table will look good anywhere; at home, in a bar, at the office, or in a man-cave. It is visually appealing with its light cherry melamine cabinet finish and black melamine tapered legs. The cream and black coloured foosball men complete the design of this foosball table. It will make a great centre piece for any room with its good looks!
This foosball table is durable and sturdy, regardless of what you pay for it; it will be an investment for many years. This is a high-quality foosball table featuring a CARB certified manufactured cabinet and CARB certified L-shaped legs. This foosball table is strong and will handle even the toughest players.
The ergonomic ABS sure grip handles on the player rods will enhance your overall performance with a comfortable, free movement grip. Scoring goals and catching the ball will be a lot easier with these grip handles.
The stabilizing leg levellers will help to create an even playing surface.
The overall size of this table is perfect for recreational and competitive play.
Cons
The features, overall design, and the quality of this Hathaway Hurricane 54″ Foosball Table is difficult to fault. However, the assembly of this foosball table is a negative. You need to be willing to spend a lot of time assembling this table; patience will be a virtue as you sort through the different small pieces and try to manoeuvre in some very tight areas to insert screws. Although the assembly is tricky and time consuming, and may leave you feeling flustered, the end product will be worth it.
Comparison
You may be a little confused if you explore the Hathaway collection of 54-inch foosball tables. Most of their 54-inch foosball tables are very similar. One or two features may differ between them such as the ball return, number of foosballs included, and there is the slightest cosmetic change.
If you are comparing the Hurricane foosball table with the Metropolitan and Dynasty foosball tables, you will notice that many features across these three Hathaway tables are exactly the same; all three tables have a three-goalie configuration, are made of the same CARB certified manufactured materials, are finished in the same way with cherry and black melamine, have ABS foosball men in a two colour scheme, and they all have chrome-plated steel rods with comfortable grip handles.
If you are torn between a choice of these three tables, affordability will be the determining factor and perhaps the slight changes in design.
There are a lot of features to look for when buying a decent foosball table that will ultimately become an investment and last you a good couple of years. A foosball table should match your budget and skillset. It gets a bit tricky when some family and friends are beginners and others are advanced players. You will want a table that will suit everyone, and one that you can advance your own skills, after all, practice makes perfect.
The Hathaway Hurricane 54″ Foosball Table is your easy choice; it appeals to beginner players and children, and even to competitive, skilled players. Its features may not be highly advanced, but they are definitely good enough for recreational and competitive play.