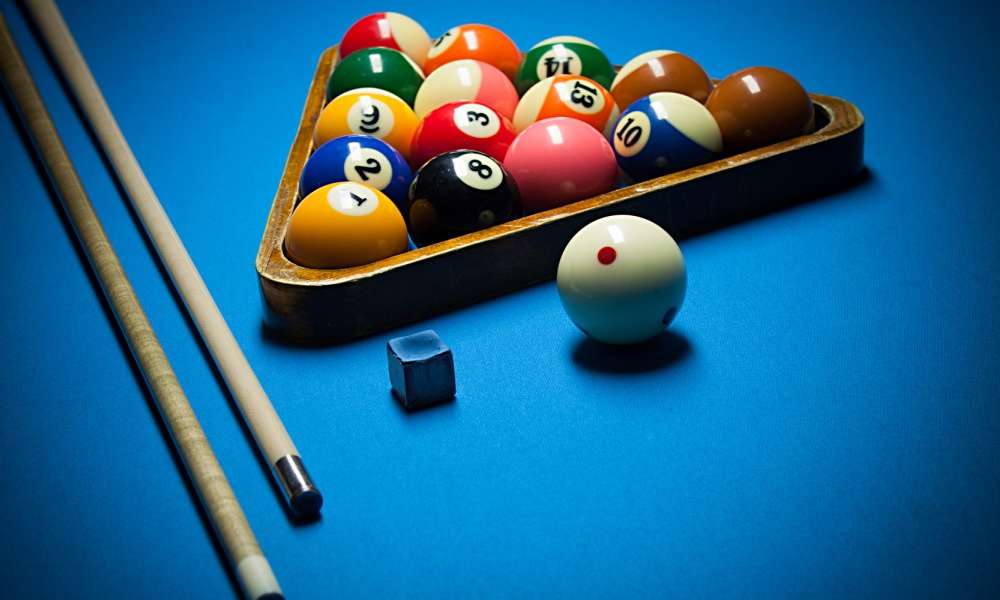 Placing a full-size pool table in a small space is neither a practical nor a good idea. However, a small house or place can still hold a pool table, especially one that is perfect for the kids to play on. For that, it is best to look for a mini pool table to solve the problem. When it comes to mini pool tables, one cannot get a better deal than Hathaway Table Top Billiard Table for the little kids.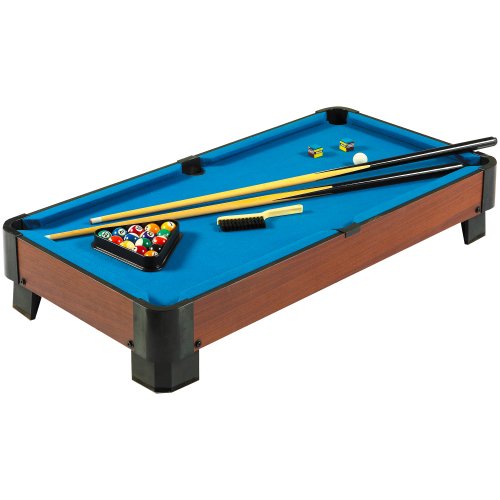 Features
Bright Blue felt pool table surface
L-shaped legs with no-mar pads
Portable & compact design
Table top pool table
With two (2) 36 inches cue sticks, two (2) pieces of chalk
With one (1) set of 1.25-in billiard balls
With brush & triangle rack
Item weight: 24 lbs.
Product dimensions: 40 in (L) x 21.5 in (W) x 7 in (H)
Certified CARB engineered wood construction
Advantages
One feature that makes the Hathaway Table Top Billiard Table stand out is its attractive and unique appearance. This pool table is designed with a bright blue felt surface – a new and refreshing difference from the common green felt surface that other pool tables typically use.
Another nice feature of this pool table is its versatile design. This particular pool table can be placed on a counter, table or any flat and sturdy surface to save floor space in a small room. If, on the other hand, there is enough floor space for the pool table to be set on, then it can be directly and conveniently placed on the floor.
The L-shaped legs of the pool table allow the product to be placed directly on the floor. A common problem when a product like the pool table is placed directly on the floor is the high possibility of staining, marring or scratching the floor, but this is not a problem with this particular pool table.
This one's L-shaped legs are protected with a no-mar padding that works both ways – to protect the legs of the pool table and to protect the ground where the pool table is positioned.
Additionally, this pool table comes with a complete set of accessories so one can immediately use it right out of the box. Next feature to be noted is the pool table's big size as this is one of the biggest mini pool tables available in the market. Because of its big size, not only children get to enjoy the pool table, but also adults can play pool games easily and comfortably.
In addition, the quality of the pool table is noteworthy because despite its size and its purchase price, the thing seems to be well made and very sturdy.
Moreover, having a good quality mini pool table does not always mean spending a lot to acquire it. In this case, the pool table is priced at a decent amount – one that cannot be considered expensive for its kind – and it is definitely not made of poor quality materials and construction.
Disadvantages
If the Hathaway Table Top Billiard Table has several great features, it also has some drawbacks that potential purchasers should be aware of.
First is that the cue sticks are lightweight. This could be a problem for some but since this one is a mini pool table, a lightweight cue stick comes with the territory. Apart from that, some feedbacks say that the cue sticks are not straight or are slightly warped.
Next is that the felt surface of this pool table does not equal that of the real full-size pool table surface and the ball movement is restricted. This is understandable as this pool table does not claim to have the same quality as that of the bigger and more expensive real full-size pool tables.
Others say that the pockets of this pool table are a little too small and taking the balls from them can be a bit difficult for an adult hand.
Conclusion
The Hathaway Table Top Billiard Table is one of the biggest mini pool tables available in the market now. Because of its size, not only kids will get to enjoy pool games, but also the parents and adults can join the fun comfortably.
Understandably, for the price one has to pay to get a pool table like this, this pool table cannot be expected to have the same quality as that of the real and full-size pool table and there are some aspects that are bound to be lacking.
Nevertheless, this particular pool table can hold its own in the quality department. For a mini pool table, this is one of the top performers. One can recommend this pool table to others and not fall short because this is a product that can deliver and live up to the expectations.