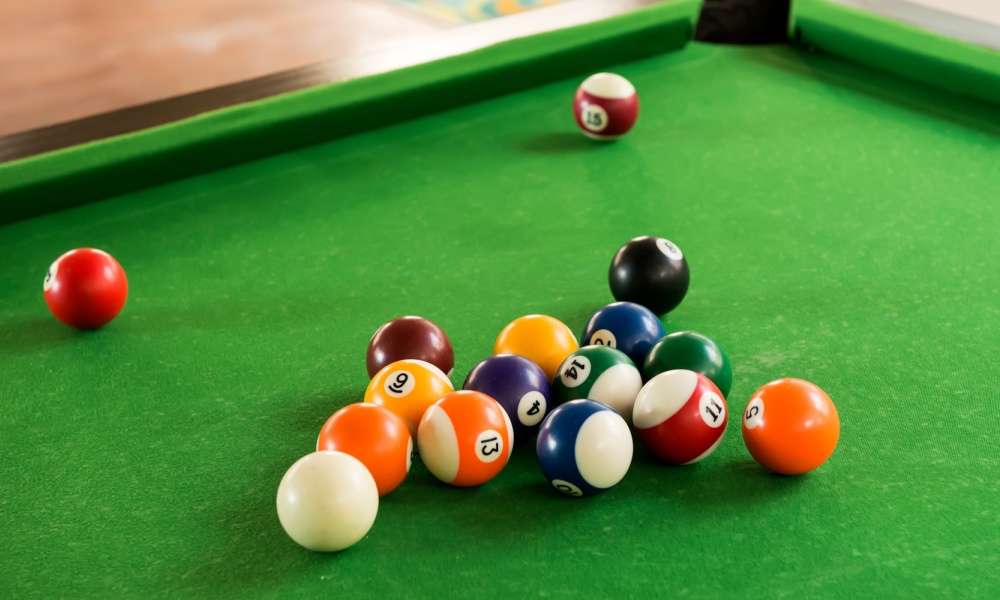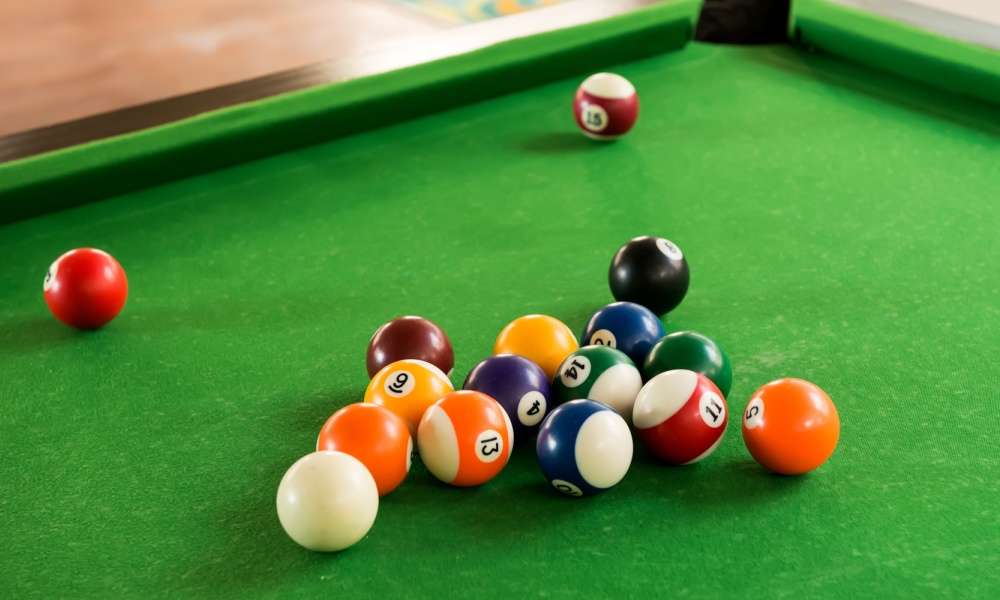 Looking for another source of entertainment at home? Thinking of giving the kids good entertainment and social game? Searching for a tabletop game that can be set up anywhere in the house and can also be easily taken outdoors? Well, a good tabletop pool game can be entertaining. Give the kids a pool table to play on, albeit a smaller one, in the form of an Ideal Rack'Em Tabletop Pool.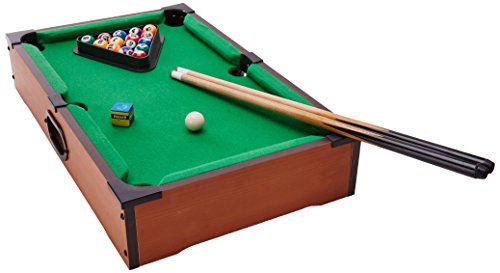 Features
Tabletop pool game
20-in felted table
Two (2) cue sticks
Fifteen (15) balls
For 5 to 15 years old
Chalk & racking triangle
Shipping weight: 5.9 lbs.
Product dimensions: 20.2 in x 12.8 in x 4.9 in
Advantages
When it's entertainment for the young kids one is looking for, then the Ideal Rack'Em Tabletop Pool is just the perfect thing to have in the house. Buying a real pool table can be quite expensive so this tabletop pool can be a nice alternative to the real one.
This tabletop pool is a recommended source of entertainment and a form of sport for the young ones who are as young as five years old. This one is similar to the real and regular pool table with the size being the only difference between the two. This tabletop pool comes with the following dimensions: 20.2 inches in length, 12.8 inches in width and 4.9 inches in height.
Another nice thing about this pool table is its tabletop feature that basically means that the pool table can be set up anywhere indoors or outdoors without occupying floor space. The pool table can be placed on a table inside the house or on any strong and stable surface in the back yard, patio, lanai or deck. The tabletop feature basically makes the product convenient to use.
Furthermore, the counter top character of the pool table makes it portable and easy to transport. Gone are the disadvantages of having a heavy and permanently situated pool table that takes many people to move the thing around.
Moreover, this pool table is made to have a lightweight design that makes the product easy to move in order to accommodate different occasions such as parties, family gatherings and after-dinner entertainment. Apart from that, this pool table can be used for a total of four (4) different kinds of pool games.
Instructions for each one can be found in an instruction manual that comes with this pool table. The product does not come just with the pool table and there is a complete set that comes with it. Together with the felted table come two (2) cue sticks, fifteen (15) balls, a racking triangle and a chalk.
Additionally, the quality of this particular pool table is also commendable. It looks, feels and performs like the real and bigger pool table so there is not much difference between the two, except for the size.
Furthermore, this one has a sturdy and durable feel to it – an essential feature that is needed the most when it comes to things that are to be handled by children because the pool table gets exposed to rough and messy handling. Finally, it also helps that the pool table can be purchased for a fairly decent purchase price – somewhere around the twenty ($ 20) dollars mark.
Disadvantages
The Ideal Rack'Em Tabletop Pool also has a downsides to it. The pool table is tabletop therefore it needs to be placed on a flat surface for support such as table so that it can be used properly.
Another thing is that it does not have four (4) legs that would have made the pool table better because then it would not need to rely on another table or counter just for it to be used properly. There are also some complaints about the delivery of the other accessories that come with the pool table. There was an instance when during the delivery, the cue sticks were not included.
Conclusion
An overall assessment of the Ideal Rack'Em Tabletop Pool would be that the pool table is more of an advantage rather than a liability.
If one wants to give the kids something to enjoy and focus on, this pool table is a good addition to the household. This one is also a good value for the money because apart from the fact that it can deliver entertainment, this pool table can be purchased for a very affordable price.
Toys and entertainment furniture for the kids need not be expensive and this pool table proves just that. This pool table is certainly a recommendable buy for kids who are five (5) years old and above. Last but not the least, this one is a perfect gift for those nephews, sons, and godsons on their birthdays.