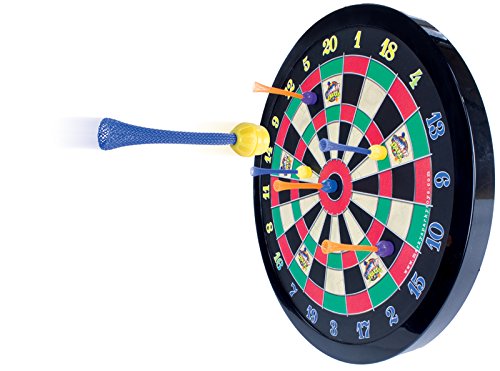 When putting together a game room, you want a wide range of different activities. If you are trying to make a kid safe, family-friendly game room, there are certain fun games that you might have thought were off limits due to safety concerns. One such game is the popular, classic game of darts—and there are many different dart boards out there to make it more fun, such as electronic dart boards, magnetic dart boards, and, of course, the classic bristle dart board. This is an affordable, fun, and skill-oriented game that is good for hand-eye coordination, improving throwing techniques and provides a fun, healthy competitive outlet for all players including family and friends—and even makes the perfect Christmas gift!
The big problem with classic darts is that they are not really designed for players of all ages as they can be dangerous for younger kids. This is because most traditional darts are steel tipped or tipped with some sort of metal such as tungsten steel that has to be sharp enough to pierce the dart board. If it is sharp enough to pierce a dart board, it is sharp enough to pierce flesh! Sharp objects and young children are a dangerous combination, so most assume that darts is just not something they'll be able to share with their kids until they get older.
However, this is not the case. There are actually quite a few different options when it comes to kid-friendly dart sets. This allows you to bring the fun, competition, and excitement of darts to your family, without risking anyone getting hurt in the process. What follows are four brief reviews of different types of safety or family-friendly dart board sets that are safe to use even around kids of young ages. This will let you keep your family safe while still enjoying this classic billiard-style game.
Our Picks for Top Kid-Friendly Dart Set
What follows is not, of course, an exhaustive list of all the high-quality, kids dart board sets on the market. However, these are our top picks and we chose based on price, construction, as well as a general rating from folks who have actually bought and used these sets.
From the trusted brand, Innocheer, this safety dart board is an excellent choice for kid-friendly dart board set that won't break the bank. At less than $35, this is an excellent value for something that will provide countless hours of family fun.
The dart board is a full-sized, 16" dart board that can be used on a tabletop or hung on the wall. It features safety darts that have a soft rubber tip, rather than the traditional metal. It is suitable for children six and up.
Fat Cat, by GLD Products, is known for providing a host of different billiard style games, including, of course, dart boards. Their electronic soft tip dart board set is an excellent option for an affordable, cabinet style, kid-friendly dart set. At less than $120, it is a great value.
The dart board is of a standard size and features rubber-tipped darts for safety. It can easily be hidden from view when not in use by closing the doors to the cabinet. The dart board features automatic scoring that is prominently displayed on an LCD front display. The cabinet is well built and sturdy, providing storage space for up to four sets of darts (though it only comes with two sets of darts included). It also comes with a power adapter, spare tips, and all the hardware you need to properly mount the board.
The board is for far more than just standard darts though. This electronic board features 38 games with tons of different variations on scoring to always have a fresh and fun came to play.
Marky Sparky is a well-known brand that makes a wide range of classic style toys for kids. Their Doinkit Darts Magnetic Dart Board is an affordable, safe, kid-friendly dart board set that is about $30.
This dart board set is safe to use with kids of all ages and protects both kids and walls from dart holes as it is magnetic, rather than metal tipped. The board is the standard size laid out in the same exact manner as a traditional dart board.
The kit comes with the board and two sets of three magnetic darts. It is safe and powerful enough to hold the darts, without the need for dangerous tips.
This is another great option if you are looking for a kid-friendly magnetic dart board. At less than $20, this is a hard set to pass up. This isn't your standard-sized dart board—it is 15" and is rubber with a magnetic target area.
The set comes with six magnetic darts that can easily be stored on the board itself, making for easy cleanup and making it less likely that you will lose a piece when the game is not in use.
---
When setting up a family-friendly game room, safety is something that has to be at the forefront of your mind, especially if you have young children. This often means that certain games are just not suitable for inclusion and, for a long while, this included classic games like darts. Classic darts are metal-tipped and sharp so as to be able to pierce the sisal bristle board that standard dart boards are usually made of. These are sharp enough to pose a safety hazard to small children.
However, there are magnetic, electronic, and other family-friendly dart board options now available on the market that allow you to enjoy the fun, classic game of darts, safely, with the whole family. These versions of darts follow the standard rules and utilize a standard-sized board, but use different types of tips so as to avoid the safety issues associated with regular darts.
All of the options here are suitable for even young children. They are all highly rated, affordable dart board sets that come with everything you need to play darts with the whole family. Whether you choose one of the sets we reviewed, or you use this as your jumping off point for more shopping, we're happy to show you that darts can, in fact, be family-friendly fun.​