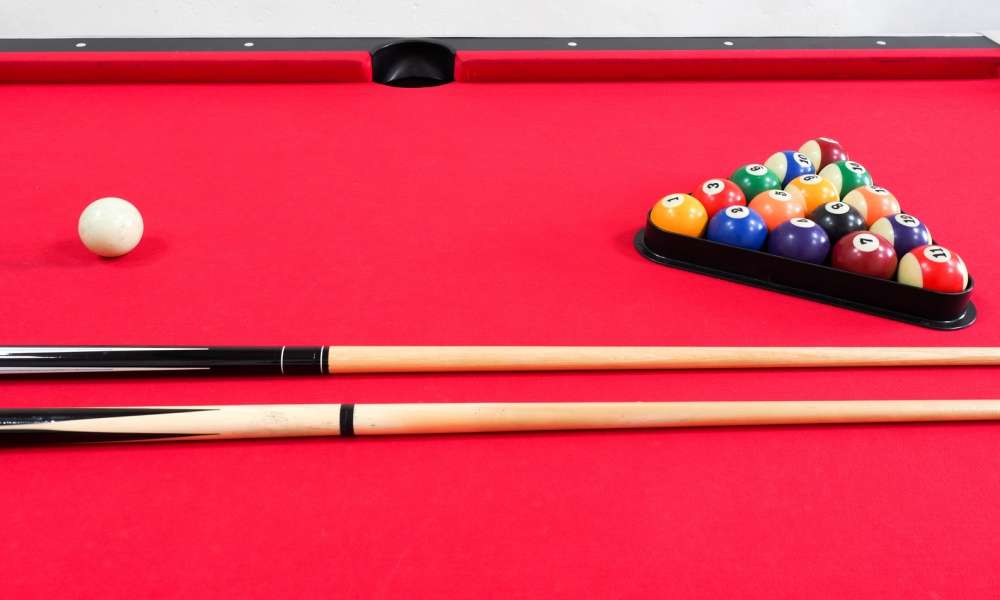 Looking for a billiard table to practice your shooting skills on? Searching for a pool table to place in the newly furnished gaming room or entertainment room? Whichever it may be, choosing the right pool table or billiards table is important.
Picking up a sturdy and quality pool table is even more important. If one needs to look for a pool table or a billiards table to buy, there is no need to look beyond MD Sports Arcade Billiard Table because it can address every need.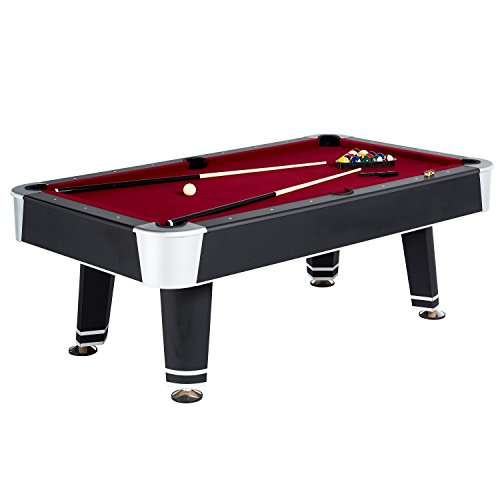 Features
Made of MDF wood
Scratch-resistant PVC laminate finish on the body and rails
Strong & 18 mm thick particle board deck support
Sturdy block leg design
Includes custom leg levelers
With internal ball drop pockets
Red felt playing surface
Steel frame
Modern style
Color: Black & Metal scheme
Item weight: 194 lbs.
Product dimensions: 84 in (L) x 48 in (W) x 31 in (H)
Advantages
One of the key features of the MD Sports Arcade Billiard Table is its sturdy construction. There are a lot of factors that give this pool table good quality and one of them is the material used for the pool table. This pool table is a unique mix of MDF wood, PVC and steel frame – all of which work together to give the pool table a long and durable life that could last years.
Upon looking at this pool table, the first thing that one would notice is its contemporary style as well as black and metal scheme. The red felt playing surface also gives the pool table a unique and refreshing appearance – a far cry from the common green felt playing surfaces of other pool tables.
The steel frame of the pool table lends this sports equipment a modern look. The steel frame has other functions for the pool table too. The steel frame also helps in keeping the body of the pool table flat and even all the time, even after years of usage.
Stability is therefore not a problem with this pool table. Unlike most of the pool tables in the market now, this one has adjustable levelers that make sure that the pool table remains on a stable and sure footing at all times. The pool table also has some fabric nets that tuck the balls safely. It should be noted that this is a 7-foot table and is considered as standard bar pool table.
Furthermore, assembling the pool table will not be a difficult experience as it is designed to allow for an easy assembly right out of the box. The instructions that come with the package are clear to understand and simple to follow. In no time, one can have a completely functional pool table to play on.
In addition, this pool table is made for long service life. The rails and the body of the pool table are protected from accidental scratches by the PVC laminate finish. The laminate finish gives the pool table a scratch-resistant quality that helps preserve its appearance and makes it durable.
Disadvantages
Like any product there is, the MD Sports Arcade Billiard Table has a fair share of downsides that interested buyers should take into consideration before buying the pool table. First on the line is that the pool table has no return ball capacity. The second thing to know about the pool table is that it is heavy therefore putting on the parts together would require at least three (3) strong people.
The pool table needs to be flipped over after one is done with assembling and it cannot be done with just two individuals. The assembly process can be fast but it needs more than two people. This can be a downside for a person who lives alone in their place.
Conclusion
The MD Sports Arcade Billiard Table is a good example of a bar pool table that strays away from the usual pool table look with its black and metal scheme and contemporary metallic design. As for stability and durability, this pool table proves to be great.
The only major drawback of the pool table is its weight. This is not usually a problem because it gives the sports equipment a sturdy and stable quality but it can be an issue during the initial assembly stage.
Nevertheless, this pool table is still a good product to play on and enjoy. This is a pool table that can be recommended to others because it can deliver and rise up to the occasion. This pool table will look perfect in a room with a contemporary theme.