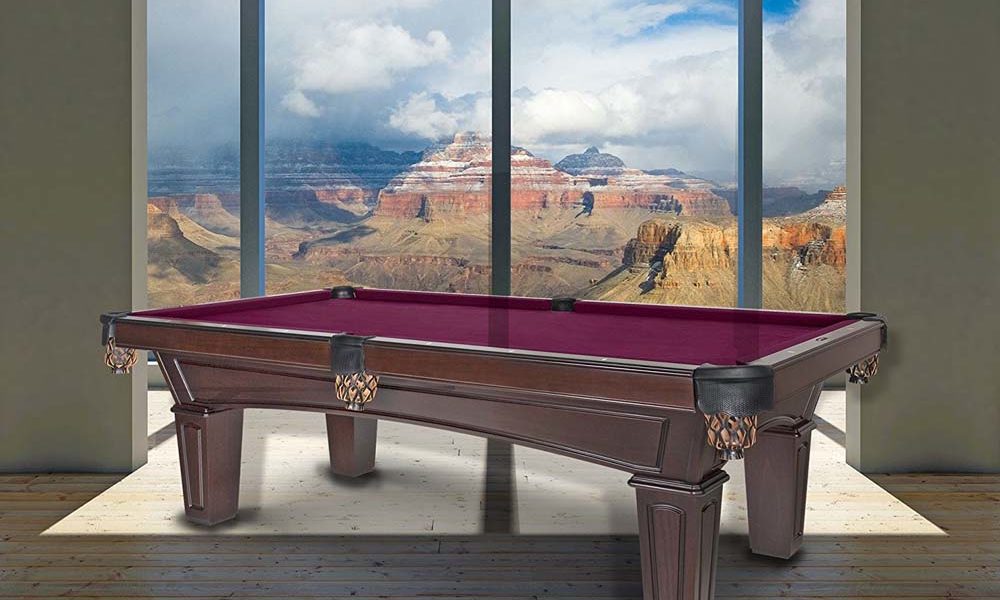 Olhausen pool tables are high-quality tables made from wood from slower growth trees in the northeastern United States. Slower growth trees have tighter wood grains, resulting in less discoloration and streaking. This type of lumber is also more stable and dense, which makes the color matching, cutting, gluing, milling, sanding, and finishing process much easier. Olhausen is a leader in pool table manufacturing and sells thousands of pool tables to people all over the world. The lumber that Olhausen pool tables are made of is dried to optimum moisture and then immediately sealed to keep the moisture consistent. The wood also never cracks or warps during the assembly and finishing process. Olhausen is a company which prides itself on its American-made equipment and holds values which are reflected in the high-end, high-quality pool tables they produce. No matter what style you are looking for in a pool table, Olhausen's wide selection has something for you. You will not be disappointed with your Olhausen purchase because Olhausen pool tables are simply the best in the business.
There is a reason why Olhausen pool tables are considered "the best in billiards." Not only are Olhausen pool tables crafted to excellence, precision, and accuracy, Olhausen also provides a lifetime warranty. Olhausen pool tables also come equipped with the patented Accu-Fast cushion. Made from 100% pure gum rubber, the Accu-Fast cushion increases precision and accuracy, resulting in more consistent gameplay. If you're a professional pool player or play pool regularly, an Olhausen pool table is a must-have addition to your home and here are some of the best options to choose from for the right amount of money:
The Belmont is a modern table that is perfect for any first-time pool table buyer. The table comes in an original matte cherry finish on solid tulipwood and has leather shield pockets. The Belmont also comes with diamond pearlized white sights and will guarantee a lifetime of play for you and your family. This table is not only elegant and high-quality, but it also comes at an extremely affordable cost. You simply cannot beat the value of the Belmont pool table. Most pool tables with this type of quality are typically twice as expensive, which is what makes the Belmont pool table a great option for all your pool playing needs.
The Breckenridge pool table is beautifully crafted and designed and boasts modern lines. This pool table has a time-worn, intriguing look, and is 100% made in America. It is beautifully crafted to capture the early American style and it also carries a rustic feel. The Breckenridge has a weathered, reclaimed look to it that is unique and makes it look like a great relic of the past. The pockets are leather, the rail sights buffalo nickels, and the table itself comes in Championship felt in the color of your choice.
The Blackhawk pool table is made from solid tulipwood and is also highly customizable. You can customize the finish, size, legs, and sight rails and can also use it as a snooker table. This pool table has ball and claw legs as well as leather or tassel pockets (your choice). This model comes in walnut, cherry, oak, maple, and hard maple. The Blackhawk is a luxurious piece which adds decor and elegance to any room it is in. The Blackhawk also has a two-tone finish which only adds to its elegance and appeal. This is a great choice for anyone looking to add character and elegance to their home and will certainly be a topic of conversation whenever any guests are over.
The Hampton Pool table features a traditional style and is one of the most popular Olhausen pool tables on the market. The table comes equipped with an optional storage drawer and has clean, carved legs that give it a contemporary, yet historic feel. The Hampton carries its appeal in the unique detail on the legs of the table and has a very high-end, high-quality appeal to it. This table comes in 7-foot, 8-foot, 8.5-foot and 9-foot sizes and you can choose between a hard maple, cherry, oak, walnut, or maple finish.
Olhausen's West End pool table has a clean, contemporary style that is the perfect addition to a home with modern décor. The West End boasts a sophisticated design and modern look while still maintaining the appeal and style of a traditional pool table. This table is available in a selection of all Olhausen's finishes so you can choose the right style for you. The West End's modern, sleek style is perfect for anyone looking for a more contemporary, clean, and unique pool table.
The Best in Billiards
There's a reason why so many people call Olhausen billiards and pool tables the "best in billiards." Olhausen boasts a superior manufacturing process and carries sleek, classic, and unique designs that are appealing to the eye, are reliable and are durable. A great addition to any home or game room, an Olhausen billiards and pool table will not disappoint. Whether you opt for a more traditional billiards table style or perhaps a more rustic or modern style, your Olhausen pool table will stand out and garner all sorts of attention from guests. Olhausen pool tables are 100% made in America and the company prides itself on being a true American manufacturer. The brand is an all-American one and the quality of the pool tables simply cannot be matched.
Olhausen began as a small family company in the early '70s and was created by two brothers. Olhausen Billiard Manufacturing now sells close to 30,000 tables every year, all from the Olhausen facility located in Portland, Tennessee. This family-owned company values tradition and holds deep core values, which are reflected in the craftsmanship of the equipment they make. Olhausen is known as the best in billiards for a reason and this is can be seen in the quality, durability, and reliability of their product.