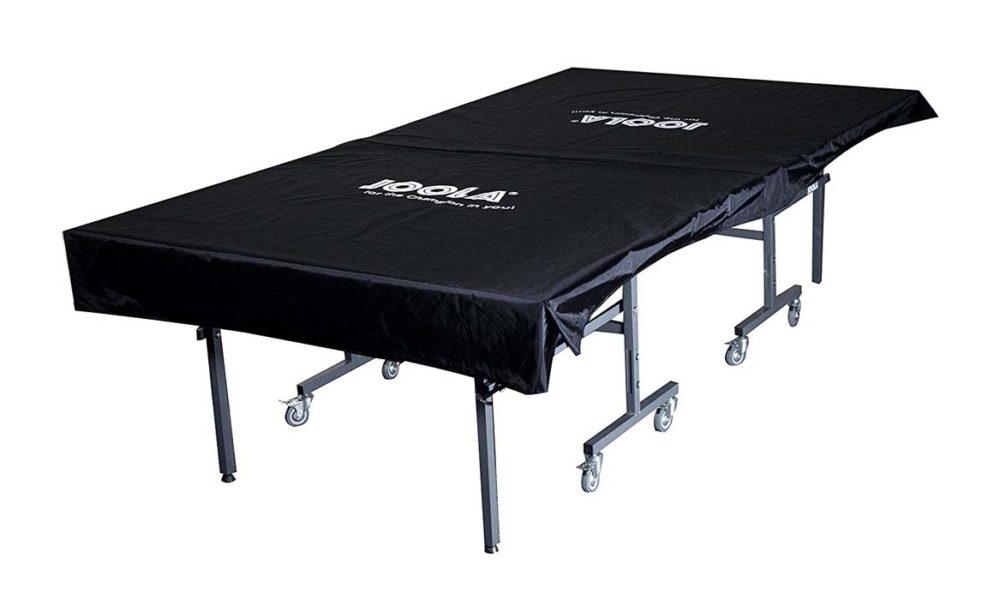 Outdoor ping pong tables of high quality don't come cheap and you want to avoid damage the table surface and the rest of your table tennis equipment. If you're one of the many people that enjoy a good game of ping pong and choose to have a table at your home, then you'll want a way to protect it with easy storage. One of the most effective and inexpensive ways to keep it looking its best is through the use of a ping pong table cover. Even if yours spends most of its life as an indoor ping pong table, a good cover will protect it from getting scratched or marked unnecessarily and keep it from gathering dust too.
There are various different ping pong table covers currently available to buy. It really just depends on the size of your table, your budget, whether you play ping pong on an indoor table tennis table or an outdoor table tennis table and your tastes as to which one's best for you. Below are 5 of the best ping pong table covers available on the market at the moment.
Price range: High. Made from heavy-duty PVC, this high quality cover is perfect for protecting your outdoor ping pong table while being stored upright. Its innovative design has reinforced corners for added strength meaning there's less chance of it being ripped. This cover is great for use indoors or outdoors as its weatherproof material will protect your ping pong table from rain, snow, sun, mildew, and dirt. It even has built-in air vents to enable moisture to escape while being stored. To get into the cover there's a convenient Velcro opening at the side. Measurements: 63" x 33.5" x 62".
Verdict: You can feel the quality of the materials is of a high standard and its overall durability is pretty good. However, there's nothing to secure the cover at the bottom so, if it is outside and you have some particularly windy weather, you may find your cover a few block down. Overall rating: 8/10
Price range: Mid. This ping pong table cover from Killerspin will protect your table come rain or shine. Its innovative design allows you quick access to your table through Velcro sides and is complete with air vents that enable your table to breathe while being protected by the elements. The cover is made from durable PVC with a special UV-resistant coating so is made to last and will withstand even the harshest of weather conditions. Measurements: 63" x 35" x 62".
Verdict: It's a nice design, the fabric is of good quality, and it fits all standard sized ping pong tables. My only qualm is that it sags a little at the top as is slightly wider than most other covers. Overall rating: 9/10
Price range: Mid. This JOOLA dual function ping pong table cover will keep your table looking its best whether it's being stored upright or laying flat. It's has been made from a strong polyester material to give it durability and finished with a PVC coating in which to provide protection from the elements. And its innovative design includes Velcro edges for easy access and buckles and straps for faster adjusting. The cover itself is suitable for use both indoors and outdoors and comes in a compact, drawstring carrying case and will fit any standard sized ping pong table. Measurements: 70.8" x 118.1 x .12".
Verdict: All in all, this ping pong table cover does the job well. However, the material isn't quite as thick as some of the others available for the same kind of money and you have to take the net off the table before you can put the cover on. Overall rating: 8/10
Price range: Low. If you're looking for budget cover that will do what it says on the box, and not much more, then this STIGA table tennis cover is the one for you. This cover will protect your table from harsh elements while being stored in an upright or in playing position and will fit any standard sized ping pong table. It's made from durable PVC materials so is suitable to be used indoors or outdoors. One thing that stands out with this ping pong table cover is that it comes with elastic hems attached that ensure your table is snugly covered. Measurements: 86" x 113".
Verdict: It works as it should, but be aware it's more water resistant than waterproof and is more flimsy than some others available for a similar price. The cover will provide protection against some light weather, but if you live in an area where there's lots of rain you want to consider a slightly sturdier cover. Overall rating: 7/10
Price range: High. If you have a few spare dollars to invest in a really good ping pong table cover, then look no further. This indoor/outdoor cover is made from 12-gauge commercial vinyl that protects your ping pong table from the spillages, pets, dust, and harsh weather conditions. Unlike some of the cheaper covers available, this CoverMates ping pong table cover comes complete with reinforced fabric on its corners to provide even further protection against rips or holes. It's also equipped with buckle straps and elastic hems to ensure the cover remains in place while being used. Measurements: 110" x 60" x 30".
Verdict: This ping pong table cover may be one of the more expensive versions on the market, but you get what you pay for with this one. The material feels thick and durable and even comes with a 2-year warranty. My only gripe with this cover is that it can only be used while in a playing position. Other than that, it's great! Overall rating: 10/10