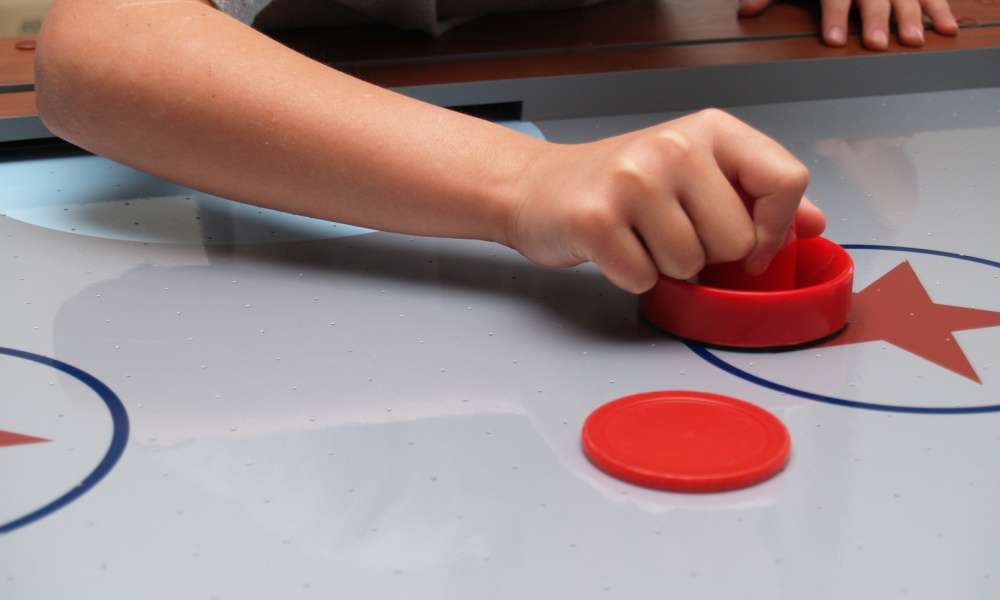 Tabletop air hockey can become fun for the whole family. It's easy to set up, it's lightweight, and portable, so no matter which room you are in, you are guaranteed to have fun shared all around. The Playcraft Sport 40-Inch Table Top Air Hockey is sure to deliver fun not just for the kids, but for the adults watching in the family.
The Playcraft Sport air hockey table is ideal for young kids not only because of its size but also because of its sturdy construction. You are sure that you'll be able to spend a few years playing this game anytime you're up for a game.
It easily mimics the air hockey tables you play on in arcades, but on a much smaller scale, complete with an air-powered motor so that your puck can glide easily across the table, giving your kids a challenging game to conquer.
Play with this air hockey table on the floor, on the coffee table, on the patio, or practically anywhere you feel like playing the game in. The portability makes it much more fun because your family can share the joy that this game brings. If you're a beginner or have young kids who love hockey, this product is the ideal gift to give or receive.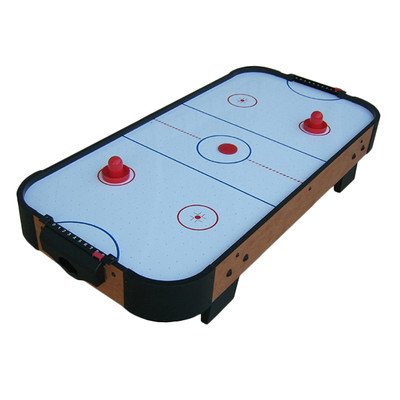 Features of Playcraft Sport 40-Inch Table Top
The Playcraft Sport 40-Inch Table Top Air Hockey may be small, but don't let its size fool you. Take a look at the features of the table:
40" perfect for young kids
Sturdy construction
Frame made of MDF hardwood frame
Decent 100 cfm air-powered motor
With ABS puck catcher for quicker returns
Manual score slider for easy score tracking
2 strikers and 2 pucks included
Assembly size: 40" W x 8" H x 20" D
Pros
Portable
Can be played anywhere
Suitable for indoor and outdoor play
Lightweight
Durable frame construction
Quick puck return
Track scores easily with manual score slider
Size doesn't dominate a room or table
Suitable for use by young kids
Complete with 2 pucks and 2 sliders
Cons
Air-powered motor not as strong as professional air hockey tables
Small size not built for adult hands, but playable
No rubber stopper on feet
Some parts may have designated holes missing, but easily fixed with a few tools
Some fans defective
Comparison
The Playcraft Sport air hockey table is good enough in terms of size and construction to withstand playing by young kids and even the occasional adult who wants to join in.
However, if you prefer an air hockey table solely for your kids' enjoyment, there is the Blazing Air Hockey game as an option. It's a whole lot more affordable than the Playcraft Sport, but it is also much smaller, measuring only 21" as opposed to 40".
A smaller tabletop air hockey table also means smaller accessories like the puck and paddles. The size is comfortable enough for younger kids. It is also designed with younger kids' safety in minds. There are no sharp edges and the inclusions are not small enough to warrant a choking hazard.
If, on the other hand, you want to enjoy the table as an adult, Playcraft Sport also offers a 42" air hockey table called the Breakaway. It has a sleek appearance that even adults can appreciate, and its score slider is found on the side rather than on the puck catcher. Its edges aren't curved like the 40" model, so if safety is a concern, you may opt for the 40" model instead.
You can narrow down your options when you break down your reasons and budget for an air hockey table. For a good sized tabletop air hockey table that both the kids and adults can play with, the Playcraft Sport 40-Inch Table Top Air Hockey is a good deal.
Verdict
The Playcraft Sport 40-Inch Table Top Air Hockey is not designed with a professional player in mind. Once you've settled your expectations on the performance that this table can deliver, then there's no reason that this air hockey table from Playcraft Sport should disappoint you.
If you have a family with kids, this tabletop air hockey table would be perfect for them. It can provide hours of entertainment, and mom and dad might not be able to resist the temptation of joining in the fun, too.
The strikers and puck included are smaller but very much adequate for the size of the table. Adults may have a harder time getting used to the size but you'll be able to adjust to it sooner or later.
Assembly is a breeze. Once all the materials are laid down and accounted for, you can begin setting up in no time. Some tables deployed may have dedicated holes missing, but this can easily be fixed with a drill. Some fans that came with the table may also be defective with air blowing the other direction, but this should easily be fixed by turning the fan over.
Once setup is done, you should be able to feel the air coming in from the fan. It's definitely far from professional quality, but you can't expect much from a smaller fan. It does, however, make the gliding of the puck a lot smoother than without it.