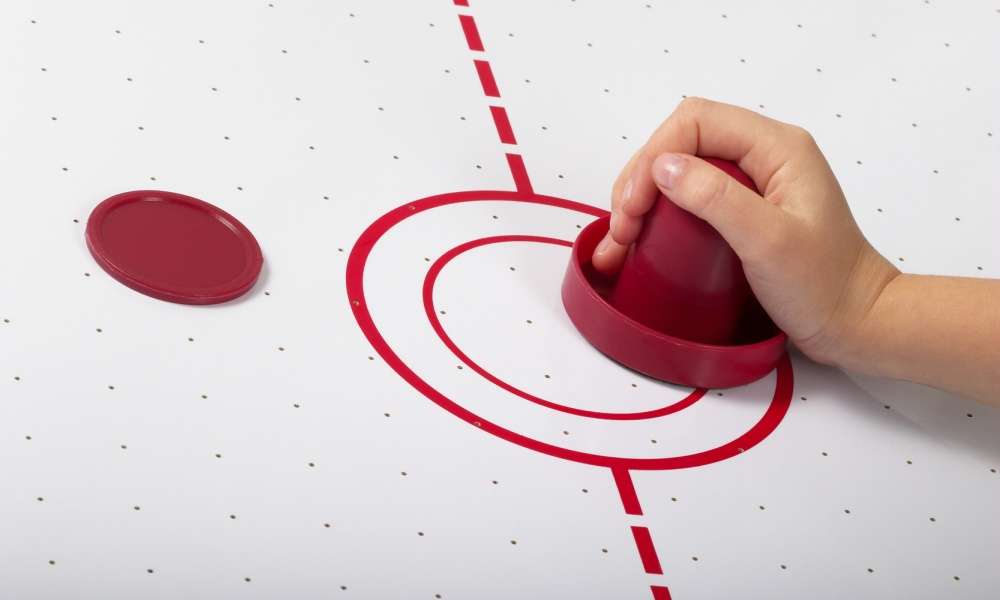 Tabletop games are always a welcome addition to any family room. If you don't have it yet, the Blazing Air Hockey should be in your collection. No, it isn't the large air hockey table in the arcade, nor is it the 40" version, but an even smaller one! This air hockey game is perfect for kids and measures only 21".
If you can't go to an air hockey table at an arcade, then why not bring it to you? The Blazing Air Hockey is small enough you can take it out anytime you want.
Even better, you can store it away in a flash and it won't even take up a lot of your space. But if it's so small, will it be fun to play on it? Kids 5 years old and older will definitely have a grand time playing air hockey on this table. Adults will have just as much fun too because the enjoyment is so contagious. It can easily become a favorite family game.
It's completely portable and requires only batteries for the fan to work. All inclusions needed to begin playing your game as soon as you're finished setting it up are already in the package. You get 2 pucks, 2 strikers, and 2 manual score sliders. It's time to bring out your A-game because your family will soon be competing for the title of ultimate air hockey champion.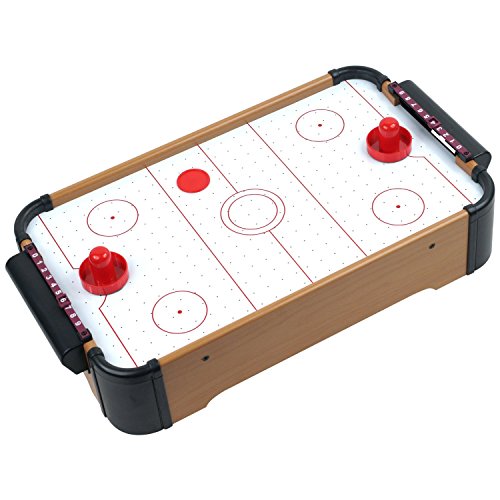 Features of the Point Games Blazing Air Hockey
The Blazing Air Hockey may be small but it's chock full of features that you'll enjoy. Some of the features include:
Measures 21"
No sharp corners
No choking hazard
High-powered fan (battery-operated)
Complete accessories including 2 strikers, 2 pucks, and 2 score trackers
Made from high-quality wood
Produced using modern processes
100% money back guarantee
Assembled dimensions: 21" x 5" x 13"
Weight: 6.5 lbs.
Pros
Extremely portable
Easy to store
High-powered fan
Complete accessories
Durable and sturdy
Suitable for the whole family
Risk free purchase
Cons
Batteries not included
Waste of batteries if used too much (Rechargeable batteries included)
Too small for larger adults
Comparison
The Blazing Air Hockey isn't unique in the tabletop game industry. There are others like it, like the Trademark Mini Table Top Air Hockey. This one is more budget friendly compared to the Blazing Air Hockey and is 1" larger, coming in at 22 inches instead of 21".
Like the Blazing mini air hockey table, it comes with 2 pucks, 2 strikers, and 2 score trackers. There is a little assembly needed but everything you need for assembly, including screwdriver, comes with the package.
If you want something much larger, but still don't have the advantage of space in your home, you can go for the Harvil Tabletop Air Hockey. This one comes in at 40", slightly elevated with legs (needs assembly), and has larger pucks and strikers. If you want a game that your kids can grow up with, and the adults in your family can enjoy anytime, this would be a great option.
Another 40" option you can consider is the Playcraft Sport 40-Inch Table Top Air Hockey. This is designed with kids' safety in mind, with no sharp edges, and no choking hazards when it comes to the included accessories.
It is slightly more expensive than the Harvil, but still has the same high-powered fan, and sturdy construction. If you want an option where you feel risk free with your purchase, both the Harvil and the Blazing Air Hockey tables come with a 100% money-back guarantee.
Verdict
There's no reason why the Blazing Air Hockey shouldn't be part of your game collection. Appearance-wise, it is nothing short of excellent. When it comes to the build and durability, only premium materials have been used. You can both see and feel it during gameplay. Price-wise, it is a good product for the price it sells for.
There's nothing cheap looking about this mini air hockey table and that is why it makes a perfect gift for kids and kids-at-heart. What's more is that if you are not happy at all with your purchase, you get to enjoy a 100% money-back guarantee. But to tell the truth, this doesn't happen very often, which goes to show just how good this product is.
What also makes this a perfect gift is that there's no limitation to how you can enjoy the Blazing Air Hockey. You can bring it out to the living room during your family time.
Bring it out for parties. Or make it a game for when your kids and their friends come over. Because of its size, you can easily take it outside with you and bring it back in when the weather doesn't permit outdoor play. If there is one reason that should compel you to buy this, is that it is extremely entertaining.