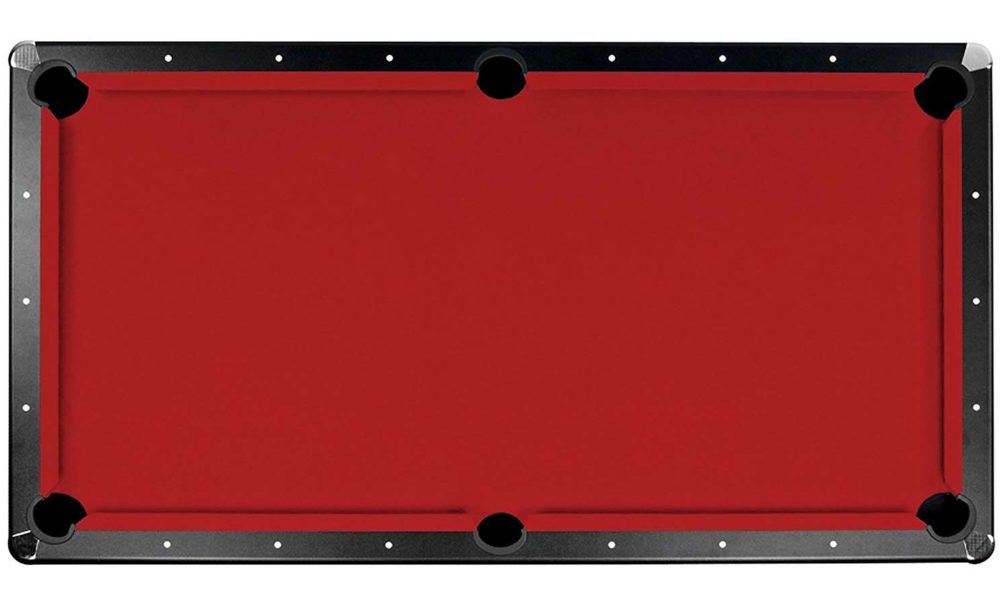 How do you choose the right pool table felt and what types of pool table felt are there? There's a lot more to choosing the right felt for your pool and billiards table than you might think. What kind of a pool player are you? Are you a tournament or league player who takes pool very seriously? Do you want to have the ultimate, premium playing experience when you are playing pool and billiards? What's your budget? These are all questions you should be asking yourself when in the market for a new pool table cloth.
There are a number of things that you should take into consideration when choosing a pool table felt, including:
Playability
Price
Durability
Precision
Speed

Casual players don't necessarily need premium pool table cloths. This is because premium cloths tend to be much more expensive, although they are more reliable. Speed and durability are also factors you have to take into consideration when making your new purchase. There is a lot that goes into choosing the perfect cloth for your pool table, and this guide will walk you through the best options and recommended suggestions, whether you are a professional pool player or a casual pool player. Think about what your budget is and how much you are willing to go over or under that budget. Choosing the right pool table felt will impact the speed and precision of your game. Professional billiards players will not want to compromise the playability of their pool table, and will generally resort to more expensive, high-end pool table felt to get the most bang for their buck. If you're not a professional pool player and are more of a casual player, your best bet is to go for something that is slightly cheaper.
The Run Down
Pool table felt is typically made of two types of fabric. Both fabrics result in two very different outcomes and can also impact the playability of your pool table. These two types of fabric are called worsted and woolen cloth.
Worsted Cloth
Sometimes called "speed" cloth, worsted cloth is made from sheep wool and is a strong, smooth, durable fabric. Worsted cloth is used in professional billiard settings and results in faster rolling during gameplay. Because worsted wool is made with the best quality wool, it is much more expensive than woolen cloth. Worsted cloth allows for consistent and more accurate gameplay, which is why it is typically used in professional settings. Worsted billiard cloth is also extremely smooth and ensures precision and playability.
Worsted cloth also has an extremely long lifespan. If you are a professional pool player or play pool regularly, it is in your best interest to use worsted cloth on your pool table. This is because the quality of worsted cloth will not deteriorate. Worsted cloth will also last you a very long time. Iwan Simonis cloth is the premier worsted billiard cloth used in professional tournaments. This worsted cloth is top of the line and is known for its superior quality, accuracy, and speed. Designed for commercial use, these cloths are durable, reliable and well worth the cost.
Woolen Cloth
Also known as "napped" cloth, this type of pool table cloth is more widely used in bars and home sets. Woolen cloths have a nap that can be felt when you pass your hand along it. Woolen cloth also requires more upkeep and is not as reliable or durable as worsted cloth. Its lifespan can't quite compare to worsted cloth.
Balls typically roll much slower on woolen cloth. Because of this, woolen cloth is generally recommended for casual pool players. Napped cloth requires more maintenance, which is why it is much cheaper than worsted cloth. Championship woolen cloth comes in several different styles and prices and is the perfect choice for casual pool playing.
What Should You Buy?
The type of felt you buy depends entirely on what you are looking for and how often you play pool. If you are a casual pool player on a budget, your best bet is to purchase a woolen cloth. If you're an avid pool player or professional pool player, worsted cloth is a great choice as it provides speed, durability, and reliability. It also has a much longer lifespan.
For casual play on your home table,Mali 865 is a great choice. This stain-resistant felt fits onto an 8-foot pool table and is extremely affordable. If you're looking for more speed, Championship Ultra is another good choice as it allows for a smooth roll and is also quite reliable. If accuracy and speed are important to you, ProForm or Simonis 860 are good options to try out as well.
Durability
At the end of the day, the most important thing to factor into your decision is the durability of the felt itself. The durability of the cloth you buy will determine its lifespan. If your pool table doesn't receive as much game play as typical commercial pool table, it makes sense to purchase woolen cloth pool table felt. One thing to keep in mind is the ounce weight per yard of your fabric. This is a great indicator of your pool table cloth's durability. Good quality fabric is typically a minimum of 19 oz. Another indicator of durability and good quality is threads per inch (TPI), although this information is hard to come across because it is not released by the manufacturers who produce the cloth.
At the end of the day, the cloth you choose for your pool table depends on your budget and playing goals. If you are a serious player or a tournament pool player, we recommend that you invest in worsted cloth. If you're not a league or tournament player but want the best playing experience possible, worsted cloth is the way to go.
If you're more of a casual pool player and don't care too much about experiencing the high-end performance and the speed of the cue ball isn't essential, woolen cloth is your best option for your game room pool table.