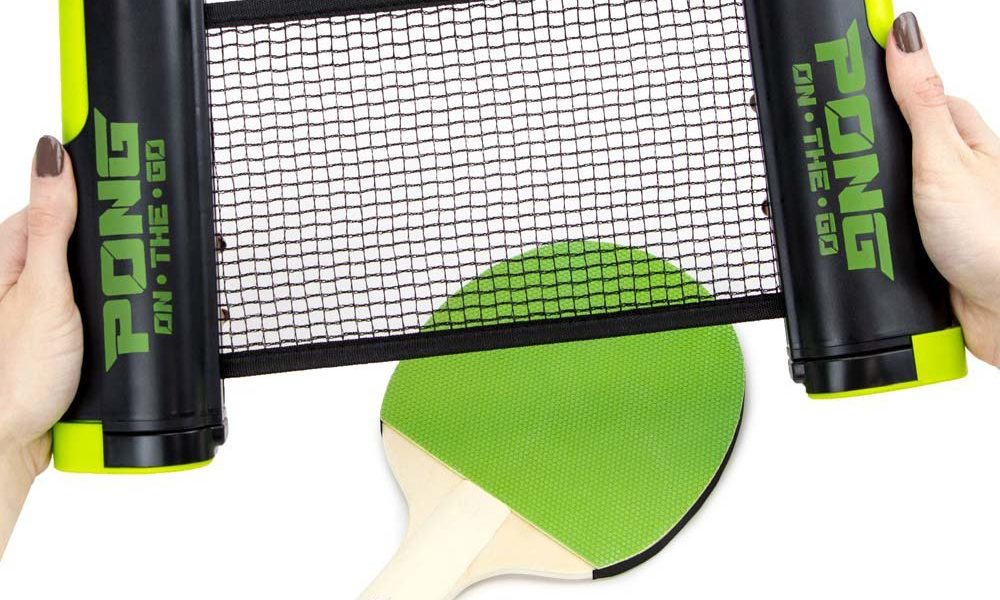 Ping pong is such a fun game and a great way to spend some quality time with friends or family. The trouble is that a full-sized ping pong table is not exactly something you can easily move around. So, that's where portable ping pong tables come in. With portable ping pong tables, you can play your favorite pastime, literally wherever you go.
What should I look for when buying a portable ping pong table?
Like other great game tables such as pool tables and air hockey tables, there are many things to look out for when choosing a portable folding table tennis table. So, before you go off on your shopping trip here's a few things to bear in mind before making your portable ping pong table purchase:
Quality:

With it being portable, there's more opportunity for it to be knocked around. So, make sure you choose a model that's of good quality, has a decent play surface and comes with a decent carry case or bag to minimize the risk of being lost or damaged.

Price:

It's not a permanent fixture so you don't really want to spend too much on it. But, on the other hand, you do get what you pay for. A fine balance between price and quality should be found. Look for powder-coated steel or galvanized steel for outdoor table tennis and a good playing surface.

Easy to set up:

You don't want something that's going to take ages to set up and pack away.

To help you decide on your purchase we've put together a short guide to some of the best portable ping pong tables currently available:
Here, we have a mid-priced portable ping pong table on offer from Champion Sports. No longer will you be bored with this kit to keep you entertained. Its no-tangle design net means you'll playing in seconds with this easy to set up kit. You can use this portable ping pong set on pretty much any surface and it comes with everything you need to get you playing including with 2 paddles (1 blue, 1 black), an expandable net, and 3 balls. For easy storage, there's also a mesh carry bag that the kit fits nicely into. For a small price, this portable ping pong kit will provide hours of fun for the whole family.
Verdict: This is by far one of the best kits around. It's good quality, a great price, and excellent value for money. Overall rating: 10/10
For those of you looking for a good portable ping pong table, but are on a budget, this may be a good option for you. This set comes complete with a 35.5 x 15.75-inch wooden table so there's no need to worry about any attachments not fitting to your playing surface. It's foldable too for easy storage. There are also 2 paddles, a net, and a ball included in the package.
Verdict: The overall quality of this portable ping pong table may not be quite as high as some of the others available on the market, but it is a budget model. So, while it may keep the younger kids entertained for a while, it's not really suitable for older kids or adults. Overall rating: 7/10
Another of the lower-priced models available, the Trademark Innovations portable ping pong set is perfect for using at home or when out and about. The expandable net makes setting up a doddle and can extend up to 6ft. Along with the net, there's also 2x 10-inch paddles and 3 ping pong balls, so you'll be ready to play as soon as it arrives.
Verdict: For the price that you'll pay for this portable ping pong set, you really can't fault it. It's inexpensive, easy to set up, and durable enough for the whole family to enjoy. The replacement ping pong balls are an added bonus too. Overall rating: 10/10
This portable ping pong set is a little more expensive than others on the market, but your money is not wasted. The quality of this set is very good and unlike some of the others on the market, it feels sturdy and reliable. Included in the set is an adjustable net, 3 ping pong balls, and 2x professional ping pong paddles. And it all fits nicely into its neat, little carry bag, perfect for transporting wherever you want to go.
Verdict: You get what you pay for with this Alion portable ping pong set. The high-quality net and professional paddles really set this kit off. It's definitely worth the extra few dollars if you have it spare. Overall rating: 10/10
This bright, vibrant portable ping pong set will keep you entertained for hours on end. Transform any hard surface into a ping pong table in no time with this retractable net. Whether at home, in the office, or at the park, everything you need to get you started is included in this kit and it all fits into a funky mesh carry case too for convenience. You get 3 seamless orange balls included in the package which makes play more accurate and makes the ball easier to trace too if it does happen to go off course.
Verdict: For a mid-priced model it's OK. I like the vibrant colors used, especially for the balls. But the overall quality is not as good as some others available for the same kind of money. Overall rating: 8/10
Hopefully, by now, you will have some idea of the type of portable ping pong table set you're looking for. While there are a few different variations out there, most portable ping pong table sets are very similar so a lot of it will come down to personal preference. Whatever your choice, we hope you've enjoyed our review and are now ready to have fun playing hours of ping pong!