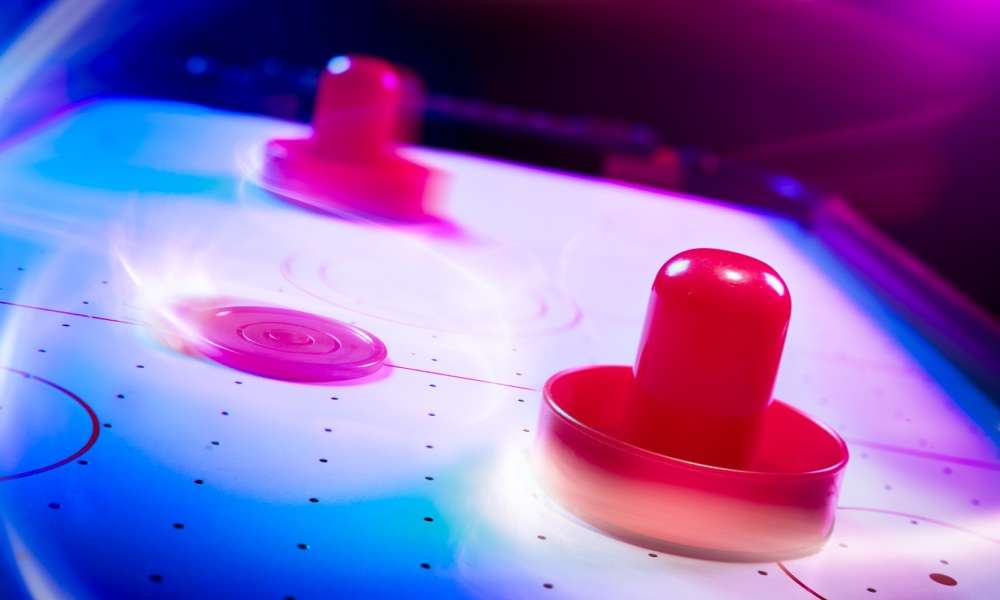 There are so many ways for families to have fun. But if you want to take your fun to the next level, the Sport Squad HX40 Air Hockey Table can help you out with that. This electric-powered air hockey table can become a family favorite sooner, rather than later.
What exactly can the Sport Squad air hockey table offer you? Your kids are going to love it. It's the perfect size for them to feel like they're playing on a professional air hockey table, and still quite large enough for the adults in the family to join in. Its size makes it portable enough to place on the dining room table, coffee table, or even store it under the bed when not in use.
This electric air hockey table has everything you need to set up a mini arena on your tabletop. All the items you need for assembly are included, and you can be finished within minutes. It's sturdy and durable enough to provide you with months to years of usage.
If you're looking for a cool gift that your kids can enjoy as they grow up, this could be it. When the air hockey table by Sport Squad is in your home, be prepared for some competition, even from your own kids.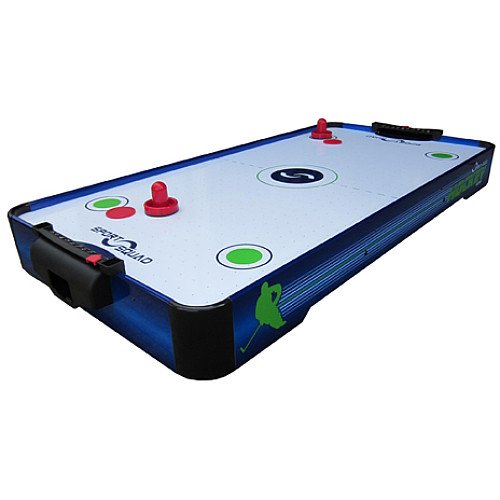 Features of the Sport Squad HX40 Air Hockey
Just looking at the Sport Squad HX40 Air Hockey Table can be enough to get any kid jumping with excitement. Here's a closer look at what it has to offer.
Tabletop design fits most coffee tables
High powered fan
Quick assembly
2 pucks and 2 strikers included
Goal boxes for quick puck return
Manual scorers for easy tracking
Portable enough to move around in the home
Easy to store away
Pros
Vibrant and colorful design
Suitable size for children
Comes with all inclusions for complete assembly and immediate play
Durable construction lasts you for months to years of gameplay
Smooth playing surface due to high fan output
Feet come with rubber pads
Cons
More suited for kids; adults will adjust to small paddle and puck
Felt from paddles can easily come off
Drilling may be needed when holes or some screws are found to be missing
Cord a little on the short side
Not recommended for play on carpeted floors
Summary
If you love to foster friendly competition within the family, the Sport Squad HX40 Air Hockey Table is a great way to do it. This is an electric air hockey table with a high-output fan so you can enjoy an almost similar experience to that of the full air hockey tables.
Its vibrant and colorful design makes any kid excited to play it once you set it up on a suitable playing surface. It's also easy to use. Simply plug in the cord and the surface will be powered by the fan and you're good to go.
Track your score with the manual scorer ideally situated near the goal for easy tracking. Quickly Retrieve the puck so you can resume the game with as little down time as possible thanks to the puck catcher's design.
The size is very suitable for families who do not have the advantage of space and want something they can easily store away when not in use. It's much better than a mini air hockey table since even adults can play comfortably with it. The size of the air hockey table can fit most coffee and dining tables.
It's ideal that you play it on a tiled or wooden surface since a carpeted surface may cause the motor to overheat. As for gameplay, the felt on the strikers may need some reinforcement with more glue or tape since it does have the tendency to fall off.
Verdict
There's nothing about the Sport Squad air hockey table that should deter you from purchasing it. In the area of aftercare, customer service is relatively quick to respond to complaints about damages and repairs that may be needed regarding the hockey table.
The air hockey table is also in the price range where most families will feel comfortable purchasing it. There are similar air hockey tables that go for a much higher price but still offer the same gameplay experience and durability as the Sport Squad.
Not many air hockey tables for tabletops have rubber stoppers on the bottom of the feet or legs; this can make some of those models skid on the table or floor unless you put a towel or rug underneath it. What makes the Sport Squad HX40 great is that its feet come with non-marking rubber pads, so you get to enjoy your game without your table moving with the action.
If you want an air hockey table with full legs, you can take a look at the Triumph Overtime Air Hockey Table. Each of the legs have rubber stoppers to prevent skidding, and it's slightly larger than the Sport Squad measuring in at 48". It's 30" in height and is the perfect height for junior players.
Adult players may have to bend their backs and knees a bit but the fun is still unparalleled. It also has an option of an abacus for scoring as well as LED electronic scoring. Its price tag is slightly higher and may not be a good option if you don't have a dedicated space for the table.