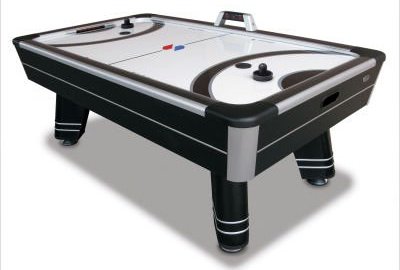 Air hockey tables are a great way to get your game on in a fun, yet enjoyable way. The challenge and excitement of air hockey are enhanced when you have the right equipment. Whether you're just hanging out with your friends in the rec room or you're hosting a small party in the newly kitted out game room, air hockey tables are an excellent choice.
However, with numerous manufacturers and dealers out there, it can be difficult to make the right choice to ensure the perfect air hockey game time and again. The good news is that you can opt for a renowned brand like Sportcraft when choosing the right air hockey table.
Types of Air Hockey Tables
You can now find a variety of air hockey tables on the market.
Here are some types you're likely to come across.
Tabletop Air Hockey Tables
Tabletop air hockey tables are an ideal choice if you just want something for your child to play with. They are smaller than normal air hockey tables but provide the best playing experience.
Standard Air Hockey Tables
If you do not have a lot of money to spend but you still want to enjoy the air hockey experience, standard air hockey tables should be your go-to choice. With minimal features but with maximum gameplay, these tables also tend to have a slightly different construction. They are designed more for occasion use rather than being hammered by the kids all winter long.
Arcade-Style Air Hockey Tables
This should be your first option if you're looking for a table you can play at competition level with the perfect air force and perfect play surface. At 8 feet, these tables are classed as full-size tables. Featuring powerful motors, these tables provide you with the most amazing gameplay experience. While arcade style tables may be costly, they are incredibly durable and made of quality material to withstand a full-blown assault from a mega winter bedroom competition.
Multi-game Air Hockey Tables
Although multi-game tables or 3-in-1 tables are built for air hockey, you can still use them for other purposes and you can play other equally exciting games like snooker or tennis tables. If you do not have lots of space, this type of table is perfect.
1. Sportcraft 66" Electronic Air Hockey Table with Table Tennis Top
You don't have to keep the score for wins. This hockey scoreboard is electronic and will keep the scores out of ten for each player. This not only makes it convenient to play but also easy to know who the winner after each game or tournament.
For the tennis player, this scoreboard comes with its paddles that make playing tennis easier and faster. Each game feels new and exciting.
Sturdy Make
This is a great table because it will last for years. Its sturdy frame makes it easy for players to play without worrying that it will get damaged if they play too vigorously. It is long-lasting and sturdy design ensures that you can use it for a long time.
Pros​
Easy to use
Convenient
Efficient
Sturdy build
Easy to assemble
Cons
The instruction manual is not well written
---
Large space
The table has an 84" playing space that has a gloss finish and is well labeled. This makes it fun to use the table and keeps the action fast and fun. The ultra-modern design makes this table perfect for all homes and is modern enough to make the games interesting.
Leg Levers
If you are worried that the game will not be as fun because your room has an uneven floor, you no longer have to worry about it. This table has leg levers that enable you to have the table leveled and easy to play on.
Great Air Box
This one has a tapered plenum air box that has been built to support strong even air pressure that will keep the puck from sticking at the corners of the playing board. This makes the game continuous and fun.
Pros​
Easy to assemble
Easy to use
Perfect for uneven surfaces
High-gloss playfield
Durable
Cons
The gloss field can wear out after a lot of use
---
3. Sportcraft Air Hockey Table with Table Tennis Top
The Graphics
You will love the fact that the table has amazing graphics that make it easier for you to feel like you are playing ice hockey outside. The graphics are accurate and realistic so it is great for anyone is trying to learn how ice hockey works.
Electronic Scoreboard
The electronic scoreboard makes it easier for you to know who the winner of the game is, especially if you start playing again after stopping to do your chores. The scoreboard will keep track of the scores for you.
Table Tennis
If you have had enough of ice hockey as you are getting beat every game, maybe you can start playing ping pong instead as this table is 2 games in 1. What's more, like the ice hockey game, it comes with all the accessories you will need to keep your table tennis game fun too.
Pros​
Can play two games in one
Great size for adults and teenagers
Incredible graphics
Cons
Not very easy to assemble
---
4. Sportcraft 7' Attacker Air Hockey Table
Compact Sturdy Make
Liven up your living room with laughter and fun with this air hockey table that is ideal for youngsters. It is compact and does not take up a lot of room in your home. It is also portable and easy to store and will make the game fun and interesting.​
​Pros
Easy to store
Does not consume a lot of space
Perfect for children
Cons
Not ideal for the entire family due to its small size
---
5. Sportcraft 6' Air hockey table with Table Tennis Top
Perfect for Kids
This allows your children to learn and play table tennis and air hockey right from the comforts of home. It is the perfect way to keep your children entertained and active during those cold winter months.
Little Storage Space
The table top is only 6 inches in length and, therefore, does not take a lot of space to store. It also comes with pushers, and four pucks, paddles, and balls to ensure you will have everything you need in just one package.
Pros​
Great for children
Easy to store
Comfortable to use
Cons
Too small for the entire family
Not made of high-quality material
---