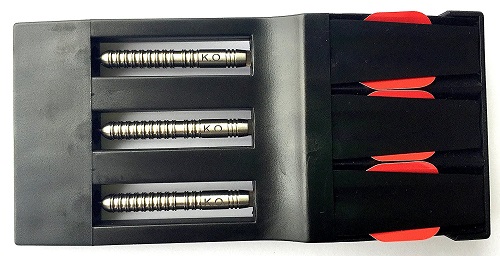 For many of us, there isn't a much better way to unwind with friends and family than with a classic game. Whether you are talking card games, something more physically involved, or the classic game of darts, nothing brings people together quite like a game. The great thing about activities like darts is that they aren't a super expensive hobby to have, unlike golf or fishing. Most people have enough space in their own homes to have a dart board for practice or play, making this game even more accessible for players of all levels, even to those who don't have a ton of space.
What follows is a brief rundown of some of the most obvious benefits of games like darts. We then provide concise reviews of three of the highest quality and most affordable tungsten darts and steel-tip darts on the market, to give some great options for budding players looking to get into the sport and possibly even joining a league, as well as to give you an idea of what to look for and the price range to expect.
Benefits of Playing Darts
Perhaps the biggest benefit of playing darts is the stress relief and social interaction that goes along with it. The great thing about games like darts is that they require close attention, which keeps your mind off the ills of the day, leaving you thinking about nothing beyond making an accurate throw. It is a fun way to let off steam and is a way to be competitive without being aggressive.
​Darts also has physical benefits. The game does require a bit of brain power, as you have to do basic addition and subtraction in order to keep score during the game. It might not seem like much, but going through basic arithmetic in your head is actually an incredibly good way to keep your brain healthy and active.
Playing darts will also work to improve your hand-eye coordination. The more comfortable you get with darts, the better you will get at making the dart go where you want it to. This can actually aid you in everyday life by improving your reaction time and it can also aid you when it comes to other sports.
High-Quality Steel-Tip Darts
What follows are three brief reviews of affordable and high-quality steel dart options:
Nordor is a trusted name when it comes to billiard and other related types of games and products. They make a wide range of dart supplies, including high-end, high-quality tungsten darts or steel-tip darts. These professional quality darts are a great value at less than $10 for a set of three steel-tipped darts.
The darts come with spare flights in the event that one becomes damaged in the course of play. It also comes with a carrying case for easy transport. The darts are made from tungsten-plated striped aluminum, with steel tips, and weigh between 20–22 grams so are weighted according to professional standards.
Another trusted name when it comes to billiard-related products, Viper by GLD Products offers high-quality steel-tip darts that are high performing and also look sharp. At less than $15 for a set of three steel-tipped darts that weigh 22 grams, these are a great deal for someone looking for a high-end professional quality set of darts.
The darts are made from black-coated brass. These darts are well balanced and stylish as well. The barrel is ribbed, which helps improve grip and allow for better hand placement. The flights are designed to reduce drag and help provide a consistent flight path. These darts work best with sisal or bristle dart boards.
If you are looking for a professional set that has the respect and praise of people who play darts competitively, then KO is a great choice. These are a bit pricier than the other options we review here, but these are a truly professional set of darts. At less than $70, this is a pretty good deal for a set of darts that can be used on the professional circuit.
The darts are made from tungsten with steel tips and weigh 24 grams. The set of darts also comes with hard plastic carrying case. The darts features a Perfect Grip Groove, which provides for consistent, good grip, making it easy to through consistently. The darts are so highly rated that they even come with a Lifetime Barrel Guarantee and a 30-day, money-back guarantee.
---
Darts has a ton of positive benefits associated with it. It helps improve hand-eye coordination and is just simply a great way to spend quality time with people you love. It is an inexpensive game that can be played—even in small spaces—and it doesn't take a ton of equipment. The game is easy to learn but takes a lot of time and practice to master. Whether you are playing in your family room with friends, or you are on the local professional circuit, a quality dart set will definitely help you up your game to a whole new level.
The great thing about darts, in addition to all the health benefits, is that it is a great way to blow off steam while socializing, whether in your basement or at the local pub. Steel tip darts are the type of dart that the professionals trust and rely on, as they are more accurate, consistent, and work best with traditional sisal style dartboards. We have provided a brief review of three different sets of steel-tipped darts that cover the spectrum of price and quality. Any of the sets we reviewed are quality options—they are all weighted in accordance with standard professional dart weights and they come with aerodynamic and well-designed flights that help reduce drag and improve the accuracy of every throw.
Whether you choose one of the options we review here or use this as a starting point for further shopping and research, we're sure you'll be happy that you chose steel tip darts as they will help improve your game via consistency and accuracy.​