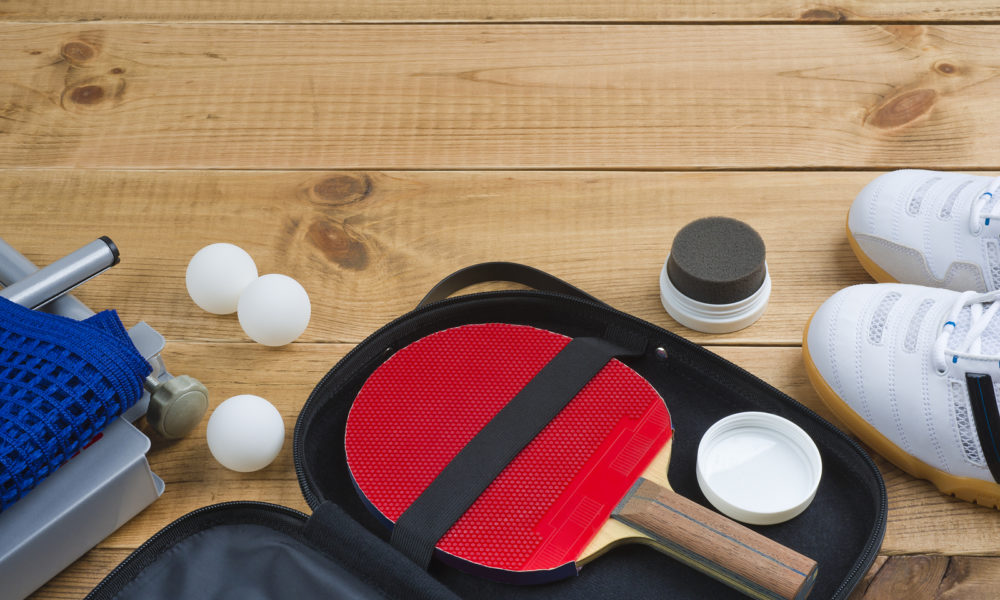 Finding the right shoes for playing table tennis can be a chore, especially if you're particular about certain shoe features, but once you find the best ones for you you'll be happy you invested your energy and time.
The right shoe is important for your game. It's possible to play table tennis at home in nothing more than socks, but your game is going to suffer – not to mention it can be risky in terms of safety. One of the keys to a safe, solid game is footwear that makes you feel comfortable, that offers a good grip, and that allows you to focus on your game without thinking about whether you're going to fall or slip.
Many people assume comfortable sneakers would be enough to play a game of table tennis at home. It's possible to wear the shoes you already own, but it's not going to give you any advantage and it's not going to help you improve your game. Regular sneakers are good enough, but if you're going to spend money on an at-home table tennis table, why not be serious about improving your game? A pair of shoes perfectly suited to playing table tennis is a small investment compared to the table – so why not make the most of the investment you've made in the table?
What Should I Expect to Spend on Table Tennis Shoes?
Like most athletic shoes, it's possible to get a pair in any price range. Top of the line shoes will cost you a few hundred dollars, but it's also possible to get a decent pair for around $30.
Shoes at the lower end of the price range can be great for at-home practice. They offer stability and support, but they're likely to not have some of the higher end features that more expensive shoes have. For instance, you aren't going to find the anti-sweat features in cheaper shoes, but keep in mind, this isn't a necessity for a good shoes, it is an added feature.
What's I'd recommend is to start with some of the cheaper shoes if you have no idea what you like in a table tennis shoe. This gives you a chance to then comparison shop: you'll be able to say I like and dislike these cheap shoes for these reasons, so I want and I don't want these things when I buy a shoe with a higher price tag.
How to Choose the Right Pair of Table Tennis Shoes
Like most things, table tennis shoes come in a wide variety of styles. And also like other things, this means some shoes will appeal to some people and not appeal to others. This means a perfectly acceptable pair of shoes might be loved by one player and hated by another. It has little to do with the quality of the shoe and everything to do with the player's preferences.
In order to find the best shoes for you, it might be necessary to tray a few pairs before you find the ones that are just right for you. It's all about trial and error.
Of course, you need to start somewhere. Most people aren't going to buy a dozen pairs of ping pong shoes and wear a pair a day until they find the ones that are just right. Instead, you'll want to narrow your choices based on what other people have to say about the various shoe options and hopefully, you'll be able to find the right ones in just a few tries. You might even luck out and get the perfect pair of shoes based on our recommendations.
Below is our list of favorite ping pong shoes for at-home practice. None of these shoes is "better" than the other, but one pair might be better for you. There's no such thing as the perfect pair of ping pong shoes – there's just the ones that are perfect for you!
Many of the world's best known Chinese table tennis players wear Mizuno shoes. If you're able to catch an Olympic table tennis match, check out what's on their feet: you're likely to see Mizunos. These shoes are designed specifically for table tennis play and are available in red and blue. These shoes are low to the ground and lightweight. They offer the right amount of cushion and support so you feel comfortable and you get the stability needed to avoid injuries during the fast pace of play. They also have a good grip, which is essential for safe play.
We love these shoes because they feature a mesh upper that allows your feet to breathe. You might not realize it, but table tennis can be an intense workout and you want to do all you can to stay comfortable. These shoes make that possible.
Butterfly makes a variety of table tennis shoes and this pair is one of two on our list that are favorites. Many of the world's top table tennis players love Butterfly shoes.
The brand's Energy Force style was designed in collaboration with ASICS, another company known for creating shoes that are comfortable and functional for athletic activities.
The goal of Butterfly was to develop a pair of table tennis shoes that provide stability and grip. These shoes are also durable, too, so even though you'll pay a bit more for these than the shoes offered by some of the other brands, you'll do so knowing you're getting a pair of shoes that's going to last you a very long time – at least a year, as opposed to the few month life span of most table tennis shoes.
Butterfly Table Tennis Lezoline TB Shoe, Blue, 8
Butterfly's Lezoline table tennis shoes comes in a wide variety. We chose the TB model to list here, but we also love the color and variety of all the shoes in the Lezoline line. These shoes were made in collaboration with Timo Boll (that's where the TB comes from) and it offers many of the same features as all of the Butterfly shoes but without as hefty a price tag. These shoes offer comfort and stability, as well as double ventilation in the soles, which helps prevent sweaty feet during intense play.